Document Management with d.velop
Simplify and accelerate the administration of documents in your company with a document management system (DMS) by d.velop.
What is a document management system?
To begin with, a document management system is responsible for the handling of documents in a company. This includes the methods, instructions and processes for administration, control, storage and destruction of documents.
For us, document management means to intelligently speed up, simplify and optimize the administration of documents and information. To ensure this, our customers count on d.velop software in the form of a document management system (DMS). Such a document management system should meet two major requirements for the transition to a paperless office at your company.
Intelligent document receipt and audit-compliant archiving

Documents used to arrive at the company by mail and were then distributed to the different departments and filed in folders, but now this process has been automated and digitized thanks to a document management system – from scanning to archiving. Manual filing, records management and unstructured folders are history.
Centralized access to information and documents in a single system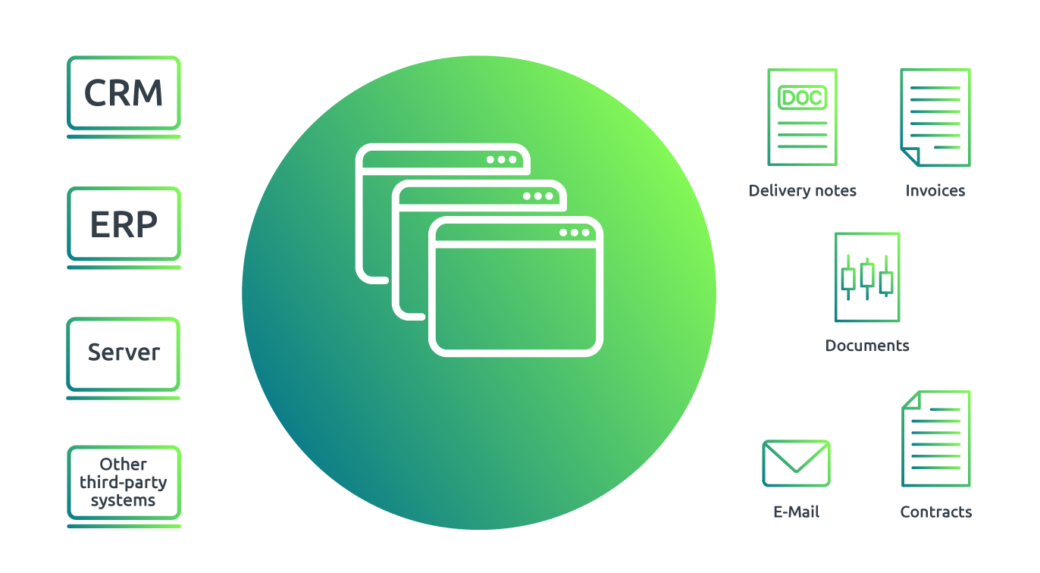 All information relevant to the user is found in the DMS and can be edited there. This is made possible by the seamless integration of third-party systems such as SAP, Microsoft SharePoint, Microsoft Office 365 or Salesforce.
For example, a user will find information on customers, invoices, offers and contracts in the document management system with only a few clicks.
d.velop document management from the cloud
"Made with heart!"
Review by Herzog Kitchen
Structured storage in the customer context
Permanent availability of all documents
Search by keywords, metadata and full text
Quick access to old documents
Partnership at eye level
Full cost control in the cloud
Document management in the cloud
The benefits of a document management system at a glance

Intelligent storage
Separate new documents after scanning with the help of AI and automatically assign them to the right context. Structuring in standard file plans based on categories and metadata within the business context grants your users direct access.

Fast search
On the desktop or mobile. Online or offline. With d.velop software you are sure to find any document using keywords, metadata, full text and faceting. Using the enterprise search functionalities, you will find all information company-wide.

Comprehensive collaboration
Once stored, you edit documents directly in the location they have been saved. Always revise the most recent version of a document thanks to versioning, leave notes and even share documents externally on request.

Central information location
With numerous standardized data interfaces and the option to connect additional repositories to the DMS via the d.velop REST API, it becomes the central hub for documents and content with a wide variety of file formats from CRM, ERP and merchandise management systems.
Archiving compliant with legal requirements
d.velop document management software provides the basis for audit-compliant storage with comprehensive functions regarding transparency, completeness, accuracy, timeliness, organization and immutability.

Digital business processes
Digital documents provide the basis for digital processes. Use d.velop to create your own workflows, supporting your business processes. From simple requests for time off to travel expense reports to invoicing workflows – anything is possible.
Live – Webinar | 19.08.2020 | 11 am CEST Document management out of the box – Kick-start your digitalization
Register for the webinar and discover in just 45 minutes how to get started with digitalizing your organization. See how easy it is to use a document management system in the cloud. Book a system and get started within minutes!
Learn in the webinar how to effectively manage, accelerate and simplify the way you work with documents and information in your organization using d.velop documents.
d.velop documents: The business software for intelligent information management in organizations of all sizes out of the box
Document management with a system
Accelerate and simplify the handling of documents in your company. d.velop documents offers you an easy start into the digitalization of your document management.
Consistently digital document management
Put an end to the manual filing, document management, and unstructured file folders. d.velop documents helps you to store documents in a structured way in their respective context.
Legally compliant archiving
d.velop documents creates with extensive functions in the areas of traceability, completeness, correctness, timeliness, order, and unchangeability – the basis for audit-proof storage.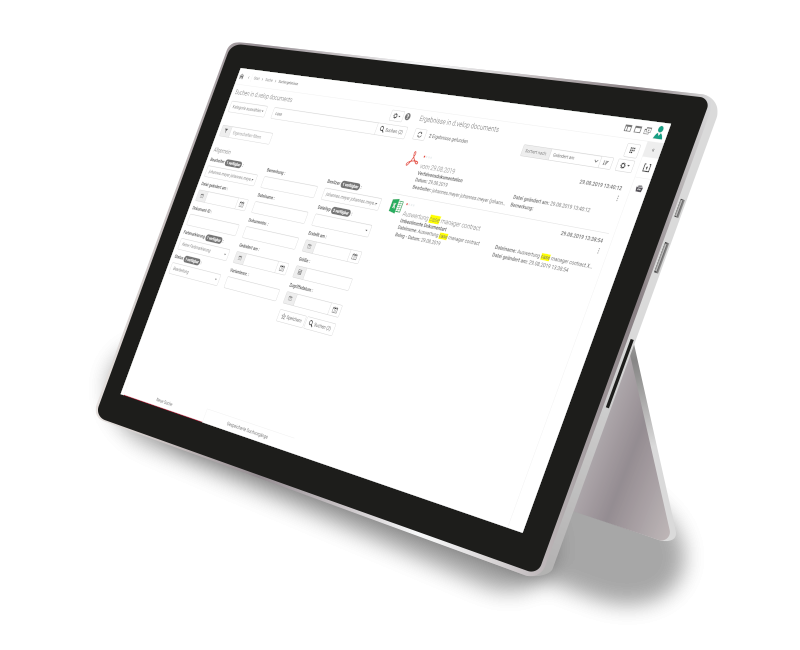 Efficient DMS solutions – made by d.velop
Ready to talk to us?
Learn about d.velop documents first-hand.
Date and Time – In the first step, select the date and time for your personal live demo. Afterwards we will send you a Teams Invitation.
Your Requirements – Next, tell us about your requirements. What are the challenges for you? Which d.velop solution would you like to see?
The Live Demo – We'll provide the perfect contact for your live demo based on your requirements. If we're in any doubt, we'll simply get in touch with you to clarify the final details. You'll be able to experience our software right in front of your eyes during the live demo.
Trial Version – Try for example d.velop documents for free and start your trial right after the demo.