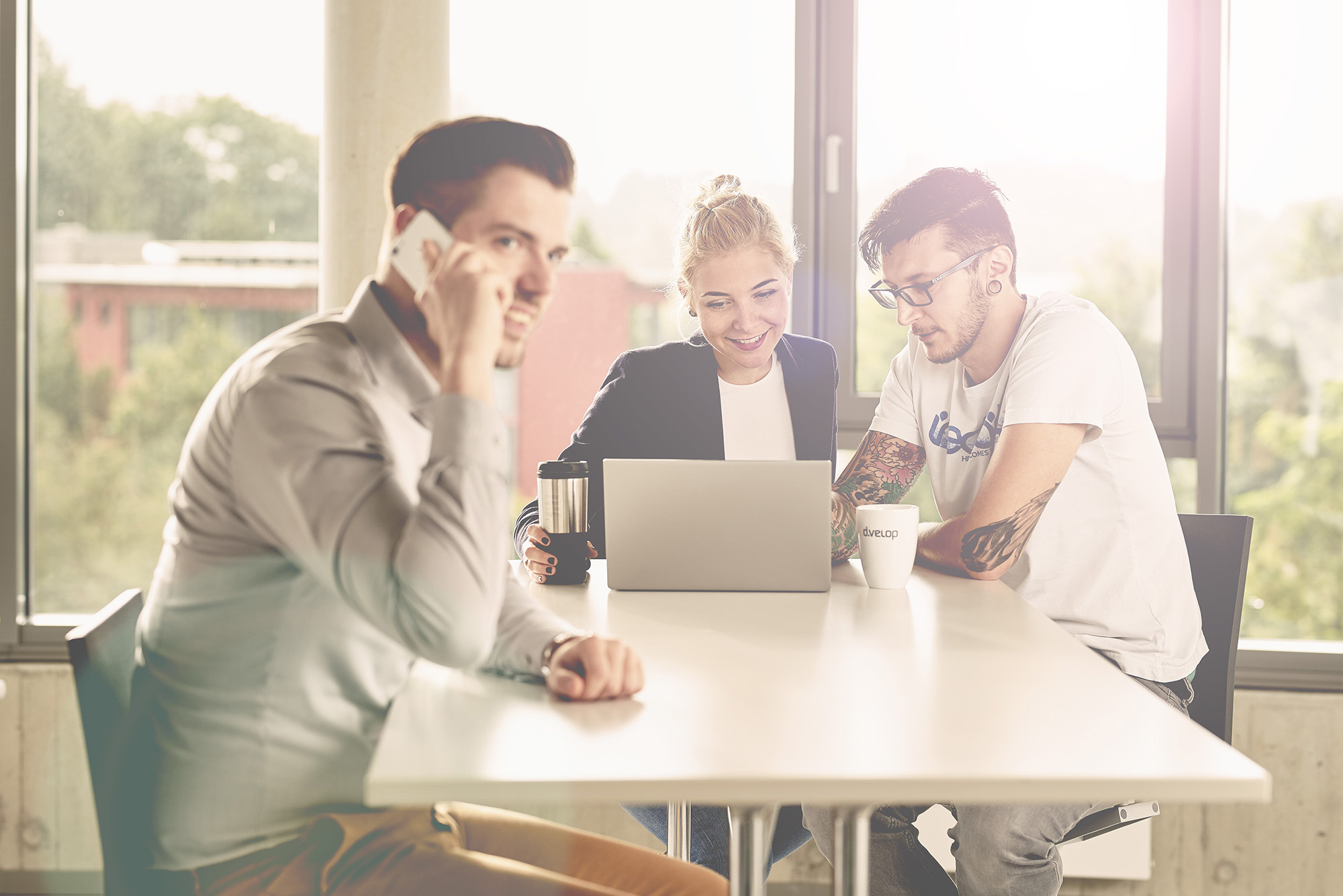 More Success with DMS – in Salesforce
d.velop documents for Salesforce
Increase employee productivity, ensure processes are transparent and lower your storage costs.
Does finding documents take too long? Is the cost of storage for Salesforce CRM too high? Do you also want to make documents available outside of Salesforce? Optimize your processes with quicker and easier access to your documents directly in your trusted Salesforce user interface. Always have access to the most recent and relevant document. Document versioning keeps you up-to-date and helps to prevent errors due to obsolete information. Even colleagues who do not use Salesforce can access the document management system. Make Salesforce the ultimate information hub in your company – thanks to d.velop documents for Salesforce. Available in Salesforce AppExchange.

Documents contain information that is critical to your business. You can now find them quickly and use the knowledge gained to enrich and optimize your processes.

One click and a document can be accidentally deleted. Secure archiving ensures that important knowledge is protected and retained.

With d.velop documents, every customer gets 10 GB of free storage. This can be extended as desired. Thus, storage costs are significantly reduced.

d.velop documents integrates seamlessly into Salesforce. All its functions are intuitive and easy to use. This ensures not only increased productivity but also satisfied staff.
Meet your compliance obligations

Tax-relevant documents must always be stored in compliance with legally binding record-keeping requirements. With d.velop documents, you fulfill this.

To create integrated processes, you can also now access documents outside of Salesforce via your web browser, because not everyone has a Salesforce license.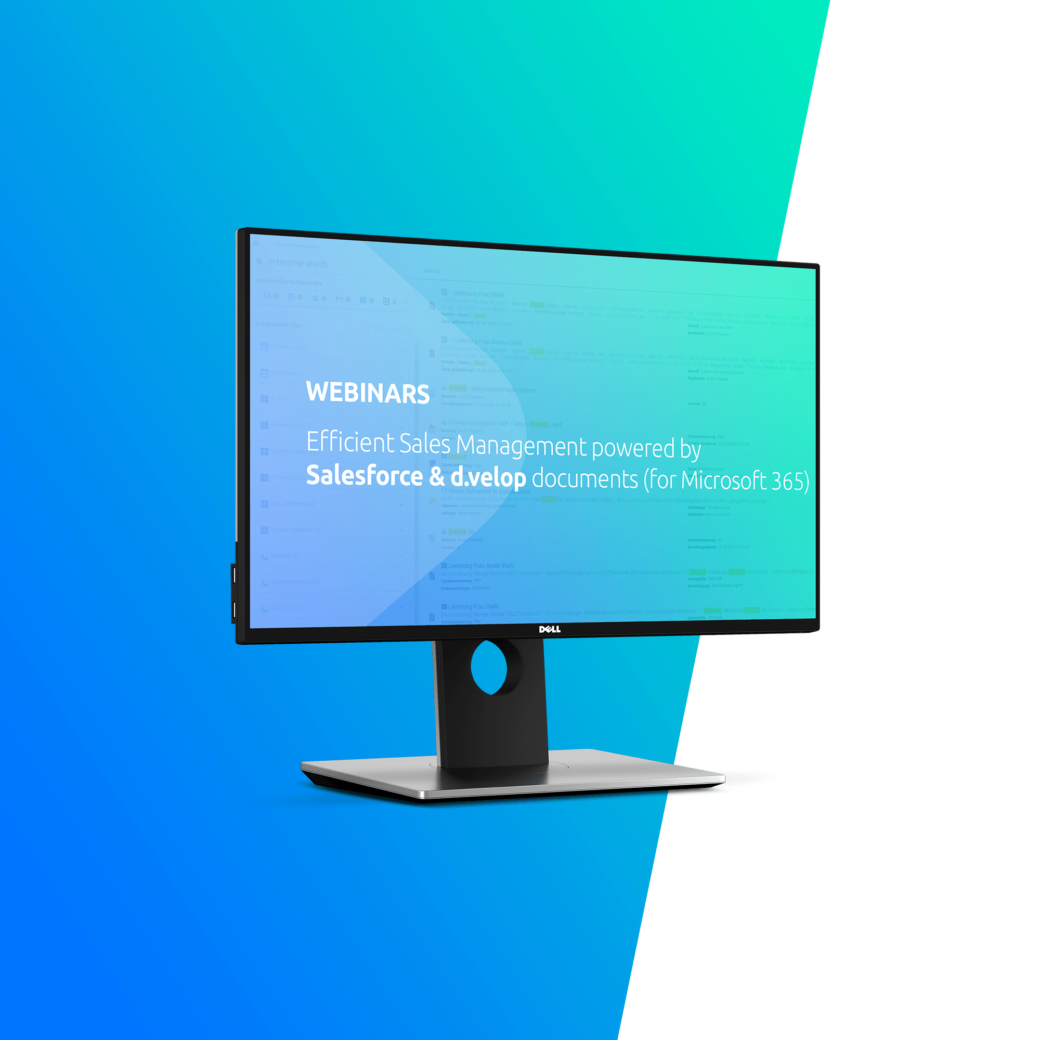 Webinars –
Efficient Sales Management powered by Salesforce & d.velop documents (for Microsoft 365)
Save time and money by seamlessly integrating d.velop documents, d.velop d.3ecm, or d.velop for Microsoft 365 into Salesforce and thus (not only) preserve your storage.
The biggest advantage is obvious: Call up context-related documents in Salesforce and save new documents from Salesforce in the d.velop DMS fully automatically. The user no longer has to leave the familiar Salesforce interface for this.
Experience the software live in the webinars now.
Document management seamlessly integrated with Salesforce
Due to our rapid growth, a fragmented software landscape grew internally. As part of the consolidation of these structures, a leading system was important for us. We found this with Salesforce. d.3ecm can be integrated into Salesforce and thus belogs to the central nerve system of the company.

Alexander Haunschild
Head of Sales
geiger BDT GmbH
Try it now for free and get started today.
Simple document storage
Convenient document search function
Automatic dossier generation
Document versioning
Sharing & forwarding options
Access independently of Salesforce
GoBD-compliant archiving
Billing per user and month
Low-cost data storage
10 GB of storage per user
d.velop documents for Salesforce
This is what it looks like!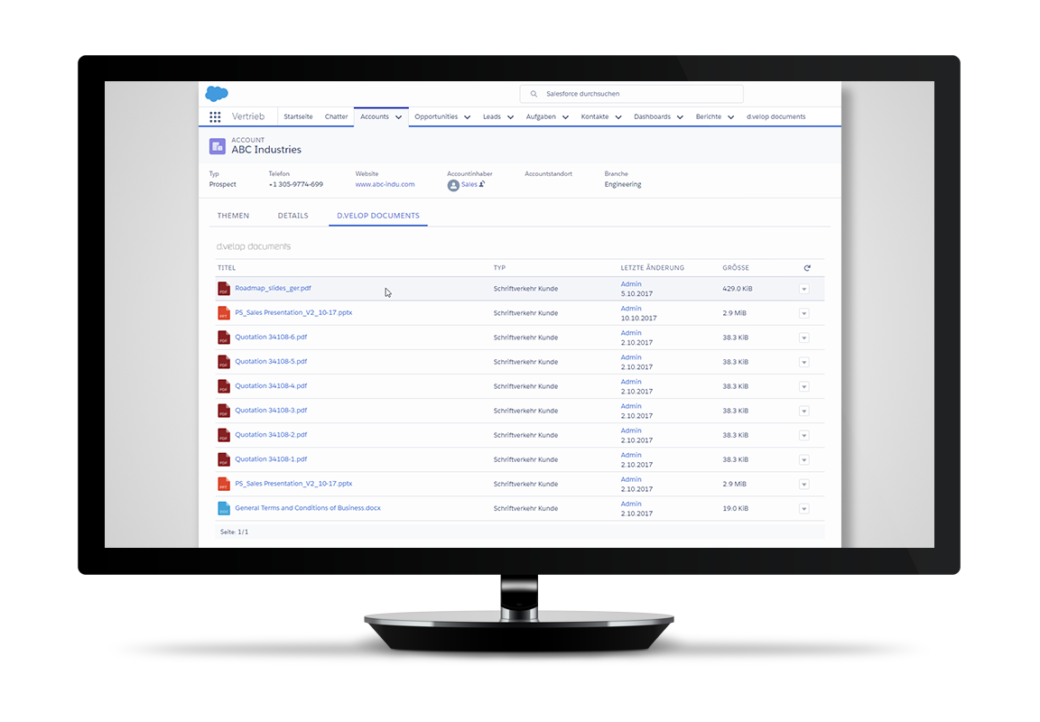 Do you have any questions?
Do you have any questions regarding the d.velop documents for Salesfore or any other topic? Or would you like to arrange an appointment for a demo? Simply click on the button to book your individual demo.