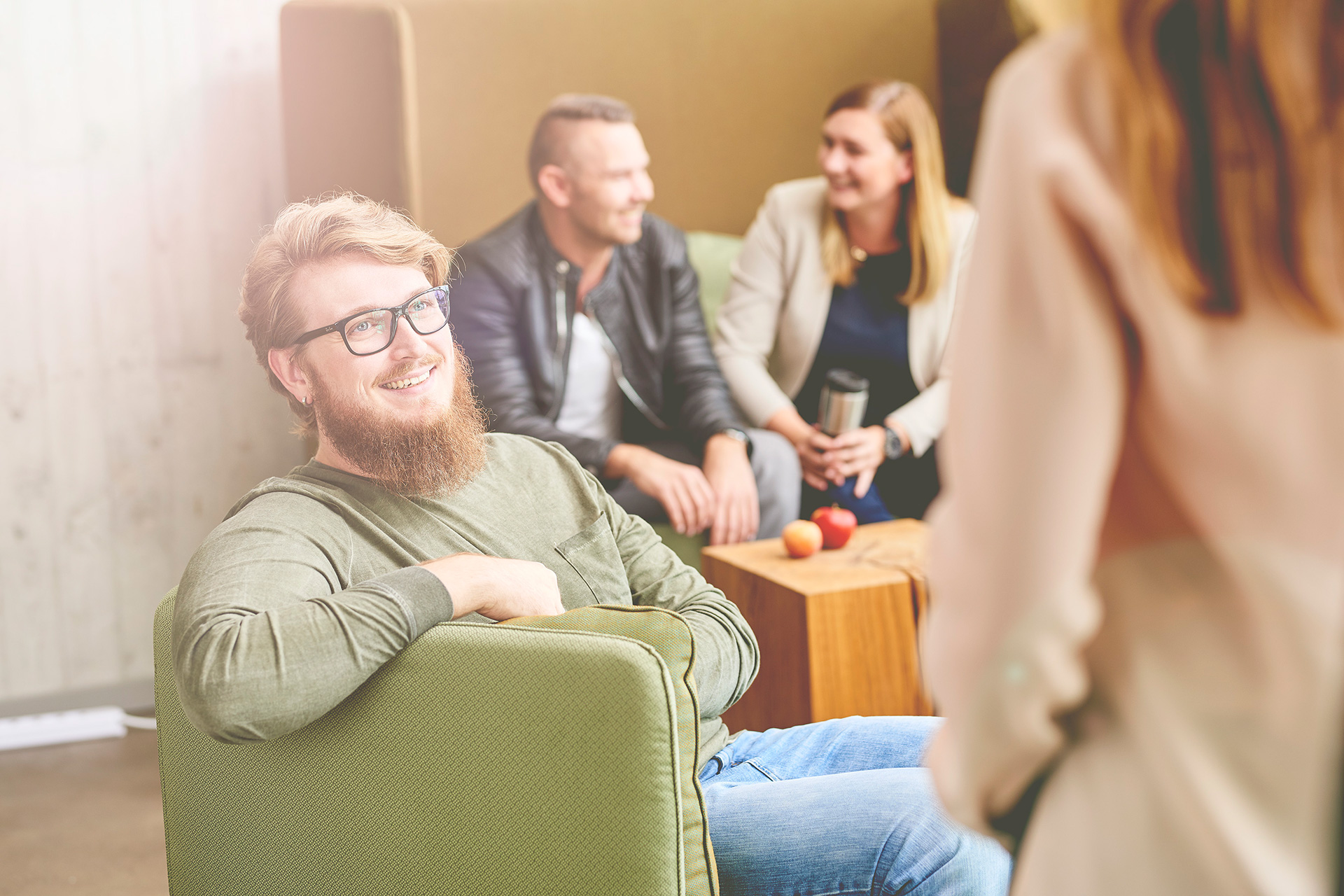 Document archiving
with d.velop
Securely archive documents in a central online location.
Archive your documents: Digital, easy, secure.
Paper documents, technical drawings, images, office documents, SharePoint documents, receipts, notes or emails – whatever the document, you need a reliable way to store and archive it for later reference.
d.velop's central document management system with electronic archiving puts everything in order. Digital, unalterable and safe for long-term storage and reference, d.velop's archiving system is audit-proof and system-independent by nature.
Archived documents are easy to find whenever they're needed. Users can then edit, check, and distribute documents as needed. Fully adaptable permissions and access rights ensure maximum security. The mobile ECM tool allows easy access on the go.
Why use a digital archiving system? Legal requirements
Benefit from audit-proof, fully compliant archiving of all data on your own storage system or in certified data centers. With proper versioning to protect from unwanted changes or data loss, your process documentation is compliant from the start. Legal retention requirements and other relevant deadlines are automatically taken into account. Available from anywhere
All documents are stored in a central location and arranged in digital folders. These can be accessed easily from anywhere, even across regional offices. This ensures all staff throughout the company can access up-to-date information whenever they need it. They can even locate and browse through archived documents from decades prior – because everything is on hand in TIFF or PDF/A format. Design better processes
Digitally archived documents are the key to transparent business processes. Constant and reliable access to information are vital if you want electronic business processes to run efficiently. In turn, these improved processes can significantly reduce associated processing times and costs.
Document archiving is a central component of any effective document management system.
Document archiving is a fixed component of our document management system. Intuitive, individually adaptable interfaces allow you to set up your digital archiving system in minutes – fast, easy, and transparent.
Document archiving is a fixed component of our document management system. Intuitive, individually adaptable interfaces allow you to set up your digital archiving system in minutes – fast, easy, and transparent.
Either use your existing storage setup to store your data or use d.velop's cloud storage.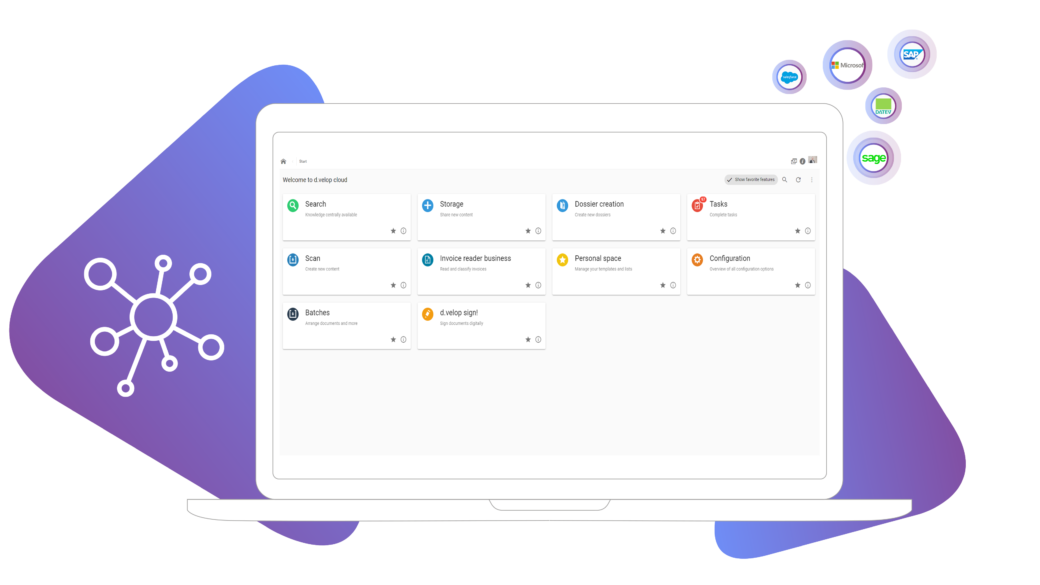 API & Integration
Connect your systems to our archive
Lots of systems across your company are generating all kinds of data and documents on a daily basis. We establish interfaces with the systems that generate this data so that the resulting documents can be stored in the document management system.
With all systems seamlessly integrated, you can access archived information directly from each application. This allows users to stay inside their usual program environment while automatically using the central digital archive and the clearly structured document management system.
Learn more about DMS interfaces >>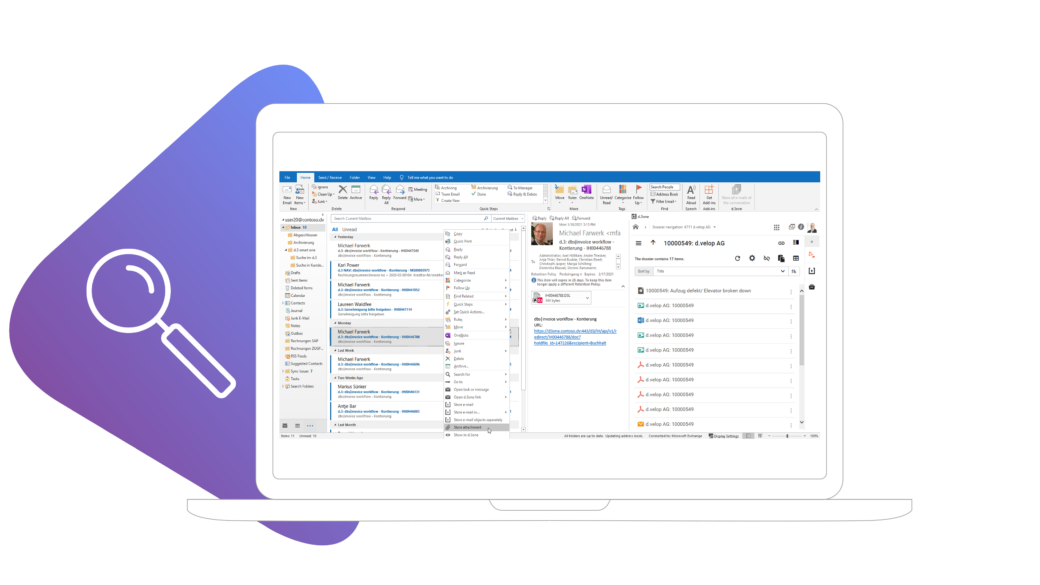 Finding what you need
Search your archive in seconds
d.velop documents offers a number of tools to help you research and find what you need in the digital archive. Each document and each file is tagged with a large number of keywords. These keywords are also known as metadata. This allows you to search based on specific information, such as an invoice number. In addition to these specific searches, you can also do a full-text search throughout the d.velop systems, just like you might use a web-based search engine.
All search results can be saved as favorites. That way you don't need to repeat the same steps again and again. The search parameters can also be saved as search template. This allows you to quickly repeat the search at a later date.
Learn more about enterprise search >>
Learn more about DMS interfaces
The choice is yours: You can store your business information either entirely on-premises, entirely in the cloud, or adopt a hybrid solution. Regardless of which option you choose, your data is safe with us.
On-premises storage
Would you like to archive your documents on your own hardware systems? Then content-addressable storage (CAS) systems would be your ideal long-term archiving solution. CAS systems are hard disk systems structured in such a way that it isn't possible to overwrite documents. d.velop software already has interfaces set up and ready to go for the following systems:
Hybrid-storage
If you operate your document management system on-premises, you can opt to use d.velop cloud storage as an additional backup for your local storage system (hybrid variant), without outsourcing all storage as you would in the cloud-only variant. This option allows you to adapt cloud technologies at your own pace.
Cloud storage
Selecting our fully cloud-based document management system makes the hassles in-house storage solutions a thing of the past. You can immediately do away with all the risk, stress, and maintenance costs that come with maintaining your own secondary storage systems. Instead, all your business-critical data is archived securely and accessible anywhere via the cloud – with maximum performance and full compliance with all auditing requirements.
The best thing is to start right away
and archive your first documents with d.velop documents.