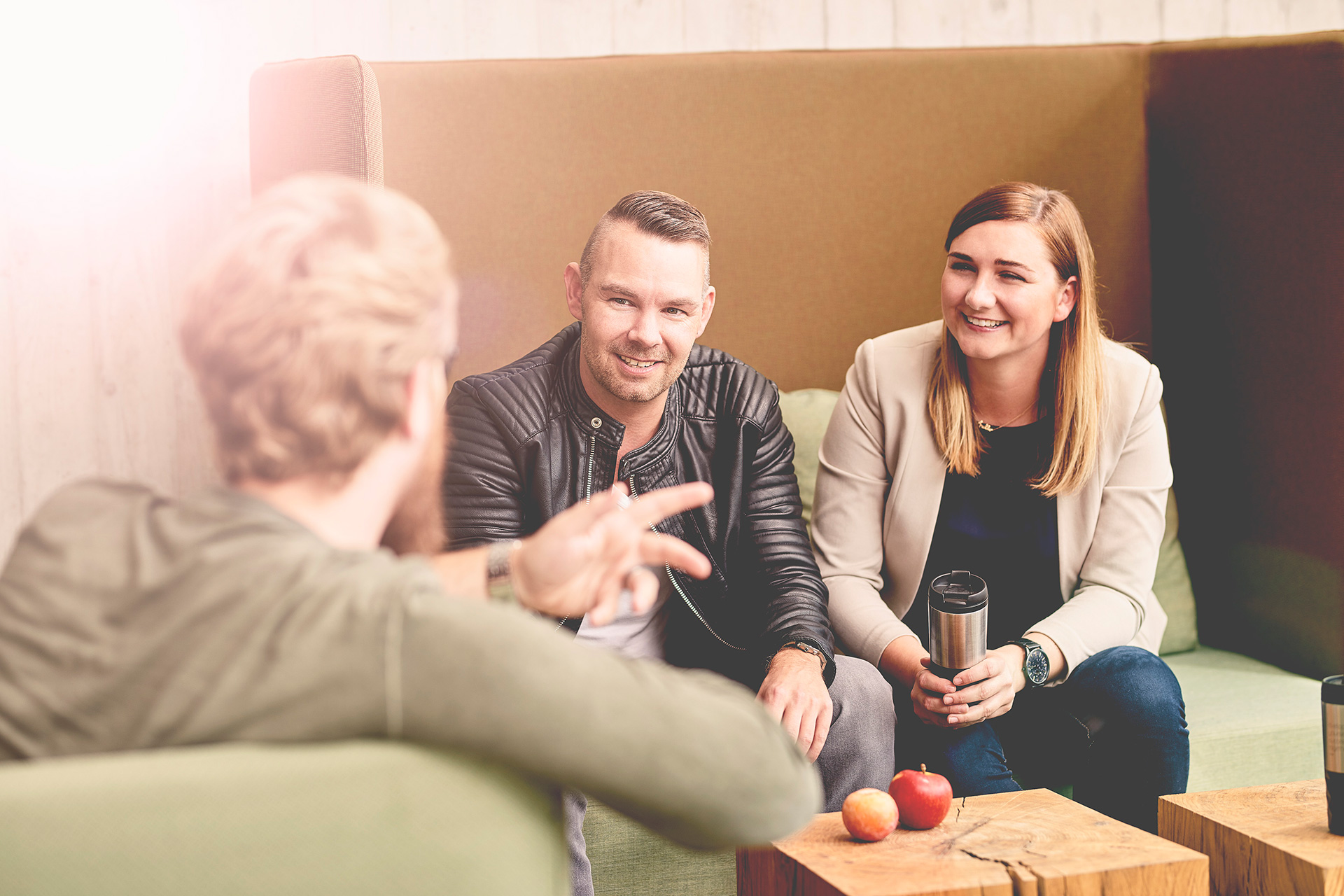 Intelligent Document Management and Collaboration for


Microsoft Dynamics 365
Manage business information easily in Dynamics 365 Finance & Operations, Business Central & Sales
6 benefits of using d.velop & Dynamics 365 – together!
We are enthusiasts and doers and do everything to save you time and money. We know from various studies that an information worker in sales-, purchasing-, HR-, or R&D-department spends on average 5 hours of his time searching for the right documents/information (Source IDC -whitepaper).
Learn how you can significantly reduce this time and effort in your organization:​
2. Reduce paper and filing costs
3. Improve coordination between departments
4. Ensure safety and security of your documents​
5. Coordinate between departments / home office (Covid-19)​
6. Free up time for your day-to-day business​
Our products in the areas of document management and invoice processing integrate seamlessly into the following Microsoft Dynamics 365 business applications. You are free to choose whether you use Microsoft 365 – SharePoint online or d.velop documents as the storage location for your data.

formerly Microsoft Dynamics NAV


Typical Use Cases and Departments connected to Dynamics 365
Given a thorough and consistent technical and organizational implementation, the ROI of such solutions can be as high as 850% (according to Forrester).​
Implement your own solution for the business objects around which your daily business revolves:​
360° perspective based on Digital Files
Customer
Supplier
Personnel file
QM documents
Contracts

Projects and Project files

And others
Departments
Sales
Finance
Purchasing
Manufacturing
And others
Connect people with all relevant information to help them excel in their Dynamics 365 – driven business processes
Those business objects (mentioned above) already exist in your D365 system, but we make them available to all of your users while combining them with non-D365 documents and information.
Your Benefits
Improve Productivity
Get significantly faster access to the necessary documents for the task at hand
Save time by not needlessly switching between business applications to find information
Collaborate with your team independent from the location
Increase Employee Satisfaction

Free up time for value added tasks
Simplify the handling of content in information-driven processes
Deliver the right information directly to the employee's favourite applications by using document management and collaboration functionality
Drive Business Excellence
Enable seamless business processes unconstrained by the typical boundaries imposed by information silos
Focus on work that really delivers value by eliminating cumbersome tasks
Improve collaboration and provide outstanding visibility on business-critical information
Achieve Your Strategic Goals
Unlock more ROI from existing key business applications
Operate better integrated systems
Implement strong information governance with a strategic, centralised place for information
Improve customer experience with an outstanding level of responsiveness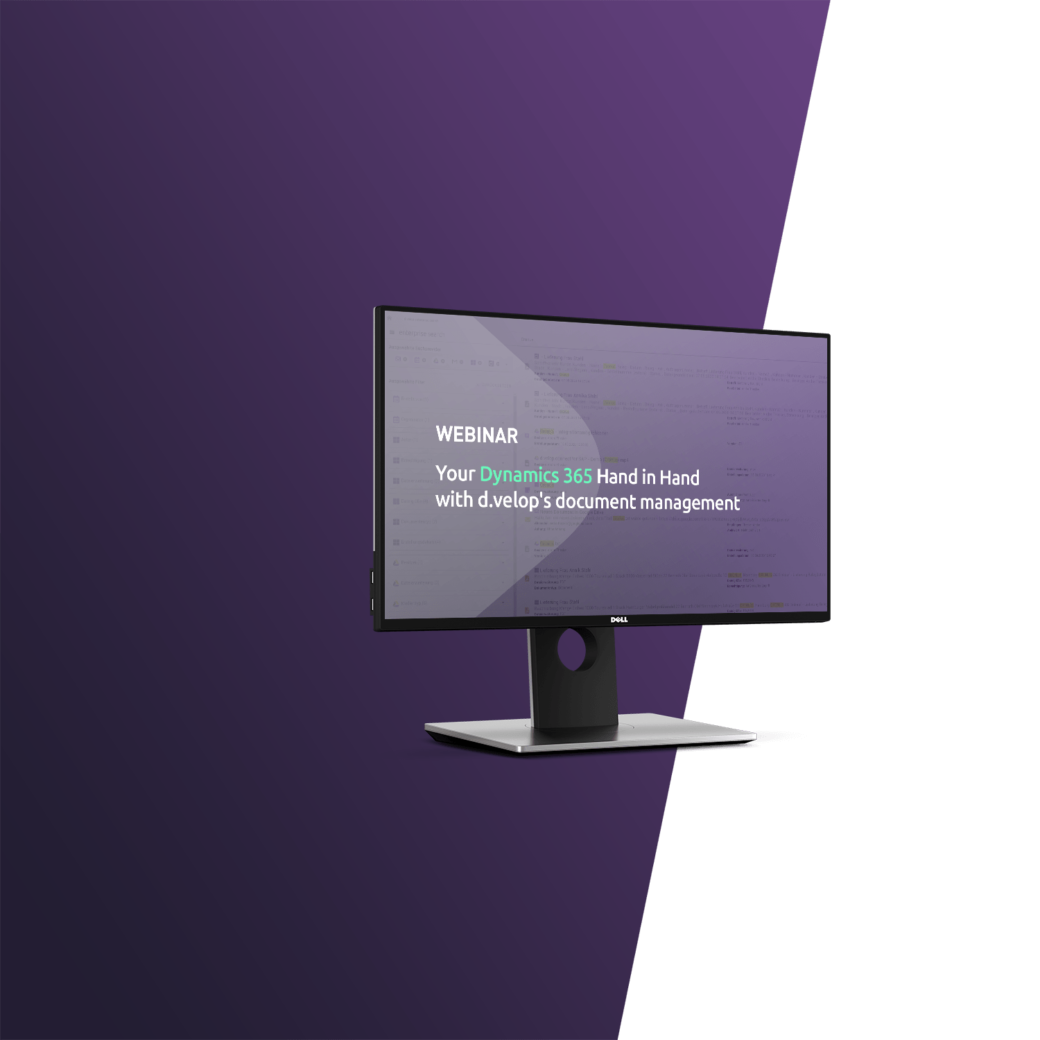 Webinar: Your Dynamics 365 Hand in Hand with d.velop's document management
Learn more about d.velop's solution for Dynamics 365
In this 25-minute webcast, Garth McCown shows IT-decision-makers and key users an approach to reducing information silos and accelerating processes in your organization based on the existing tools Dynamics 365 (BC, F&O, Sales), Teams and SharePoint Online.
What to expect:
Challenges in your daily business
Our approach to cover those challenges
Live Demo
Benefits
Features
Presentation
Logical 360° view on business-critical information that you need within a given business context, such as

customers and suppliers
sales and purchase orders
projects, products and contracts
employees, cases and topics

Easy-to understand navigation that unifies content in relation to the right business context
Provide a consistent user experience by standardising access to content through consistent terminology and navigation (file plan structure)
Classification
Effortless classification of content
Metadata is automatically applied from the D365 business context where the document was dropped
Document types (= content types) are determined automatically from the context
Drive Business Excellence
Deliver the relevant information for the right business context, as well as document management and collaboration functionality, directly to the employee's favourite applications
• ERP, such as SAP and Dynamics 365
• CRM, such as Salesforce and Dynamics 365
• Outlook, Office, Teams
and other lines of business applications
Consolidation
Automatic consolidation of documents from different key business applications to break down information silos
Bring together structured and unstructured content belonging to the same business process or task in one view irrespective of its origin

D365, SharePoint, Outlook, Office, scanned documents, file share, other business applications

Manage all business-critical content in SharePoint as your strategic point for information management and governance
Our products for
Microsoft Dynamics 365
---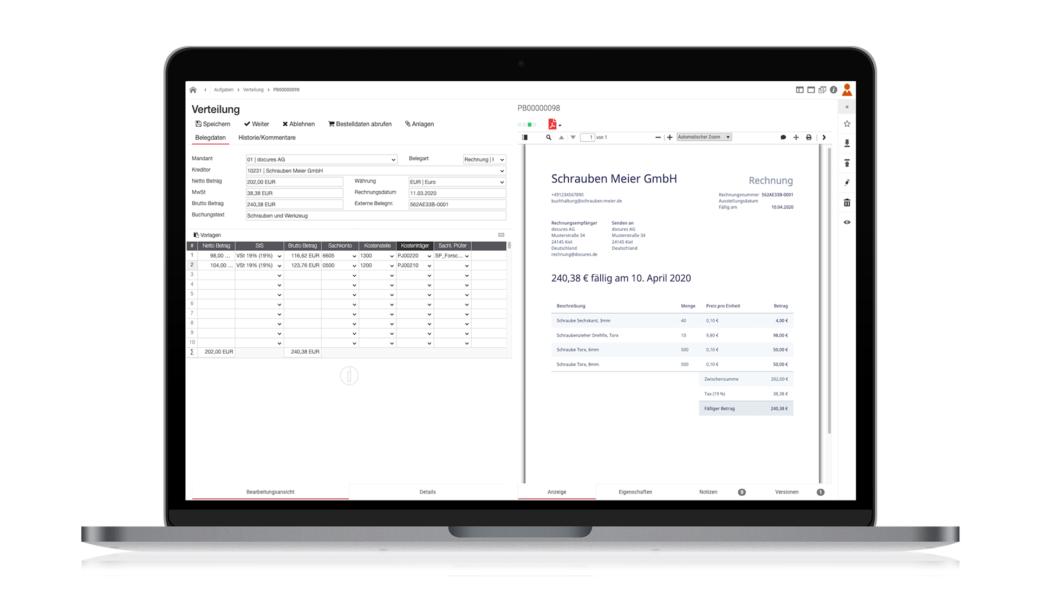 Manage documents
Available for Microsoft Dynamics 365 Business Central, Finance & Operations and Sales.
Accelerate, simplify, and optimize the management of your information by efficiently managing documents such as receipts from Microsoft Dynamics 365 with our document management system.
In doing so, you are free to choose whether you use d.velop or Microsoft 365 as the storage location for your data. Learn more about our two products here: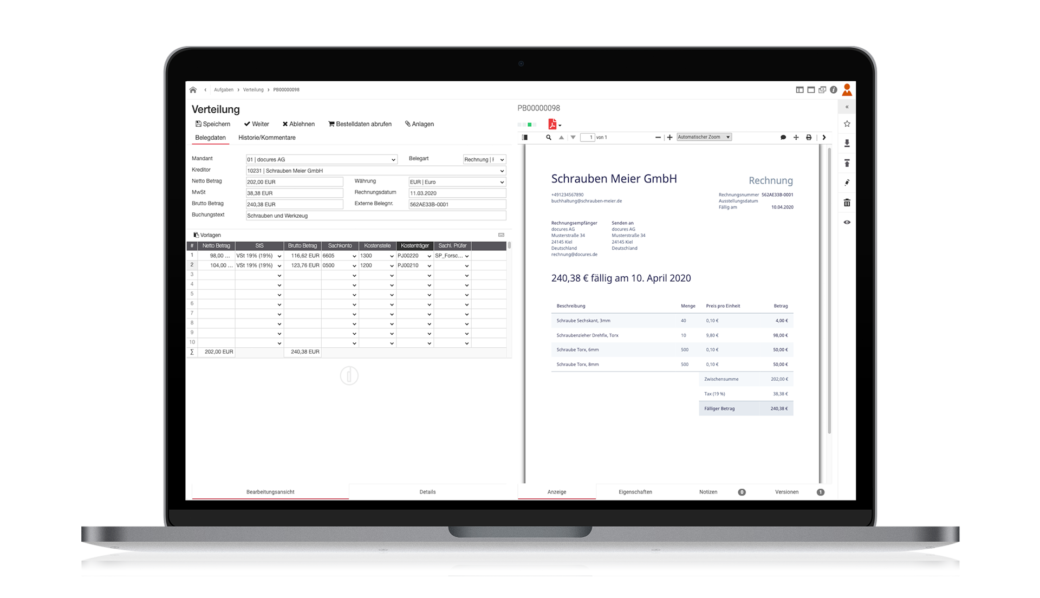 Manage invoices
Available for Microsoft Dynamics 365 Business Central and Finance & Operations.
With the help of our digital invoice processing, you can streamline and simplify your processes in Microsoft Dynamics 365 – starting with the scanning of invoices, AI-based recognition and approval workflow all connected to Dynamics 365.
In doing so, you are free to choose whether you use d.velop or Microsoft 365 as the storage location for your data. Learn more about our two products here:
Let's talk.
Learn how d.velop connect for Microsoft Dynamics 365 can help your business with a live demo.
Select a time – Select a date and time for your personal live demo. We'll then send you an invitation to join us via Microsoft Teams.
Tell us what you need – Next, tell us about your requirements. What challenges are you facing? Which d.velop solutions would you like to see?
Your live demo – We'll set you up with the right expert for your live demo based on your specific requirements. If we're not quite sure who that might be, we'll get in touch in advance to clarify the final details. Our expert will talk you through everything. You'll get to see exactly how it all works right before your eyes.
d.velop connect for Microsoft Dynamics
Do you want to know more about the possibilities of Microsoft Dynamics?
Start by finding out how to begin with your company-wide information center – integrated, secure, simple, and intuitive.
Without the right support tools, it can be very difficult to find all the information that a company knows about a customer. Bring time-consuming searches to an end with d.velop connect for Microsoft Dynamics 365. Enhance customer engagement!
Or would you rather know how to integrate your data with CRM systems? Access and view archived data within its actual context – directly from Dynamics CRM.