Enterprise Content Management (ECM) Software – What is it?
Enterprise Content Management (ECM) represents an overall concept that enables uniform management, processing and archiving of all corporate information. It combines various software solutions into a holistic strategy and management concept and supports your business processes with digital functions.
The biggest advantages of enterprise content management software
The theory is clear, but what is the concrete impact of an ECM software on the company?
Digitization becomes a growth driver
Analog and unstructured digital solutions have one thing in common: they take time. In the end, it doesn't matter if a document was filed incorrectly or the Word file was placed in the wrong customer folder.
In contrast, an enterprise content management system offers a significant reduction in processing times. Information can be found more quickly, tedious work steps can be easily automated, and waiting times can be used to complete tasks. Conversely, you gain time that you can use as productive time and your growth phase begins.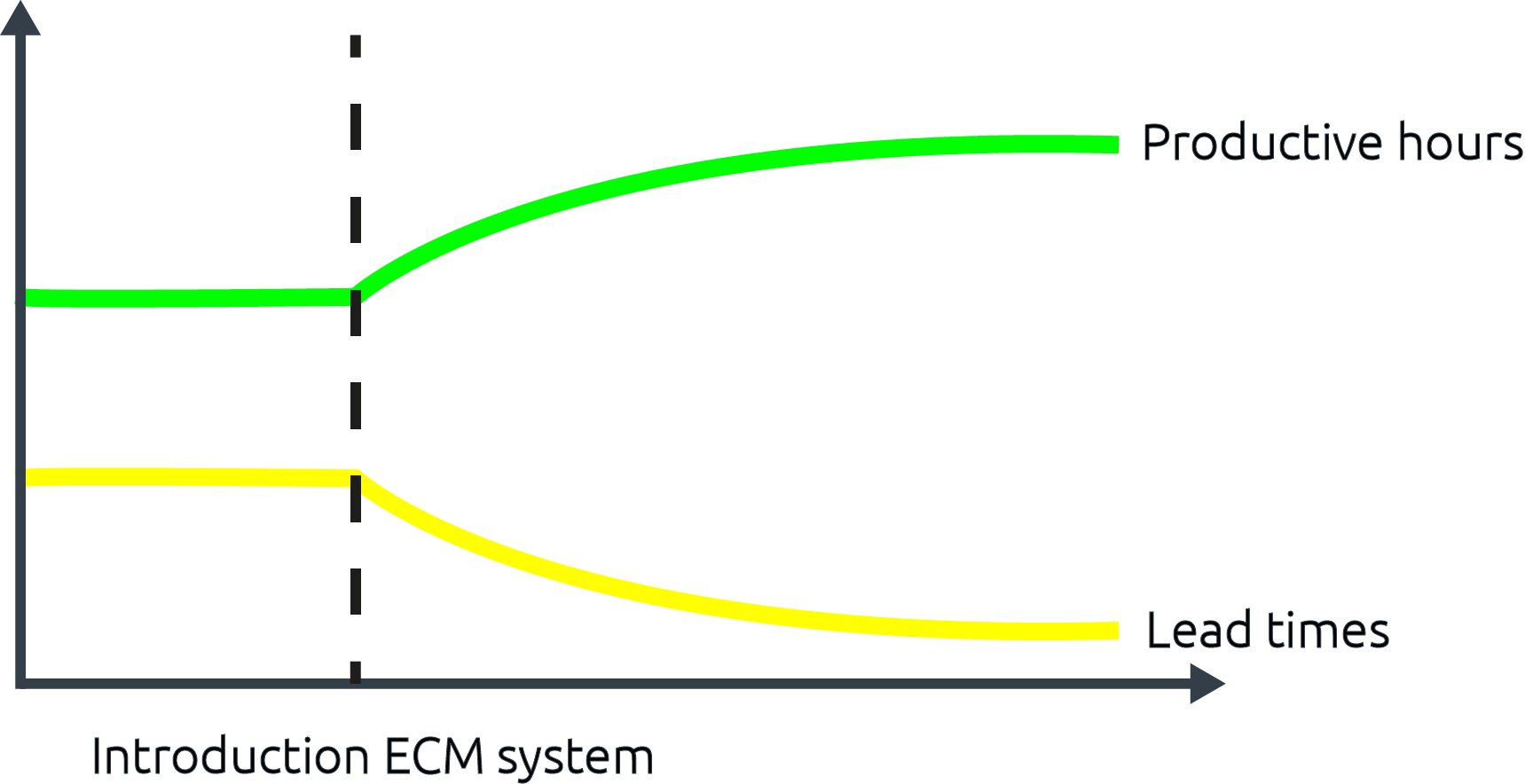 No information is lost in the chaos of notes
Many lead times are caused by data silos. The departments each have their own filing systems and work with their own isolated solutions. This makes it difficult to maintain an overview, find the current status of a document or even the information you are looking for. This is exactly where an ECM software comes in and connects these isolated applications with a central access point to a uniform and automated filing system. Thanks to an intelligent search, you can find any document in seconds.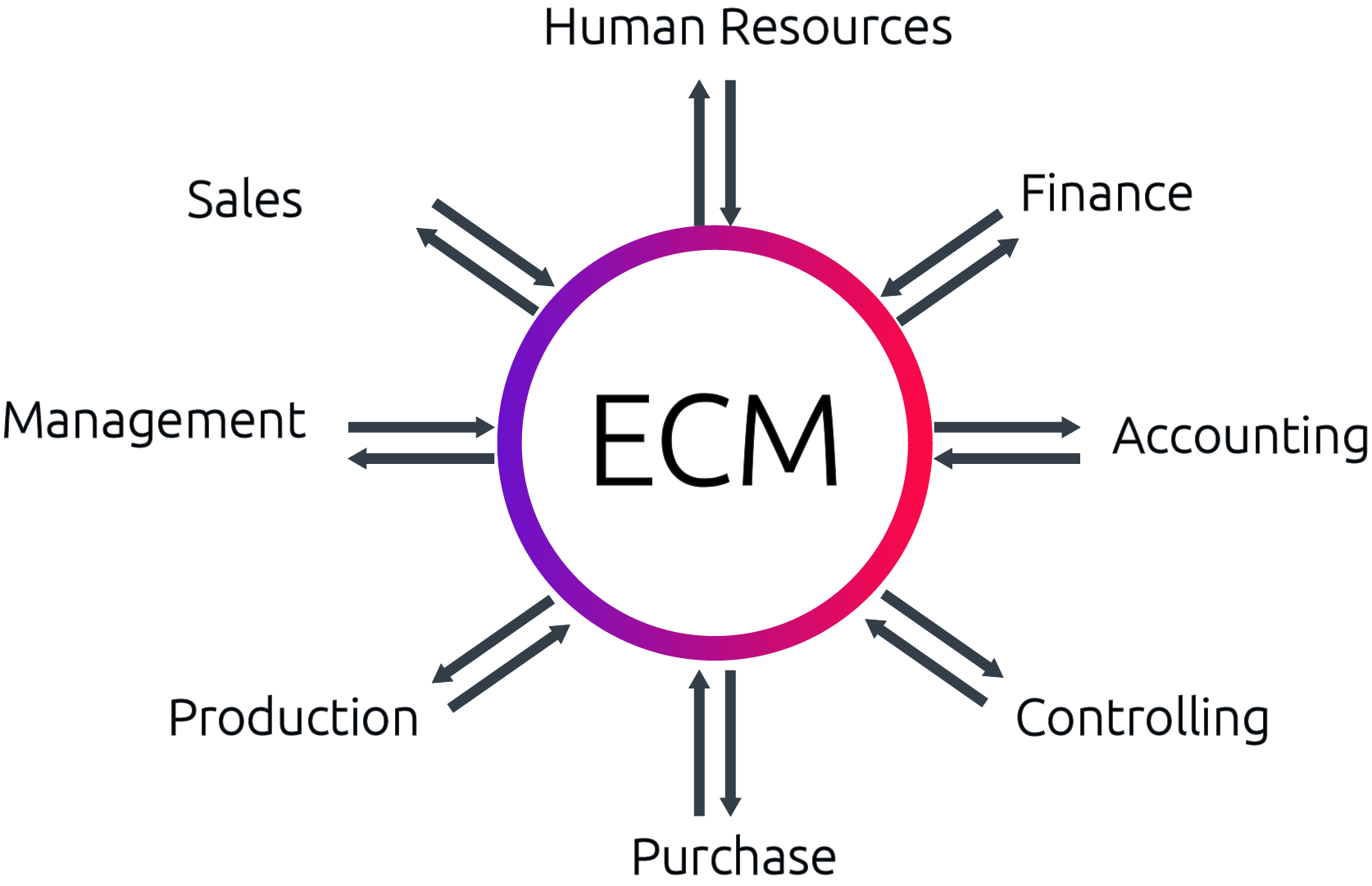 Collaboration is the new teamwork
Almost all documents are entered, checked or edited by at least two people, which is why teamwork is required in every company. This already includes the provision and comprehensible preparation of relevant information for other employees. However, it becomes really confusing when external employees are involved, such as partners, tax consultants, lawyers or even customers.
An ECM software brings order back into the collaboration – even beyond the organization. Through simultaneous editing with a change view or versioning, no information is lost and everyone can precisely track the current project status. This makes collaboration much easier and gives it a whole new meaning. The speed increases and successes are celebrated together.
You remain competitive
2020 was the year that inevitably called German companies to action. Weaknesses due to a lack of or insufficient digitalization were clearly highlighted and new opportunities were identified. This has encouraged many to invest in digital technologies and develop further. Home office and remote working are already part of normal everyday life. If you don't act now, you will lose your competitiveness in the long run. Because while the forward-thinking companies are breaking new ground, the others are falling by the wayside. Because as the saying goes, "It's not the big ones that eat the small ones, but the fast ones that eat the slow ones".
One step ahead of the government
Germany is regarded as an innovative and forward-looking country, although the degree of digitization of German companies is lagging behind that of other leading countries. The government wants to change this. Through new regulations and laws, it is driving digitization forward and opening up new opportunities for companies. One example is the e-billing law, which made sending and receiving electronic bills mandatory for all public administrations. Only companies that have already switched to e-invoices can accept orders. Others were forced into a tight spot and had to upgrade. As a result, they temporarily lost their flexibility and, in some cases, concrete orders.
Don't wait to have to adapt, be one step ahead of the government.
The most important advantages at a glance:
Throughput times become productive time
A central system with uniform workflows
Transparency and traceability in workflows
Search and find in seconds with Enterprise Search
Improved collaboration
Maintain competitiveness
Not reacting (to laws), but being one step ahead
---
What all belongs to an ECM software?
Enterprise Content Management never refers to just one software, one tool or one business process, but always represents an overall concept for organizing all business processes in the company. The industry association AIIM (Association for Information and Image Management) has developed a recognized model that defines the five components of an ECM.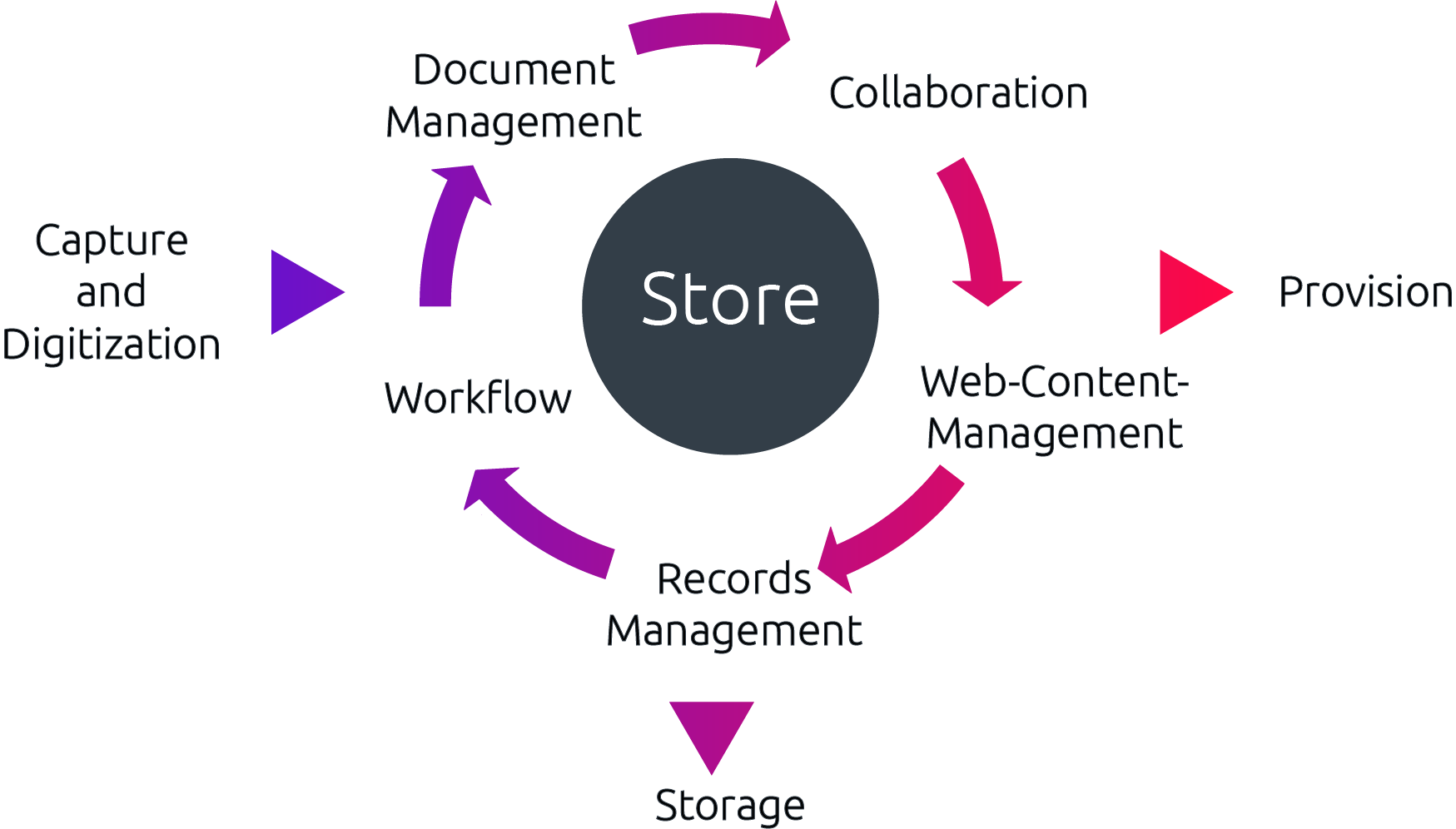 Document Management
Document management covers all interactions with documents and data in your company. This includes, in particular, the capture, management, storage, archiving and, if required, destruction of documents.
The digital document management system is the corresponding software solution that enables your company to digitize your entire document management and automate it from scanning to audit-proof archiving. The DMS is thus the prerequisite for a paperless office.
Difference DMS and ECM
The document management system (DMS) is often used as a synonym for enterprise content management system, but these two terms must be clearly distinguished from each other. A DMS, along with other software solutions, is only one part of the ECM system. The document management system is thus a subordinate partial solution of a comprehensive overall concept, the ECM.
| Difference DMS and ECM | |
| --- | --- |
| ECM: Overall concept as a central solution for the digital preservation and provision of all your company's information. | |
| DMS: Subsystem of ECM focusing on efficient and secure interaction with documents. | |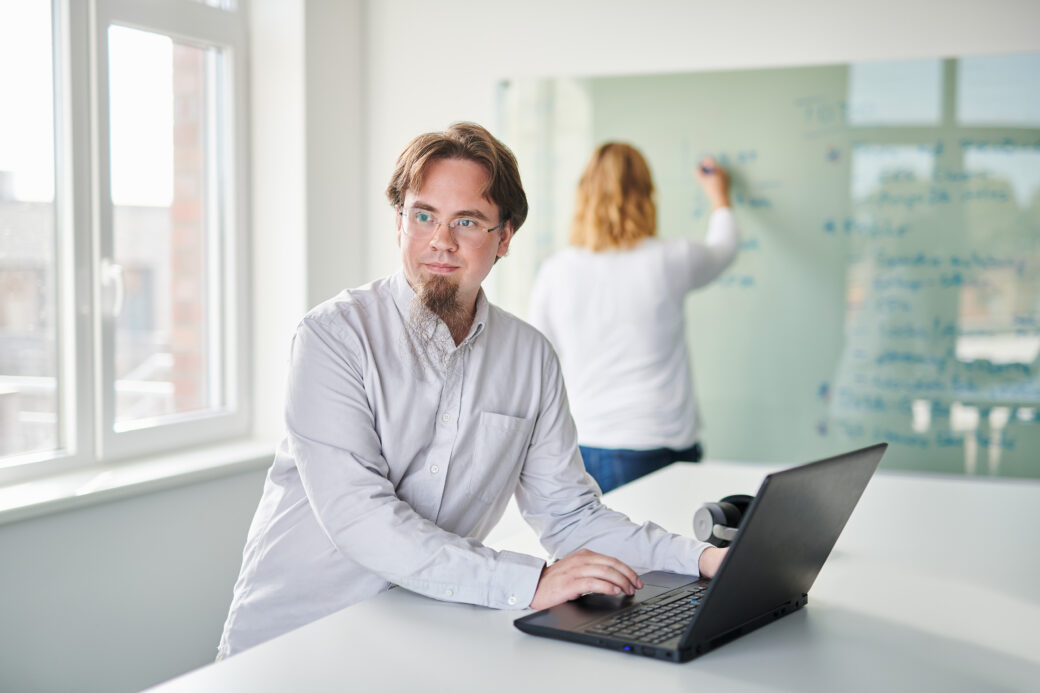 ECM Webinar | Document management
Document management out of the box – Kick-start your digitalization with d.velop documents
Learn in the webinar how to intelligently accelerate, simplify and optimize the management of documents and information with d.velop documents.
Look forward to a live demo of the solution and gain insight into the individual functions as well as concrete usage scenarios.
BPM – Workflowmanagement
What is BPM?
BPM stands for Business Process Management and describes the design, control and, above all, optimization of business processes. As part of enterprise content management, BPM describes the strategy of constantly optimizing the workflows created and simplifying them through automation.
Workflowmanagement in ECM-System
Workflow management plays the main role in the development of the ECM concept. This is because the choice of software to be used, the requirements and individualizations depend solely on the workflows themselves. But even after the system has been introduced, workflow management remains an essential component of ECM and is part of quality management. Through further automations and customizations based on workflow evaluations, you create highly flexible and optimized digital business processes.
The d.velop Business Process Management supports the modeling and processing of entire workflows, so that you can sustainably integrate BPM into your Enterprise Content Management.
---
Records Management – Audit-proof management of business documents
Even paper-based documents are subject to legal requirements with regard to management and archiving. The same applies to digital documents and is even supplemented by further requirements.
What is Records Management?
The English term stands in German for proper document management based on the international standard ISO 15489. Regardless of whether the document is paper-based or digital, a traceable, transparent and audit-proof filing system is required.
Records Management in ECM-System
The Enterprise Content Management System creates a basis for the records management of digital documents. As a rule, the DMS already offers all the prerequisites for this:
When filing documents, you can store supplementary data. This includes, for example, meeting notes, reports, logs and supplementary documents such as the corresponding e-mails. The DMS automatically logs changes to the document itself via versioning and records the exact date, time and person, for example. The original document can be retrieved at any time. Last but not least, standard document management systems provide the basis for an audit-proof archive.
---
Collaboration – digital collaboration in ECM
Enterprise Content Management counteracts the classic isolated applications and data silos. Instead, it relies on collaboration and brings the different departments together. But in order for this to be possible at all without creating chaos, the following ECM functions are fundamental:
Simultaneous processing
Some work steps for a document could run simultaneously. But in doing so, you run the risk of creating different versions of a document. Especially when different departments are involved. Cloud-based solutions make it possible to work on a document at the same time – without having to make a copy. Two or more people work on a single file and receive the current version in real time.
Same information stands
Notes on a document do not belong on a piece of paper or in just one application. The ECM must offer the possibility of bundling the information from the various solutions in one place and storing notes digitally. This ensures that all data on a document is complete and clearly presented for all authorized users.
Direct communication channels
Working together also means exchanging information on a regular basis. A company chat enables you to contact your contact person directly from the ECM system. The synchronous exchange also speeds up project decisions.
Knowledge Exchange
The level of knowledge of each individual sometimes determines the success or failure of tasks and projects. Therefore, a fluid exchange of knowledge is of essential value. Specialist solutions, training and continuing education materials should be openly available to everyone. You can achieve this, for example, by integrating an e-learning platform.
WCM – Web-Content-Management
Just like digitization, it is impossible to imagine a company without a web presence – both in the form of an intranet and a public website. Therefore, the ECM concept also includes a web content management system (more commonly known as CMS, Content Management System). The most common systems include WordPress, TYPO3 and Drupal.
Read more about the classic ECM model according to AIIM and the most important benefits in our blog:
Was ist ECM? Enterprise Content Mangement simply explained!
ECM system according to d.velop AG
In our view, AIIM's enterprise content management model is inadequate and too broad. Therefore, we concretize the ECM into five must-have components that you should definitely include in your ECM concept: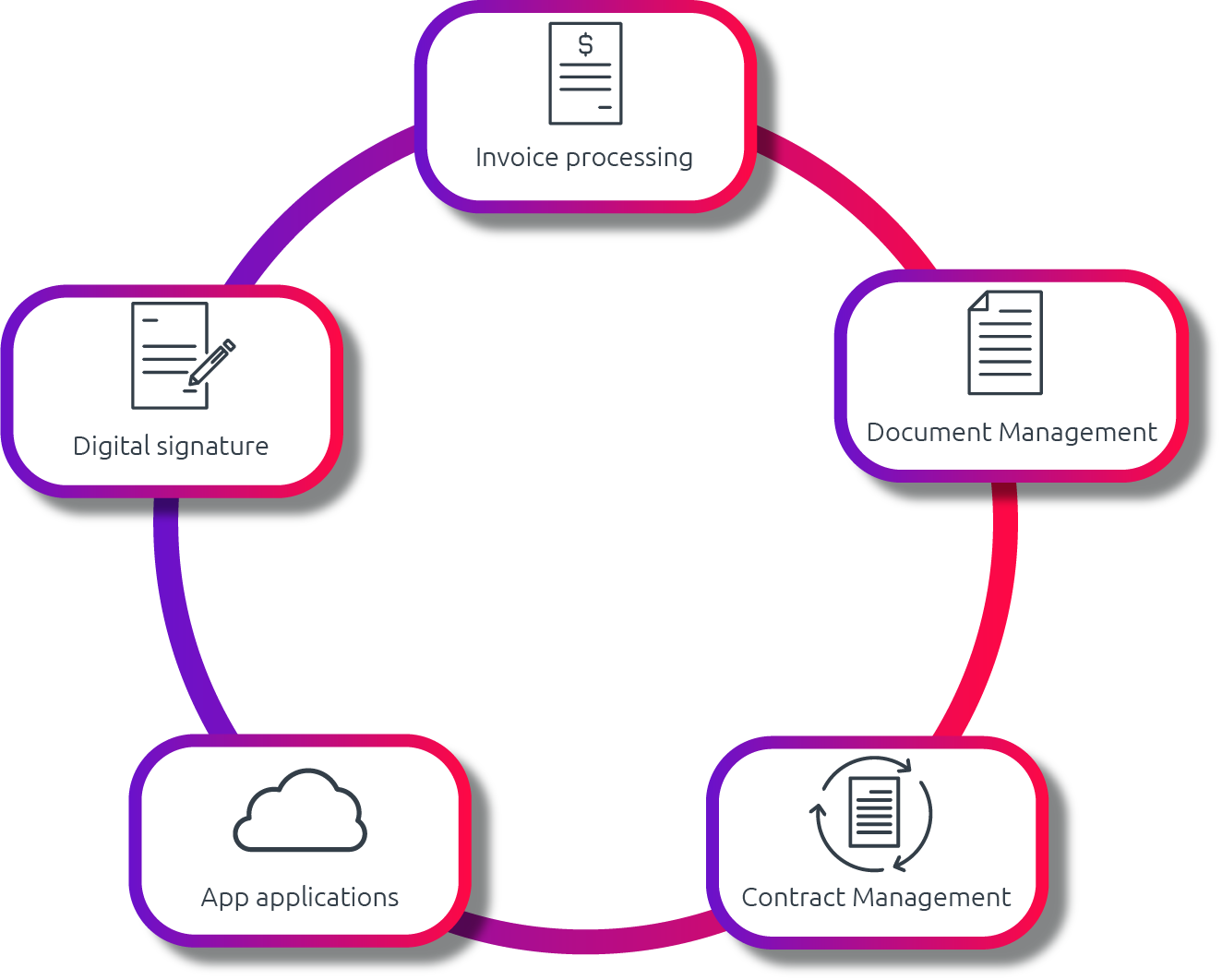 Document Management
As in the AIIM model, we see the document management system as the foundation and most important component of enterprise content management. Here, however, we place greater emphasis on intuitive and easy operation. Therefore, in addition to our own DMS, we also offer applications that build on your existing systems and make them more easily accessible through the application. These include document management for Microsoft 365 and SharePoint as well as document management for SAP.
Invoice processing
Digital incoming invoice processing is an important component of Enterprise Content Management. Your entire invoice processing is simplified into a digital and optimized workflow and bundled within the ECM system. This starts with the capture of the invoice in the document management system, the posting in your accounting software and the transfer to the ERP system.
ECM Webinar | Invoice processing
Check and approve invoices regardless of location with d.velop smart invoice
Sharing and working with documents should be possible digitally for everyone to ensure smooth collaboration – from anywhere.
With the flexible cloud-based software "d.velop smart invoice", you can also realize this for the processing of your incoming invoices.
Learn in the webinar what modern invoice management with d.velop smart invoice looks like. Use the free webinar to have your specific questions answered by the experts.
Contract Management
As the basis for your company's ability to do business, contract management also plays a central role within the ECM system. Contract management goes far beyond pure contract management, as it starts with the initiation of a contract and maps the entire contract lifecycle.
Digital contract management – advantages at a glance
Transparency and full control over all your company's contracts
Optimization of your workflows
Automatic reminder of terms, dates and deadlines
Important contracts are never lost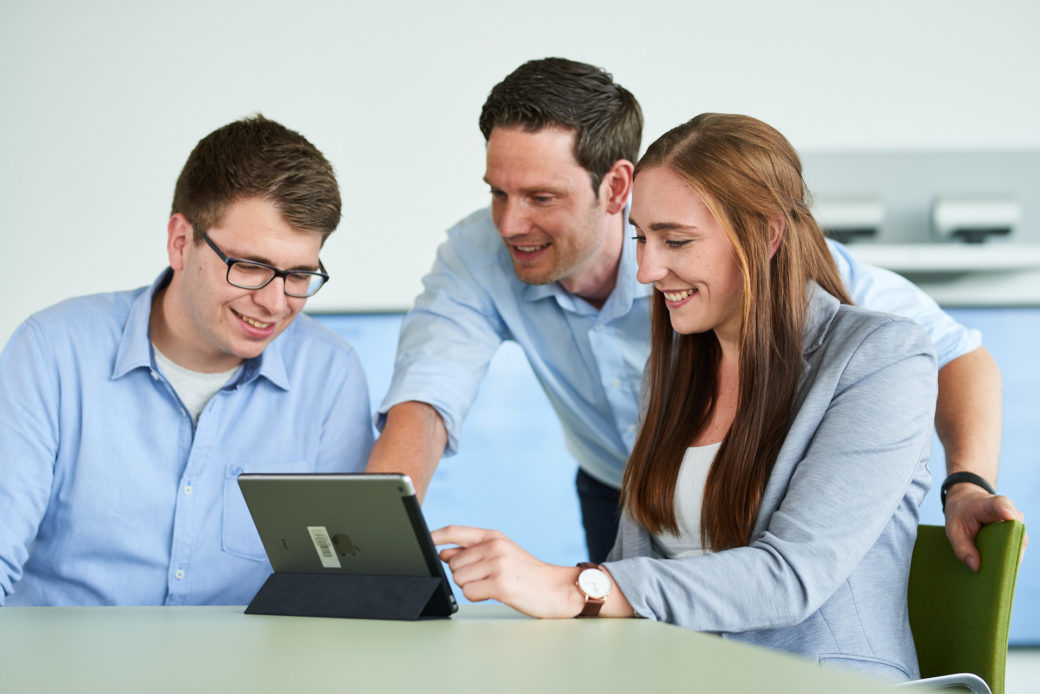 ECM Webinar | Contract Management
Manage and archive your contracts in one place, keep an overview and use all functions to optimize your contract management – from contract creation to contract archiving. This way, you always have an overview of the entire lifecycle of your contracts.
Whether deadline management, task management, contract controlling – with a contract management you will work even more efficiently in the future.
Digital signature
The ECM model has a weak point: Not all workflows can be mapped completely digitally. Necessary signatures repeatedly lead to time-consuming media discontinuity. Yet this is precisely what enterprise content management is supposed to prevent.
The digital signature should therefore be another specified component of the ECM subsystem. Put your legally valid signature on a digital document with just one mouse click.
The advantages of a digital signature
The advantages of the digital signature are obvious: The already digitized document does not have to be printed out again, signed, scanned again and filed. The media disruption is completely bypassed here. The digital signature is thus the perfect complement to the digital document management system and represents the final piece of the puzzle for purely digital document management.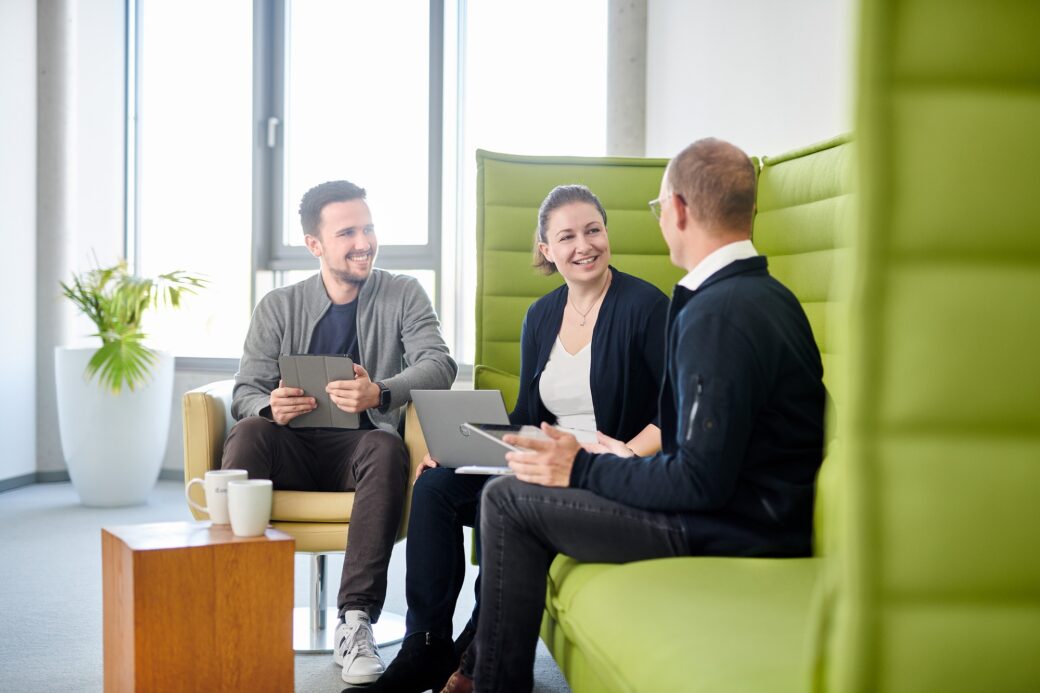 ECM White paper | Digtal signature
Digital signature – and analog work belongs to the waste paper
Electronic document management has fundamentally changed business processes within and between companies. Analog management and processing of documents has been replaced by a digital solution – at least almost.
What good is a digital document if it is still printed for signature? In this white paper, you'll learn how to drive your business forward with just one set screw. Put an end to analog working.
App applications
An enterprise content management system has long since ceased to be reduced to the computer. App applications allow you to access the ECM via mobile devices such as smartphones or tablets, obtain the information you are looking for, or edit documents while on the move. This opens up new possibilities: Home office in times of crisis or simply as a flexible work option, cross-location collaboration within a company and beyond the organization.
Employee app – the ECM system for your pocket
The d.velop employee app fulfills all components of the ECM model and is thus much more than a classic employee app. Real-time status messages for logistics companies, simple communication with relatives for nursing services or fast access to patient files for hospitals: The employee app can be flexibly adapted and individualized for different use cases. This means that not only your employees but also customers, partners and suppliers can access the documents and information provided. In addition, the employee app is the perfect complement to the Digital Workplace.
The most frequently asked questions about Enterprise Content Management
What is enterprise content management?
Enterprise Content Management (ECM) is a software for the holistic, secure and structured management of your company information. It represents an overall concept that is made up of various software solutions (e.g. DMS).
Why is Enterprise Content Management important for a company?
An enterprise content management system combines many different software solutions into a holistic overall concept. Through interfaces, the software and features mesh like cogwheels and map workflows from start to finish without having to leave the ECM.
Is SharePoint an enterprise content management system?
SharePoint is part of Microsoft Office 365 and thus represents a content service. Many ECM systems use SharePoint Online as a basis and extend the content platform with many additional functions. In the actual sense, however, SharePoint is only part of an ECM system and serves document management.
Does enterprise content management have a feature?
Enterprise Content Management has a variety of features, but these again depend on the software selection. Examples are the digital signature, enterprise search and the mobile app. In addition, subsystems of ECM, such as contract management and invoice processing, can again contain their own features.
What is ECM software?
Actually, one cannot speak of an ECM software, since ECM rather stands for an interaction of different softwares with different functions. Within the ECM system, these softwares interlock and together form the technical basis for all business processes in the company.
Is ECM dead?
The term ECM has existed for a good 20 years – even though the earlier ECM can hardly be compared with today's ECM. There are therefore voices that describe ECM as a relic and see it being replaced by content service platforms. In fact, a content service is merely the further development of ECM. Due to the many advantages, however, the era of ECM is far from over.
What do you need ECM software for?
An ECM brings together all the relevant software in a company and links them. Instead of using individual stand-alone solutions and switching systems over and over again, you stay within the ECM and map workflows completely. The benefits are a unified workflow and filing system, a central access point, and greater transparency and collaboration between departments.