What is digital collaboration?
Collaboration broadly describes how different people work together on a shared project. But in the context of digitalisation in companies of all sizes, we talk about digital collaboration. This relates to technology-supported remote collaboration between teams working in a paperless office – relying on collaboration tools.
Digital collaboration across borders
Team members can belong to different departments or organisations, and can collaborate with others from anywhere in the world. The aim is to maximise process digitalisation through digital collaboration tools. The central vision is of a digital workplace. It's all about enabling seamless information and data exchange, while boosting team spirit despite the physical distance between team members. Digital collaboration tools bring teamwork to the next level – in real time. 
Collaboration tools make a difference
50

%

increase in efficiency thanks to digital collaboration tools.

60

%

of employees see room for improvement in relation to collaboration.

20

%

of companies are already using DMS tools to boost collaboration.
d.velop's digital collaboration tools
The quality of the software you choose will determine how efficiently collaboration will work in your company. It is important that all components are compatible with each other. As digitalisation specialists, d.velop provides expert advice to help you select the right collaboration software for your organisation. We ensure your teams can communicate easily with each other no matter where they are, and can access all important company information. d.velop's collaboration tools get things moving.
A document management system (DMS) is the basis for successful collaboration
Manage documents in the cloud using d.velop documents – a document management system – which provides the foundation for your collaboration. Save all documents in a central location. Set up automated workflows to automatically process incoming invoices and archive everything in a compliant, audit-ready way. Make all of your data accessible via a secure cloud-based platform with restricted access. Unclear file names to reflect changes are a thing of the past – with a professional knowledge management system, versioning ensures you automatically access the latest version.  
Collaborative functions in an effective document management system
COLLABORATIVE EDITING
Edit documents together
Users can open documents from the document management system directly in Microsoft Office and edit them right there. You always revise the current version of a document thanks to the integrated versioning. Use the subscribe function to find out immediately if someone has created a new version of the document. This will ensure you're always up to date. Simply add a task to the document to directly inform your colleague about steps that still need to be taken before a document can be distributed. This collaboration tool feature can make it much easier to coordinate your work in just one step.
WORKFLOWS
Clearly define processes and responsibilities
Workflows with digital documents form the basis for digital processes. Workflows can be used to digitally map various business processes – from simple holiday applications to invoice or contract management. You can design individual process steps and adapt them at any time. This means anyone involved is informed about upcoming tasks either step-by-step or in parallel.
SHARE (EXTERNALLY)
Manage projects together
You can use the document management system to share documents easily with people outside your organisation as required, or release them for editing. This makes creating your own digital project space simple. You can also easily start chat conversations on documents and exchange information on the content directly with others. This is collaboration done right.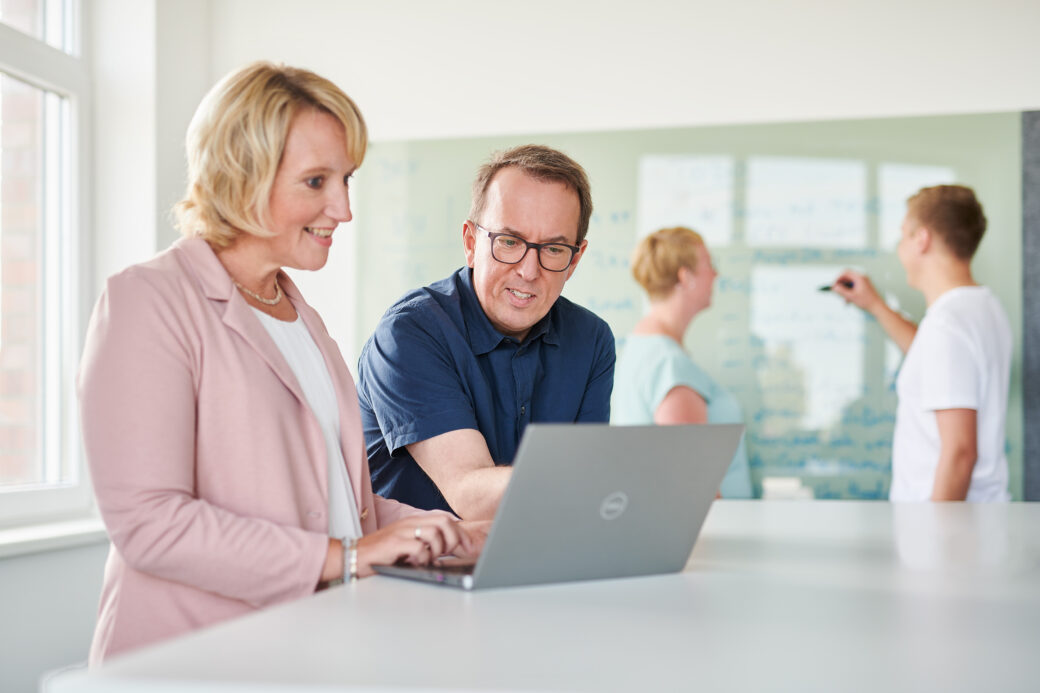 DMS Whitepaper
Document management explained simply
What should a document management system be able to do? And what advantages can it offer? Learn more right here.
Content of the white paper
Understanding digital document management
The 7 most important functions at a glance
A step-by-step guide to introducing a DMS
Online collaboration: the most important function of a DMS
Project work from anywhere: edit documents together
Defined processes and responsibilities
Individual access rights for better security and data protection
Simplified project management
A central, shared database in the cloud
Location-independent access to all stored documents, even when working remotely
Working with versioning
E-learning
The advantages of d.velop documents DMS at a glance
Structured and central storage of documents
Automated, legally compliant archiving of tax-related documents
Retrieve and edit documents on any device, from anywhere
Find required information quickly and easily
Document versioning
Support for collaborative work including document sharing
Access and rights management for different user groups
Option for integration with other cloud tools
Secure digital collaboration in a trusted environment
d.velop trust spaces is a secure, digital collaboration tool for organisations. You can create a new shared project space and give people from any number of different organisations a secure place to connect and share data in just one click. This enables effective digital collaboration in a trusted digital environment – with data stored in the EU. Easily share and exchange documents with others.
Communications tools: Secure information exchange
Direct messages, group chats, video calls, or voice messages – with the communication tools in the d.velop community chat, you can take advantage of all modern team communication options in real time. And more besides: Because collaboration is not just about smooth communication, but also the fast and secure exchange of files both within and outside your organisation – with colleagues, suppliers, and customers. GDPR-compliant, end-to-end encryption, made in Germany.
Digital signing: Save time, money and resources
Digital signing with d.velop sign facilitates collaboration in companies and organisations. Sign documents quickly, electronically, and in a legally compliant manner – then automatically store them in your DMS online archive after sending. Stop creating physical copies. Eliminate time-consuming postal delivery systems. Don't waste time switching between digital and analogue processes when signing contracts. Just work faster and more efficiently.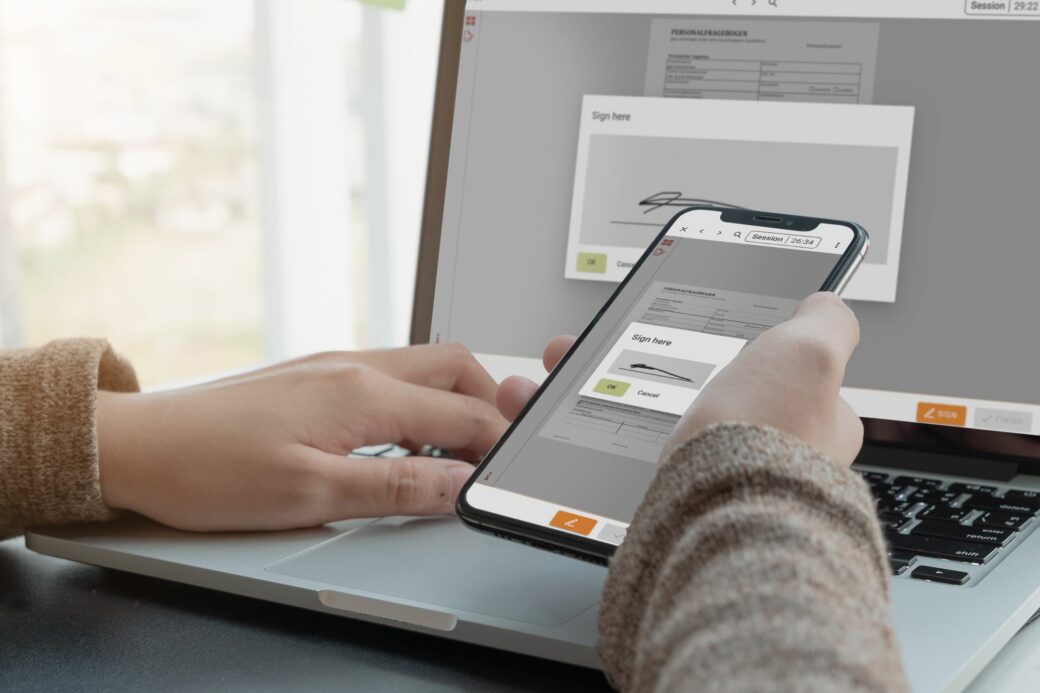 Digital Signature Whitepaper
Sustainable signatures: digital signing is the future
This white paper provides valuable insights to help organisations better understand digital signatures and choose the right digital signing solution.
Content of the white paper
Advantages of e-signatures
Current studies and real use cases
What is eIDAS?
The advantages of collaboration tools
Online collaboration using groupware – software designed to support collaboration within groups – is the best way to work in teams, both now and in the future. Groupware makes it easy to traverse company and national boundaries, enabling your employees to work flexibly – or remotely – for a better work-life balance. Realise your vision of seamless team collaboration with d.velop's groupware. The advantages include:
Improved communication and collaboration
Increased efficiency through shared use of resources
Easier planning and organisation of tasks and projects
Better transparency and tracking of progress and results
Greater flexibility thanks to access to tools and data from different locations
What our customers say
FAQ – Frequently asked questions about collaboration tools
What are Collaboration Tools?
Collaboration tools are everything that helps people to work together in groups or teams, independent of time and place. They are used to facilitate communication and other interactions between participants.
What is Groupware?
Groupware refers to software that supports and improves the collaboration and coordination of work processes in groups or teams. Groupware is software that covers functions such as shared calendars, real-time communication, shared document editing, and project management. 
What kind of software is classed as Groupware?
Groupware software is all about supporting collaboration between teams and groups. The central function of groupware is to enable collaboration on documents, tasks, and meetings. Typical examples of groupware software include calendar tools, chat apps, video conferencing systems, and project management platforms.
What kind of collaboration tools are there?
There many are different collaboration tools. These tools also offer functions such as video and audio conferencing, virtual whiteboards, and project management tools.
Why is collaboration important?
Collaboration strengthens and gives structure to integrated teamwork in companies and helps to optimise work processes. Collaboration ensures communication happens on a topic or project level, rather than happening between people.
What is a collaboration system?
A collaboration system is software designed to support collaboration in a group across different time zones and locations.
TEST Software NOW
Get to know d.velop software
Request a personal live demo of d.velop software in just a few clicks. Let us show you the software live and you can ask your questions directly. Just complete the form and we'll get in touch.