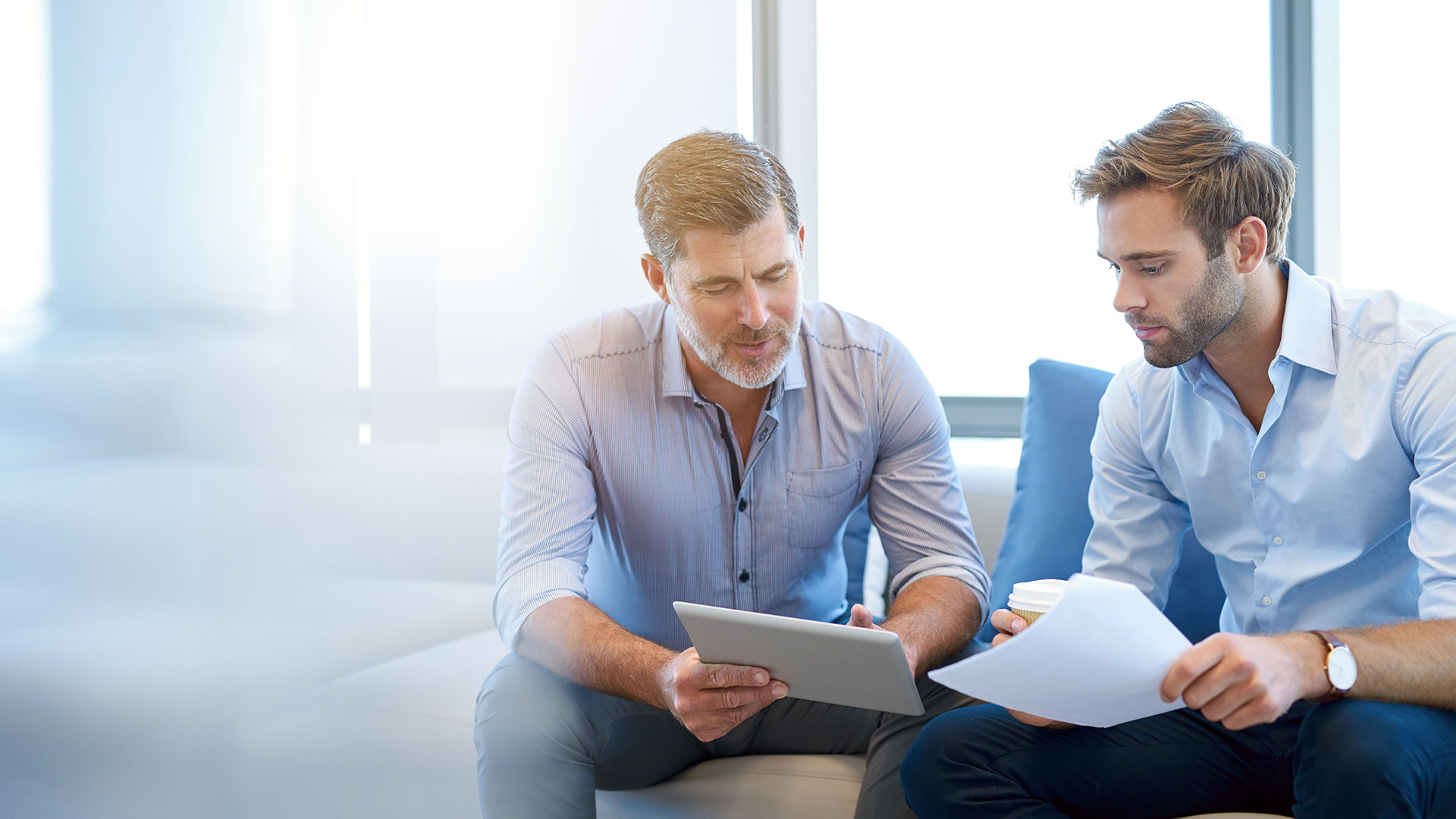 Let your DMS work for you.
–
Thanks to
artificial intelligence
of companies believe
that AI will play a major role in the future.
of the companies confirm,
that AI is already an integral part of their own strategy.
of all (global) data is unstructured.
Free your employees from routine tasks.
Let your DMS become smarter, your employees more productive, and your business more successful.
Our world is spinning faster and faster. Information is streaming at us from all directions – often in the form of a wide variety of documents. As raw data, these documents are unused capital. In order to support operational processes in a targeted manner, this data must be recorded, processed, and brought into the right context. Due to the mass of data, this can no longer be done manually. Modern artificial intelligence methods, in particular the efficient use of deep learning, support this process.
Starting now, use d.velop products to make the intelligent machine work for you. Use d.velop AI services to automate your very individual document and business processes. Support your employees in their daily work, eliminate manual time-consuming and cost-intensive tasks and thus create free space for more productivity in your company. How?
---
The AI-assisted processing of documents
In many companies, capturing and digitizing documents is often a manual process that costs a lot of time and is not much fun. Don't worry: "Colleague AI" is happy to help.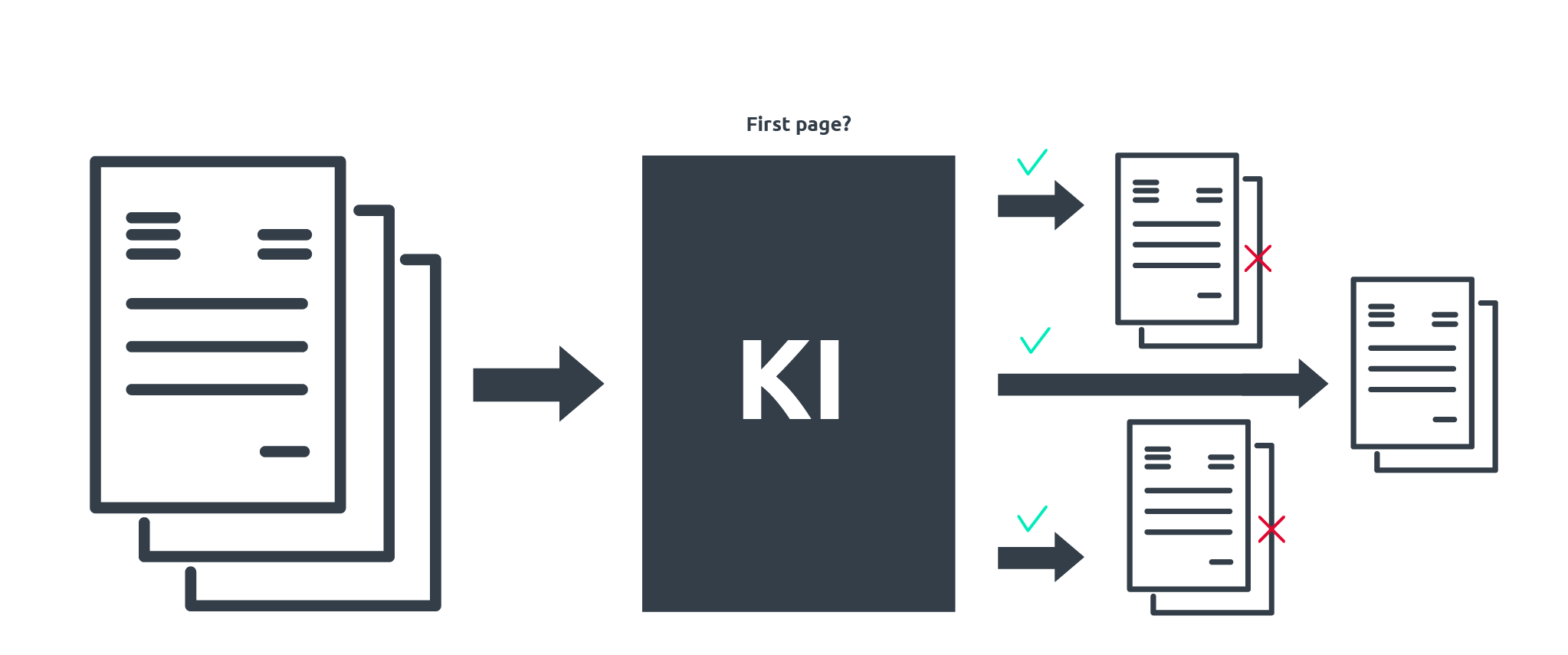 Separate documents
AI-based document separation ensures that large volumes of scanned documents are cleanly separated in seconds as they are captured. Due to adaptive text and image analysis, even multi-page documents are easily identified. Manual efforts for your employees, such as applying barcodes or inserting separator sheets, are now a thing of the past.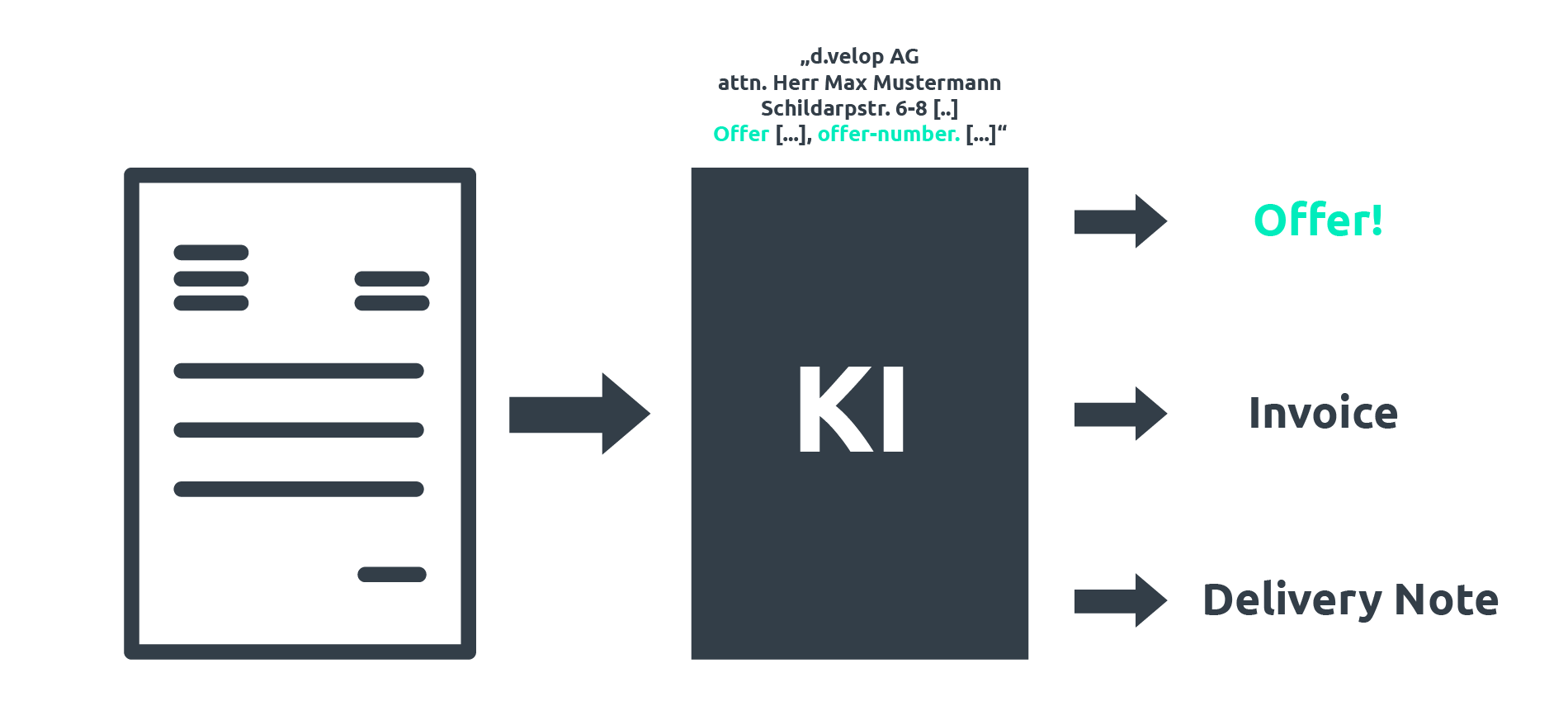 Classify documents
Whether it's invoices, reminders, delivery bills or other documents from your everyday business – artificial intelligence accurately recognizes directly what kind of document it is. When the documents are processed later on, this information can be used to automatically classify the document in a digital file plan or forward it to specific recipients as part of mail distribution.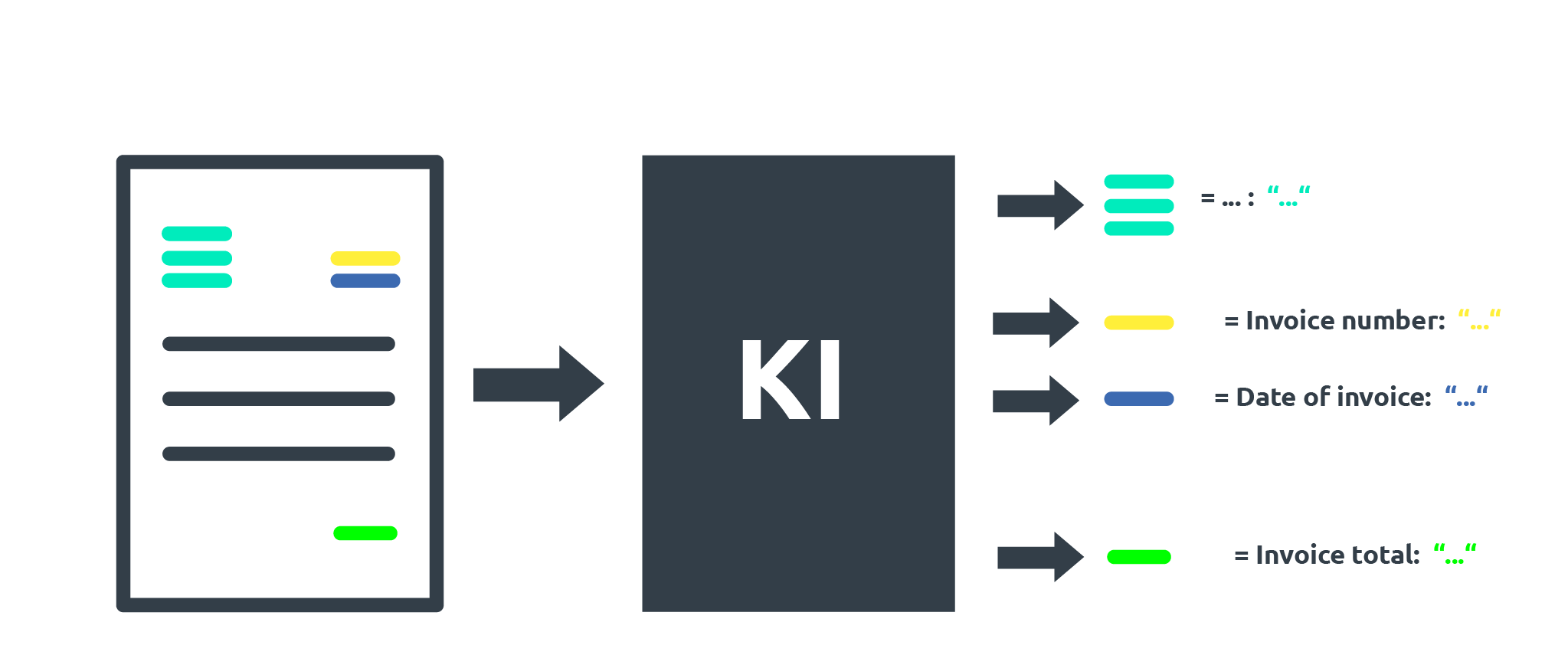 Extract data from documents
Automatically index the contents of your documents? This is not a dream of the future. The AI service automatically recognizes patterns in text data and reads out all the information relevant to you. Innovative Natural Language Processing (NLP) techniques make it possible, for example, to read out the invoice number, date and amount when processing incoming invoices – even without rule sets and/or keywords.
The AI-assisted processing of invoices
A smart ECM combines document management and digital business processes with AI, making enterprise data the foundation of business success.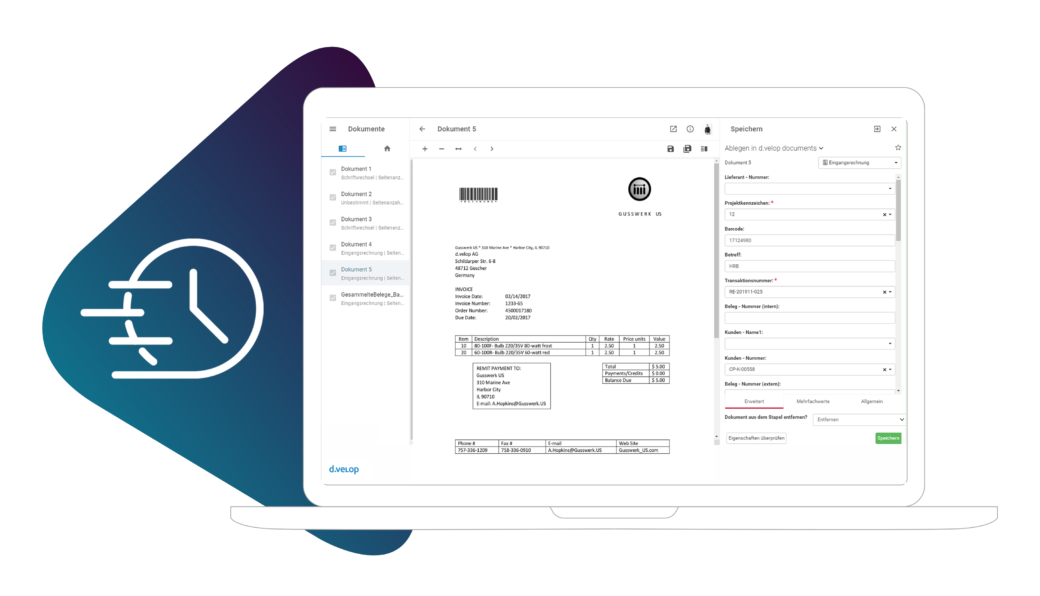 An excellent example of this is incoming invoice processing. This is because AI accelerates the processing process, thus shortening throughput times and ultimately leading to cash discounts and a timely month-end closing.
AI learns independently from the adjustments made by the user. If information such as client, supplier, or invoice data on any invoice is not correctly recognized, it is first improved by the user. The AI then independently creates new recognition logic. This is then used in the processing of subsequent invoices. In this way, the recognition quality (even with small data sets) is continuously increased and the manual effort for the user is reduced to a minimum.
The combination of learning and rule-based procedures thus makes document and business processes a no-brainer.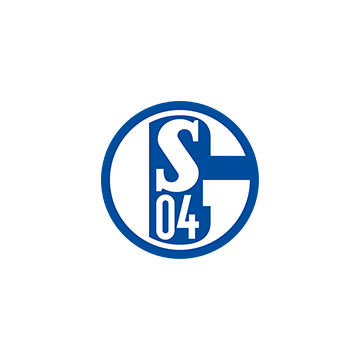 Artificial intelligence supports German football club FC Schalke 04 in booking and allocating invoices
Assigning incoming documents to a vendor? At Schalke, this is no longer just done by the accounting staff, but by the AI-based DMS. The system automatically makes account assignment suggestions as part of incoming invoice processing and uses the document information for this purpose. The existing complexity and manual effort is thus drastically reduced and the process simplified and accelerated accordingly – with 7500 documents, around 500 G/L accounts, a hundred cost centers and over 1200 creditors with great effect.
The benefits of artificial intelligence in document management

Faster processing
Significantly reduce the time required to capture and process documents.

Lower costs
Avoid manual data entry errors and their costly consequences.

More efficient use of time
Give your employees more time for creative and value-adding activities.
These and other d.velop products
rely on AI
Answers to the most important questions about artificial intelligence
How is AI being used in the context of document management?
With regard to ECM systems, development focuses on machine learning (ML) methods as a subfield of artificial intelligence. Our ML methods automatically learn models of the input data in the supervised learning process. In this process, the algorithm is shown sample data – in this case, business documents – for which the desired answer is known. The algorithm calculates "its" current answer based on a mathematical model. If this is incorrect, the model is adapted in such a way that the error is reduced in the following run. The mathematical representation of the model makes it possible to decide, for example for the text of a document, whether it is an invoice or a delivery bill. The most important difference to classical, rule-based methods is the fact that the algorithm "learns" the model fully automatically and exclusively on the basis of given sample data. If sufficient training data is available, the entire training process can be automated. The manual creation and maintenance of complex rule sets is completely eliminated.
How does artificial intelligence "learn"?
Our machine learning techniques learn models from sample data: Business documents are translated into an abstract representation. This representation is used to create a mathematical model of the documents that enables predictions about the documents. The learning process involves reviewing many thousands of examples for which the desired answer is known. At each step, the process makes a prediction. If this is not true, the model is adjusted to reduce the error in the future – the procedure learns. For this to work, the algorithm needs sample data, lots of sample data. Here, you benefit directly from the d.velop platform: Due to the large amount of completely different data that you and other users process every day with our solutions, our ML processes "see" a large variety of examples every day, which help them to become better. You benefit directly from this, because better recognition performance automatically leads to more time savings for you.
Is the machine replacing the human being?
Is the machine replacing the human being? We strongly believe in the performance of highly skilled workers. Therefore, our goal is to support you, not replace you. We relieve you of tedious, repetitive work steps. In order to give you more time for the essentials – the things that the computer can't simply do for you. For example, we provide you with an "AI colleague" who reviews document inventories for you in advance, makes recommendations on how to file the documents and helps you to transfer essential information from the documents to the system more quickly. This often works fully automatically. But you retain control at all times and can overrule the AI.
How reliable is artificial intelligence?
My document obviously says "invoice". So why is it not recognized as an invoice? – Our procedures see very many, very different examples. The volume of documents is so heterogeneous that it is not possible to create or derive simple rules that, for example, assign a document to a certain category, even if this should be obvious at first glance. Sometimes this leads to "wrong decisions" that are difficult to understand, as in the example above. A document that succinctly contains the word "invoice" is not recognized as an invoice. This can have a simple reason. Many documents contain the term "invoice" but are not; order confirmations and reminders, for example, often refer to a future or previously issued invoice. To rule out systematic errors, we continuously monitor the recognition performance of our processes and intervene where necessary to maintain maximum reliability for you.
What data does artificial intelligence use?
When you use AI-powered services, your documents and the metadata you store about them are used to further train the models. This improves recognition performance – completely automatically and without you having to do anything. For this to work, we have to temporarily cache some of your data. But this only happens for as long as is absolutely necessary. Of course, this fact only affects our AI services – in our document repository, your data will continue to be stored securely for the long term.
How secure is (my) data?
Your data is stored and transmitted exclusively in encrypted form. We treat your documents per se as personal data. In this respect, the principle of data economy underlying the GDPR applies to us. Your data will not be kept longer than necessary to provide our services. In particular, we use upstream mathematical transformations to ensure that the final AI model does not allow any conclusions to be drawn about the input data. In this way, your data is secure – and remains so even with extensive AI use.
Where is Artificial Intelligence headed?
AI is currently a very active field of research. Innovation cycles are measured in months – sometimes only in weeks. Today's methods make it possible to make statements that were considered unthinkable just five years ago. At the same time, current research results find their way into widespread application extremely quickly. Every day, we use our know-how to make these advances directly useful for you. In this way, we continuously improve our models. Which leads on the one hand to more automatically recognized information and on the other hand increases the recognition accuracy.