Incoming Mail Processing
Email and paper-mail – better one instead of two
The Incoming Mail Processing
Accordingly, the incoming mail processing is targeted exactly at the start of the problem: when the paper or email reaches your company.
The central task here is to efficiently integrate the two mail types, to distribute and to archive them. The advantage:
Everything is always available for everyone, everywhere.
Moreover, the d.velop incoming mail processing accelerates the dispatch and processing of your mail, reduced delays and transport times, ensures an immediate workflow, allows for an efficient planning of your resozrces, increases the service quality and eventually leads to significantly lower costs.
Last but not least: an automatic load balancing makes sure that the workload is equally distributed to all employees – if desired even considering sick leave or vacations.
From now on, incoming mail directs itself
To consolidate mail and e-mail documents, the paper documents including their attachments are scanned, classified, full-text indexed to extract further information and automatically sent to the employee in charge using his on-screen mailbox.
This way, invoices are directly sent to the accounting while tenders go to the sales department.
Here, unstructured information can also be directly targeted based on customer number, order number, post code or similar properties.
Moreover, the incoming mail processing by d.velop stores all information together with the document in one digital archive.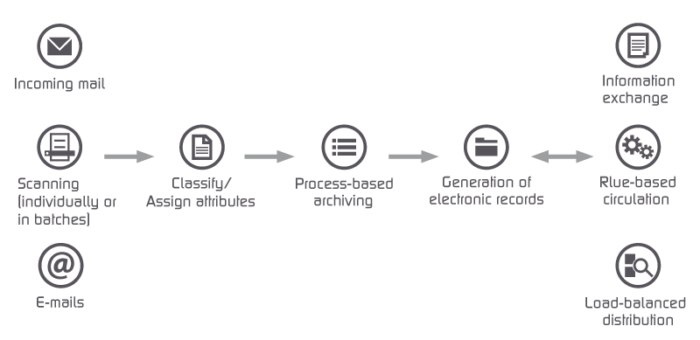 Perfect in form and function
The incoming mail processing by d.velop operates in the existing DMS- or ECM-infrastructurewith certified interfaces to SAP, Datev and others.
The archiving itself reliably ensures compliance with legal retention periods and legal requirements for the digital storage of data using long-term stable formats such as PDF/A or TIFF.
This lets you be on the safe side when the auditors arrive. To make sure that all documents are centrally available immediately whenever necessary, diregarding the way in which they arrived at your company, the functionality of the d.velop incoming mail processing can be seamlessly customized to your requirements using the module e-mail-management, digital Contract management and Incoming invoice processing.
And these are your advantages:
Automatic digital document distribution – even across multiple sites.
Low cost and maintenance expenditure thanks to self-improving technology.
Simple process monitoring via a dedicated tool.
Efficient resource utilization, lower TCO.
Rapid implementation, immediately ready for operation.
Improved ability to respond to queries, resulting in a better quality of service.
High level of transparency based on rich reporting.
Simple and fast processing of all physical and digital incoming mail directly at the workstation.
Meet all regulatory requirements.
Ongoing optimization during operation.
Do you have any questions?

Do you have any questions regarding our quality management solution or any other topic? Or would you like to arrange an appointment for a free demo?