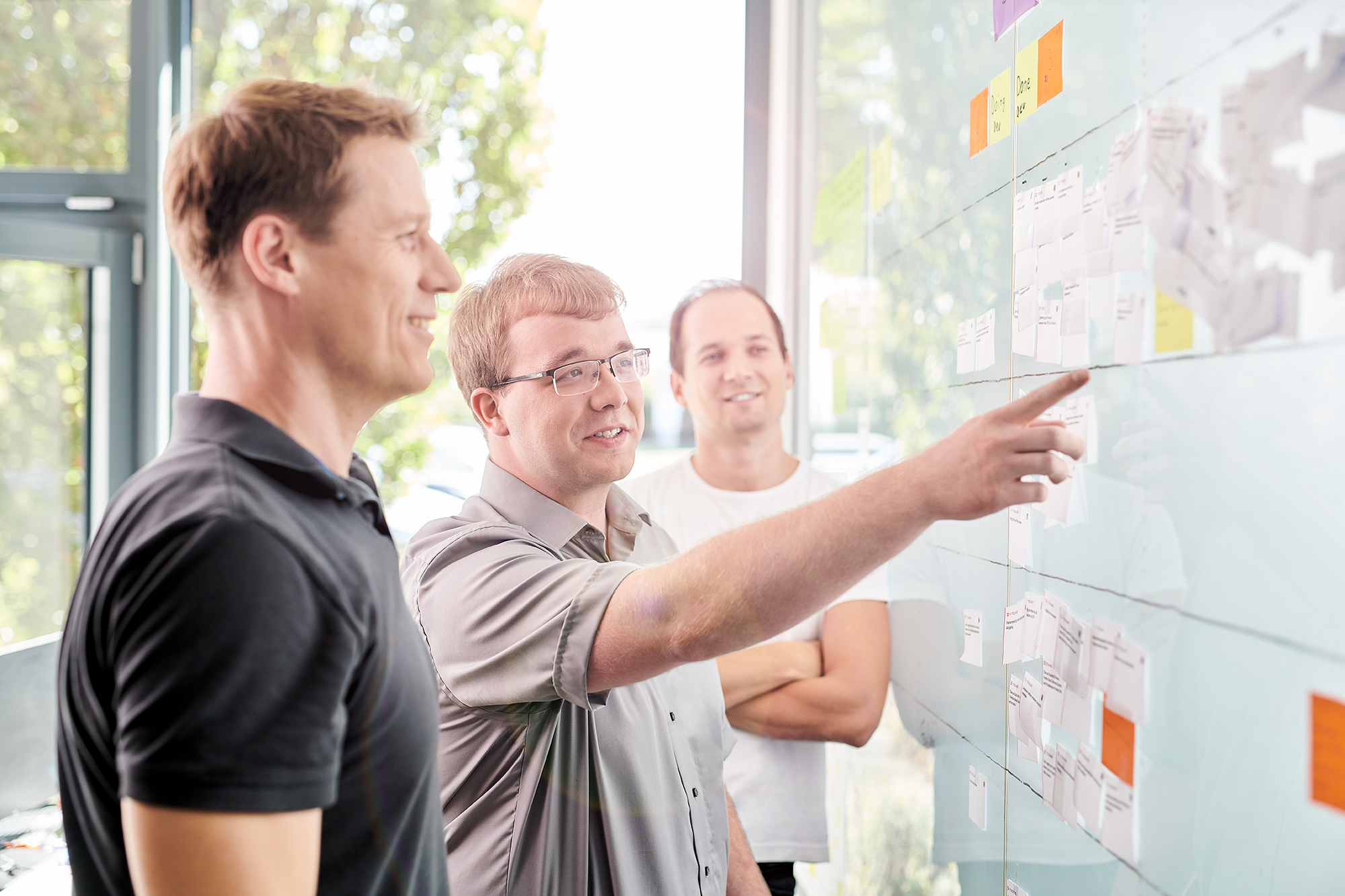 d.velop code of conduct
1. Principles and Objectives
The d.velop Group consists of d.velop AG, founded in 1992, and its subsidiaries. The parent company of d.velop AG is d.velop holding GmbH. The members of the d.velop Group develop and market modular Enterprise Content Management (ECM) applications and solutions that optimize document-based business and decision-making processes in companies and organizations on-premise or in the cloud.
We take our social responsibility very seriously.
Corporate sustainability begins with living by a value system and practicing responsible corporate management.
Our public image is critically shaped by the appearance and behavior of each individual employee, but also by the company's management. Therefore, it is the responsibility of both the management of the companies in the d.velop Group and each individual employee to ensure that their actions – or lack thereof – do not damage our environmentally and socially conscious image but rather promote it.
This Code of Conduct and our core values are binding rules that apply to every employee and to the company management, which consists of the executive board and managing directors, the authorized signatories who support them and executive employees. They take precedence over all other policies and guidelines and should be used as an interpretation aid if there are ambiguities or gaps in other policies and guidelines.
The Code of Conduct and the core values help us to meet ethical and legal challenges in our daily work. Any employee may at any time contact his/her supervisor or the company management with questions and comments regarding these guidelines and values.
We expressly acknowledge the basic principles of the EU Directive on Corporate Social Responsibility and the ten basic principles of the United Nations Global Compact. In addition, the Code of Conduct and the core values are based on DIN ISO 26000 "Guidance on social responsibility".
To simplify the provisions of the Code of Conduct and core values, the word "employee" is used below as a neutral term for all employees and external employees, regardless of gender or legal status.
2. Basic Conduct Requirements
2.1. Law-Abiding Behavior
Compliance with the law is the top priority for the companies of the d.velop Group.
The d.velop Group takes its duty to adhere to applicable law very seriously.
Every employee and senior manager must comply with the statutory and internal regulations that govern their work. Violations of the law must be avoided in all circumstances, in particular violations punishable by imprisonment, financial penalties or fines.
In the event of a violation – irrespective of the sanctions provided for by law – every employee should expect disciplinary action and consequences under employment law due to the violation of his or her contractual obligations. Senior managers are subject to sanctions according to corporate regulations and, where applicable, employment law
2.2. Responsibility for the Reputation of the d.velop Group
The reputation of the d.velop Group is critically shaped by the appearance and behavior of each and every one of us. Inappropriate appearance or behavior by even one employee can cause considerable damage to the company.
Every employee and senior manager is obliged to consider the reputation of the d.velop group when in public. Preservation of our reputation must guide all aspects of their work. This also applies to behavior on the Internet and in social networks.
2.3. Mutual Respect, Honesty and Integrity
We respect the dignity, privacy and personal rights of each individual. We work together with women and men of different origins, nationality, culture, religion, skin color and sexuality. We do not tolerate discrimination, sexual harassment or other personal harassment or insults.
We are open, honest and behave with integrity, and we stand by our responsibility. We are reliable partners and only make promises that we can keep.
These principles apply both to internal cooperation and to conduct toward external partners.
We guarantee fair employment conditions, pay fair wages and consider the needs of our employees when taking operational measures.
2.4. Leadership, Responsibility and Supervision
Every supervisor and senior manager bears responsibility for the employees entrusted to them.
They must gain the respect of their employees through exemplary personal conduct, performance, reliability and social competence. Senior managers set clear, ambitious and realistic goals, which are coordinated with and supported by the employees through participation in the decision-making process. We lead through trust and give our employees as much personal responsibility and freedom as possible. Furthermore, supervisors, senior managers and the human resources department are accessible to employees in the event of professional or personal concerns.
Every supervisor and senior manager must fulfil organizational and supervisory duties. They are jointly responsible for ensuring that no violations of the law occur in their respective areas of responsibility that could have been prevented or impeded by proper supervision. They also retain responsibility for individual tasks that are delegated.
The following specific requirements regarding leadership, responsibility and supervision shall apply:
Supervisors must carefully select employees according to their personal and professional qualifications. The duty of care increases with the importance of the task that the employee has to perform (duty of selection).
Supervisors must set tasks in a precise, complete and binding manner, in particular with regard to compliance with statutory provisions (duty to issue instructions).
Supervisors must ensure that compliance with statutory provisions is continuously monitored (duty to monitor).
Supervisors must clearly communicate to the employees that violations of the law are condemned and have consequences under employment law
When in doubt, supervisors shall consult with company management.
3. Interactions with Business Partners and Third Parties
3.1. Observance of Competition Law and Antitrust Law
Only through fair and equitable competition can we grow and develop freely. The principle of integrity also applies in the competition for market share. Every employee and senior manager is obliged to observe all rules of fair and equitable competition.
In particular, employees and senior managers must not hold discussions with competitors in which prices or capacities are agreed. Agreements with competitors on a waiver of competition or on the submission of sham bids for requests for tender are also prohibited.
We provide our suppliers with fair and equitable contractual terms and conditions and grant them appropriate consideration, but we also expect them to behave fairly, equitably and correctly toward their employees and suppliers.
3.2. Offering and Granting Benefits
We compete for orders based on the quality and price of our innovative products and services. No employee or senior manager may offer or grant to others, whether directly or indirectly, any unjustified benefit in connection with their business activities, whether in cash or in kind.
Gifts and gratuitous services to employees of business partners must be selected so as to avoid any appearance of dishonesty or incorrectness on the part of the recipient. In case of doubt, the recipient is to be asked to obtain prior approval from his/her supervisor. If the recipient resists this request, this shows that he/she considers the benefit improper.
Employees and management who conclude contracts with consultants, brokers, agents or other such third parties must ensure that they do not offer or grant any unjustified benefits.
3.3. Requesting and Accepting Benefits
No employee or senior manager may use their official position to unlawfully request, accept, procure or be promised personal benefits.
The only exceptions are customary promotional gifts or gifts for special occasions, gifts provided as hospitality or other occasional gifts of small value. A strict standard must be applied when assessing value or what constitutes customary in order to preclude the impression of improper consideration. In cases of doubt, the express consent of the company management must be obtained beforehand
3.4. Specific Rules for Awarding Contracts
Whoever applies for a contract expects us to conduct a fair and unbiased examination of their offer. Employees and management who deal with the awarding of contracts must observe the following rules in particular:
Employees must immediately inform their supervisor of any personal interest in connection with the performance of their official duties that could lead to a conflict with the law or this Code of Conduct.
Senior managers must immediately inform the other management personnel of any conflicts of interest they may have and, if necessary, ensure that the task in question is dealt with by another member of management.
Suppliers must not be unfairly or inequitably favored or hindered in their competition for contracts.
Invitations from business partners may only be accepted if the occasion and scope of the invitation are appropriate and the rejection of the invitation would be discourteous.
Gifts from business partners must be rejected and returned. The only exceptions are customary promotional gifts or gifts for special occasions, gifts provided as hospitality or other occasional gifts of demonstrably low value. A strict standard must be applied when assessing value or what constitutes customary in order to preclude the impression of improper consideration.
No employee or senior manager may have private contracts performed by companies with which they have business dealings if this could result in direct or indirect personal benefits for them.
3.5. Donations
The d.velop Group gives monetary and in-kind donations for education and science, art, culture, athletics and social causes. Donation requests are made to our companies by a wide variety of organizations, institutions and associations.
The following rules apply to the granting of donations:
Donation requests from individuals are to be rejected as a rule.
Payments to private accounts are prohibited.
In no case may a donation be granted to persons or organizations which do not enjoy an impeccable reputation or whose goals are not compatible with those of the d.velop Group.
The donation must be transparent. The recipient of the donation must be known, as must the specific purpose for which it will be used. It must be possible to account for the reason for the donation and the intended use at any time.
The donations should be tax deductible.
4. Avoiding Conflicts of Interest
4.1. Principle of Avoidance
It is very important to the d.velop Group that its employees and management do not get into conflicts of interest or conflicts of loyalty during their activities. Such conflicts can arise when an employee or a senior manager works for or participates in another company. We have therefore established a general principle of avoidance for conflicts of interest.
4.2. Non-competition
Employees and management are not permitted to operate a company, whether in whole or in part, that is in direct or indirect competition with the d.velop Group without the express written permission of the d.velop Group. Furthermore, they are not permitted to participate directly or indirectly in an unlisted company that is in competition with the d.velop Group in full or in part.
Prior written permission is required for participation in a company that is an outside business partner of the d.velop Group. Permission is granted in writing by the company management and documented in the personnel file. Members of management require the approval of the assembled shareholders or the supervisory board. Permission shall not be granted or may be withdrawn if the employee or senior manager is in the employ of the company in question.
If an employee is aware of participation by close relatives in a competitor company or another of the aforementioned companies, they must inform the human resources department in writing and it must be documented in the personnel file. Senior managers must immediately inform the other managing directors or executive boards in this case.
4.3. Secondary Employment and Political Appointments
The d.velop group has a fundamentally positive attitude toward active participation in politics and the assumption of political office. The management must be notified in writing before the commencement of any secondary employment for remuneration or assumption of political office.
Secondary employment may be prohibited if it impairs work performance, contradicts the person's duties in the company or if there is a risk of a conflict of interest. In the case of senior managers, this shall be decided by the assembled shareholders or the supervisory board.
5. Handling Equipment and Information
5.1. Using Equipment
The equipment and facilities of the d.velop Group (e.g. telephone, workstation computer and mobile devices, including software and Internet/Intranet) may only be used for business purposes. Exceptions and, if applicable, payment will be regulated separately.
In no case may information be accessed or disseminated which incites racial hatred, glorifies violence or other criminal offenses or which has content which is sexually offensive within the given cultural context. Senior managers voluntarily commit themselves to this obligation.
No employee is permitted to create records, files, images, sound documents or reproductions without the written consent of their supervisor, unless this is directly related to their work and permitted by applicable law. Senior managers voluntarily commit themselves to this obligation.
5.2. Records and Reports
Open and effective cooperation requires correct and truthful reporting. This applies equally to relationships between employees, to relationships with customers and business partners, and to relationships with the public and government agencies.
All records and reports made internally or disseminated externally shall be accurate and truthful. According to the "Basic principles on the proper keeping and storage of financial books, recordings, and documents in electronic form as well as data access" (GoBD), entered data and other records must always be complete, correct, timely and suitable for the respective system.
The requirement to provide truthful information also applies to expense reports.
5.3. Non-disclosure
Confidentiality must be maintained regarding internal matters of the d.velop Group which have not been publicly disclosed. This includes, for example, details concerning the organization of the d.velop Group and its facilities, as well as internal reporting figures. The obligation to secrecy shall remain in effect even after termination of the employment relationship.
6. Data Protection, Data Security and IT Security
As an IT service provider, the d.velop Group feels particularly committed to data protection, data security, IT security and identity protection. The d.velop Group therefore observes all applicable legal regulations for the protection of personal data and data security, including the provisions of the Telecommunications Act regarding telecommunications secrecy.
The d.velop Group hereby commits to protecting the privacy, the fundamental rights and the freedoms of the persons concerned in accordance with applicable data protection law. This goal is anchored in our IT management, our corporate management and the conduct of every employee and manager.
7. Responsibility for the Environment
The d.velop Group expressly assumes responsibility for protecting our environment. Environmental issues are examined and taken into account in all business processes. The d.velop group takes preventive measures to limit environmental damage and comply with the relevant legal regulations and all government policies.
It is the top priority of the d.velop Group to continuously increase environmental protection and reduce environmental pollution through measures of its own undertaking. Every employee and senior manager must contribute to our goal of exemplary environmental stewardship to the best of their ability.
8. Responsibility Toward Employees
8.1. General Responsibility
All employees are treated with dignity and respect. Discrimination on the basis of race, faith, sex, marital status, parental status, age, political conviction, national origin, sexual orientation or on any other basis prohibited by law will not be tolerated.
Employee remuneration and working hours comply with the legal requirements, in particular minimum wage regulations. Information on working hours, overtime pay, social benefits and notice periods is specified in the employment contracts or made public in accordance with company practice.
Employees are granted all statutory benefits to which they are entitled, in particular with regard to health and social insurance. The d.velop Group promotes its employees' exercise of collective bargaining autonomy and freedom of association.
Employees of the d.velop Group are not hired out to third parties.
8.2. Occupational Safety
The d.velop Group assumes responsibility for the health and safety of its employees in the workplace. The best possible precautionary measures have been implemented to contain risks and to avoid or prevent accidents and occupational diseases. The d.velop Group maintains and promotes an appropriate occupational safety management system, which includes regular training in occupational safety.
8.3. Complaints and Notifications
Every employee has the opportunity and the right to report violations of these guidelines or suspected violations to the d.velop Group. The contact person for such reporting is the employee's supervisor or a senior manager, whichever the employee chooses.
An employee who, on the basis of concrete facts, has come to the conclusion that an infringement has occurred or could occur and who subsequently exercises their right to notification shall not expect any disadvantages whatsoever from this. The d.velop Group will take measures in each individual case, if necessary or desired by the employee, to protect the employee who made the report against disadvantages resulting from the report.
As far as possible and legally permissible, the d.velop Group will treat as confidential the identity of employees who have reported a violation or a suspected violation according to these guidelines. The same applies to the identity of employees who are involved in investigating violations or suspected violations of the Code of Conduct and core values.
9. Implementation and Monitoring
The d.velop Group actively promotes the communication of the Code of Conduct and core values. Senior managers occupy a special position as role models and are therefore held to a very high standard regarding the Code of Conduct and core values. They are the first point of contact for questions about the regulations and ensure that all employees know and understand the Code of Conduct.
As part of their management duties, senior managers prevent unacceptable behavior and take appropriate measures to prevent breaches of rules in their area of responsibility.
Trust and cooperation between employees and management is reflected in honest, open and transparent communication and mutual support.
The Executive Boards and Senior Management of the d.velop Group