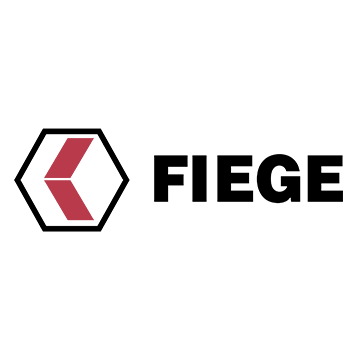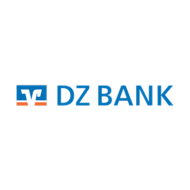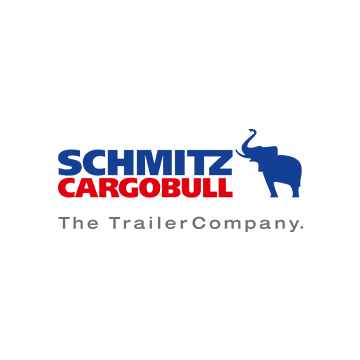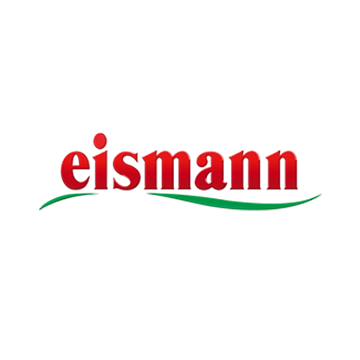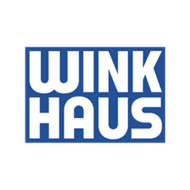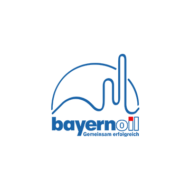 14

days

can take time to check/release a paper invoice.

11

EUR

costs to process a paper invoice.

0.5

%

of all paper invoices get lost.
Invoice workflow in SAP "step-by-step"
Invoice receipt: Import via flexible input channels
Paper documents are fed into a scanner, digitized as PDF files, and imported. If an invoice arrives in digital form via email, such as an X-Rechnung or in ZUGFeRD format, it is fully automated and transferred into the software.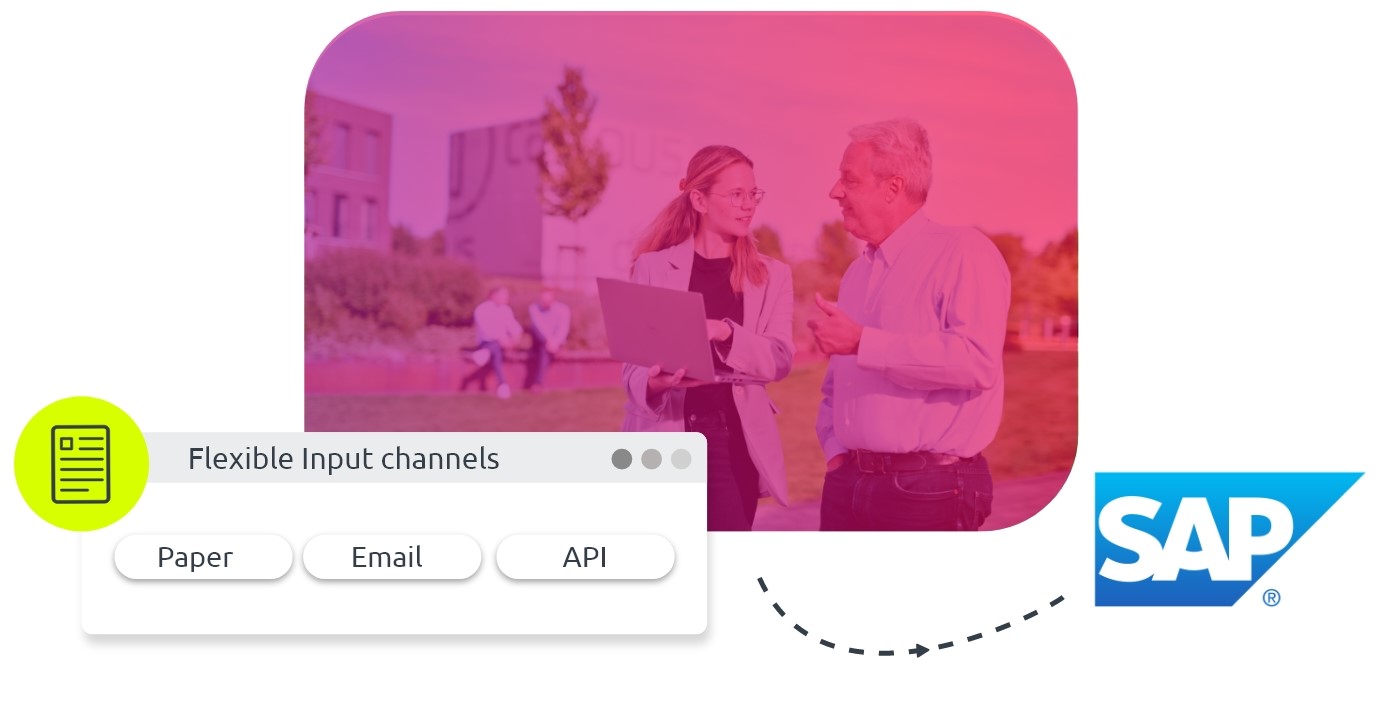 Automated invoice capture
Capture all incoming invoices, whether they are in paper, email, ZUGFeRD, or XRechnung format. All relevant booking information, such as invoice and purchase order numbers, dates, creditors, and line item data, are automatically extracted and transferred to SAP.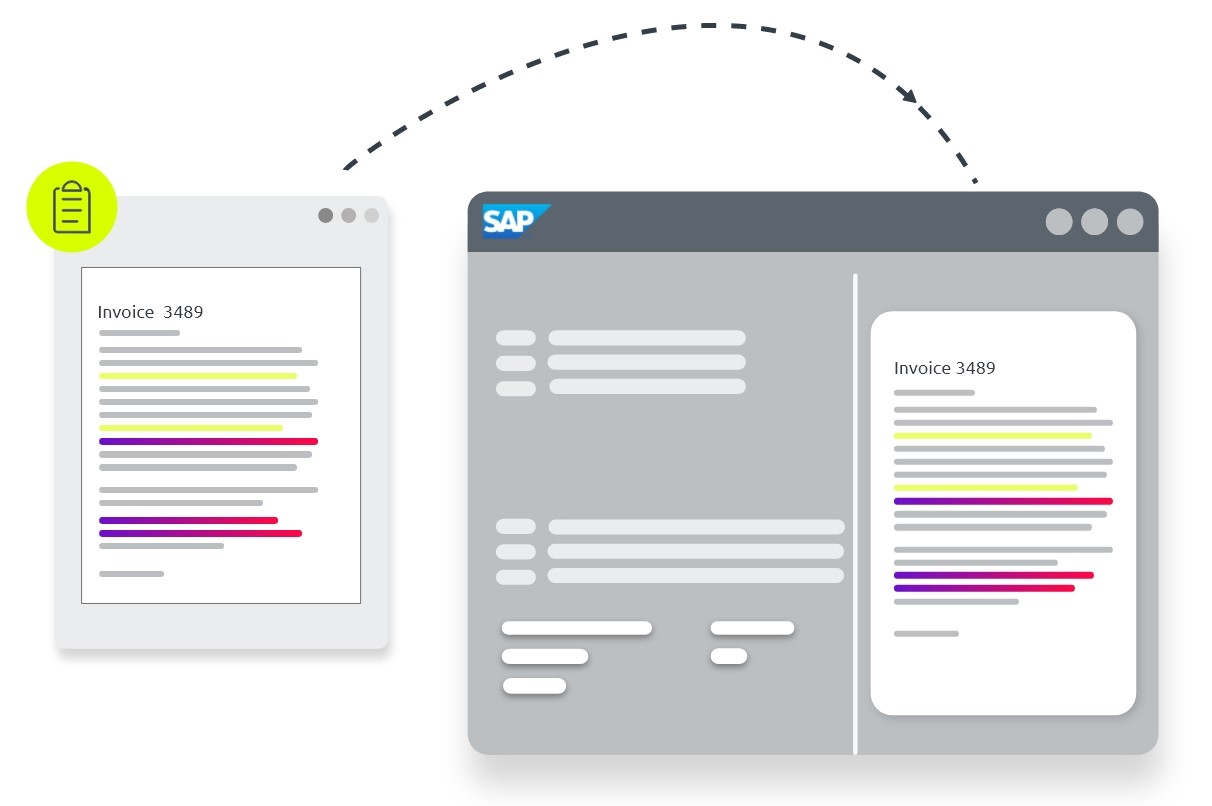 Automated invoice transfer to SAP
The digitized invoices are automatically transferred to the SAP system, pre-processed, and distributed for review. The d.velop invoice workflow is an SAP Business Workflow that is fully integrated into SAP.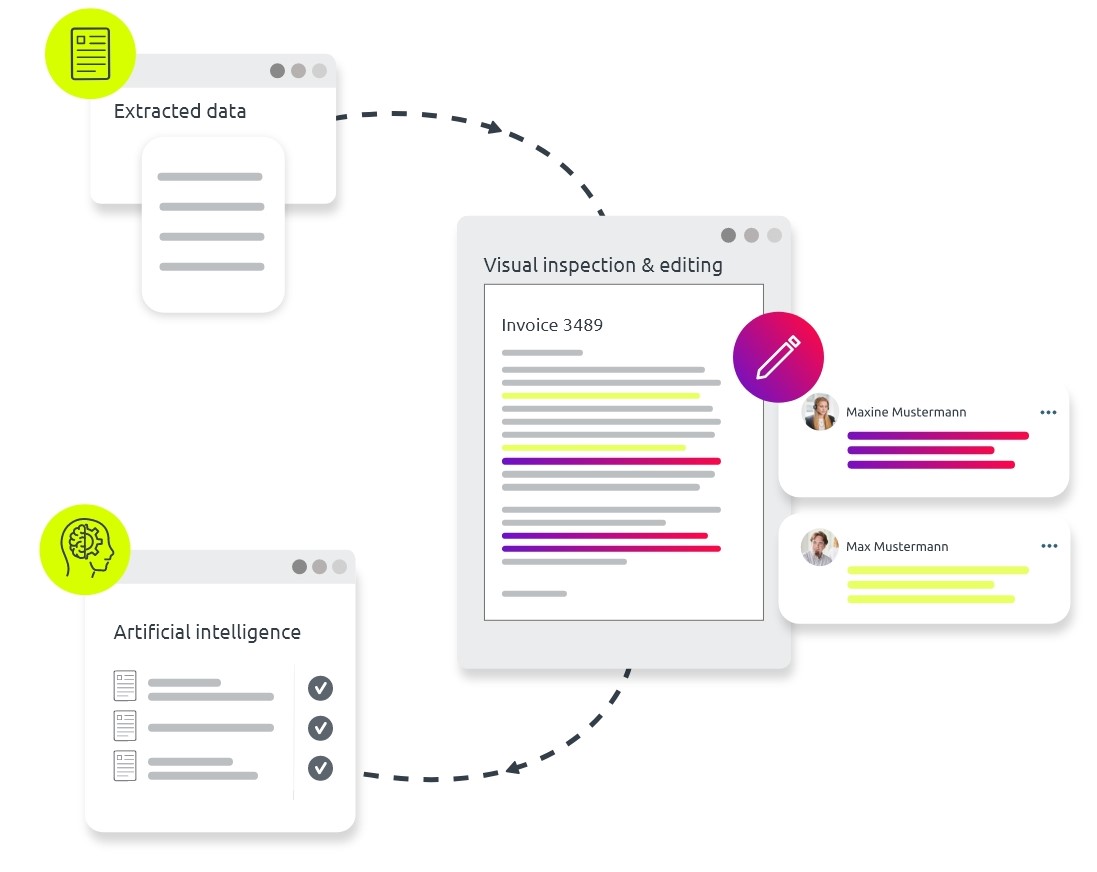 Improve efficiency with the digital invoice workflow in SAP
The d.velop incoming invoice processing solution for SAP allows automated booking, verification, and approval of invoices in every company. It does not matter whether these are invoices with SAP purchase order references (MM) or cost invoices (FI). The invoice workflow is seamlessly connected to your SAP ERP or SAP S/4HANA. Verification and approval processes can also be integrated via the SAP Fiori app. The solution is fully integrated into the ordering and financial accounting system.
SAP invoice workflow highlights at a glance

Work seamlessly across locations Avoid media gaps and reduce scope for human error Reduce costs through faster processing Increase efficiency through maximum transparency
Substantive examination and approval
The substantive examination and multi-level approval, with or without reference to a purchase order, can be carried out either directly in the SAP Business Workplace or through a web interface. The status of each invoice can be accessed with the click of a button. Approvals and reviews can also be done via smartphone.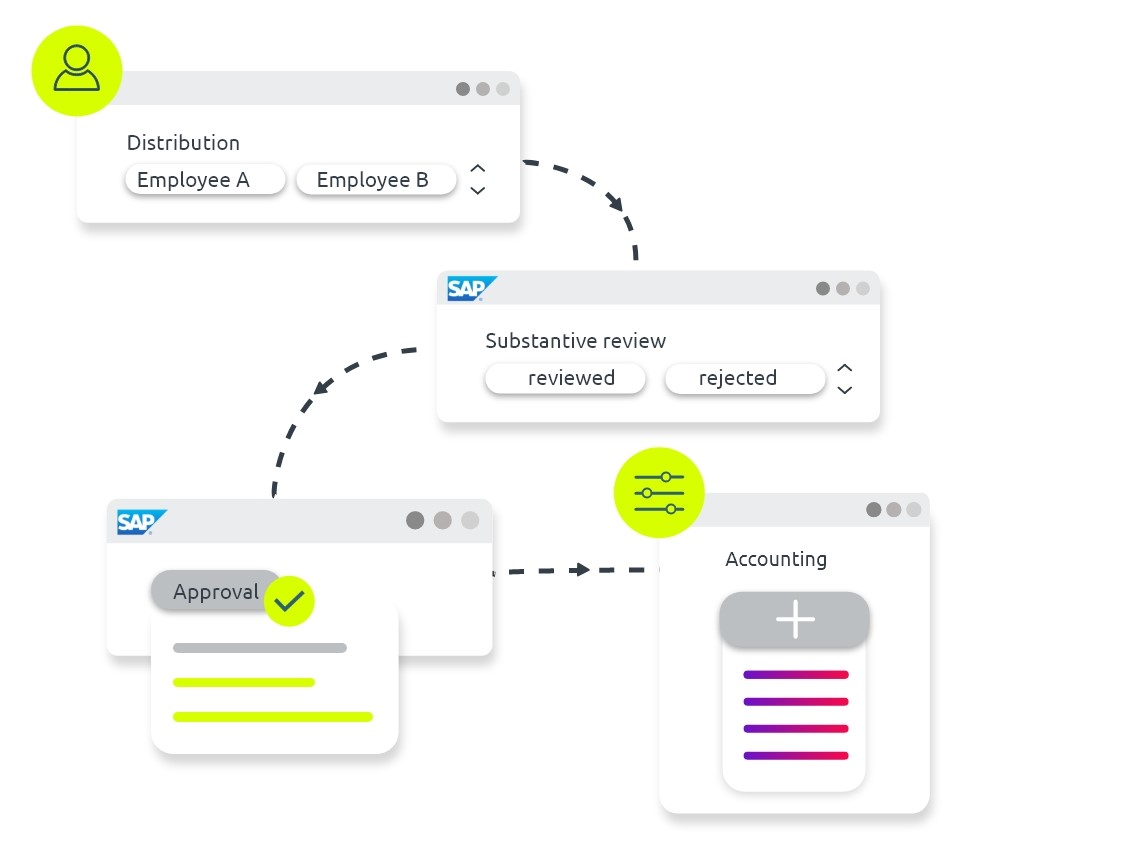 Seamless integration into SAP
The digital invoice processing seamlessly integrates into your existing SAP system and is directly connected to your procurement processes and accounting workflows.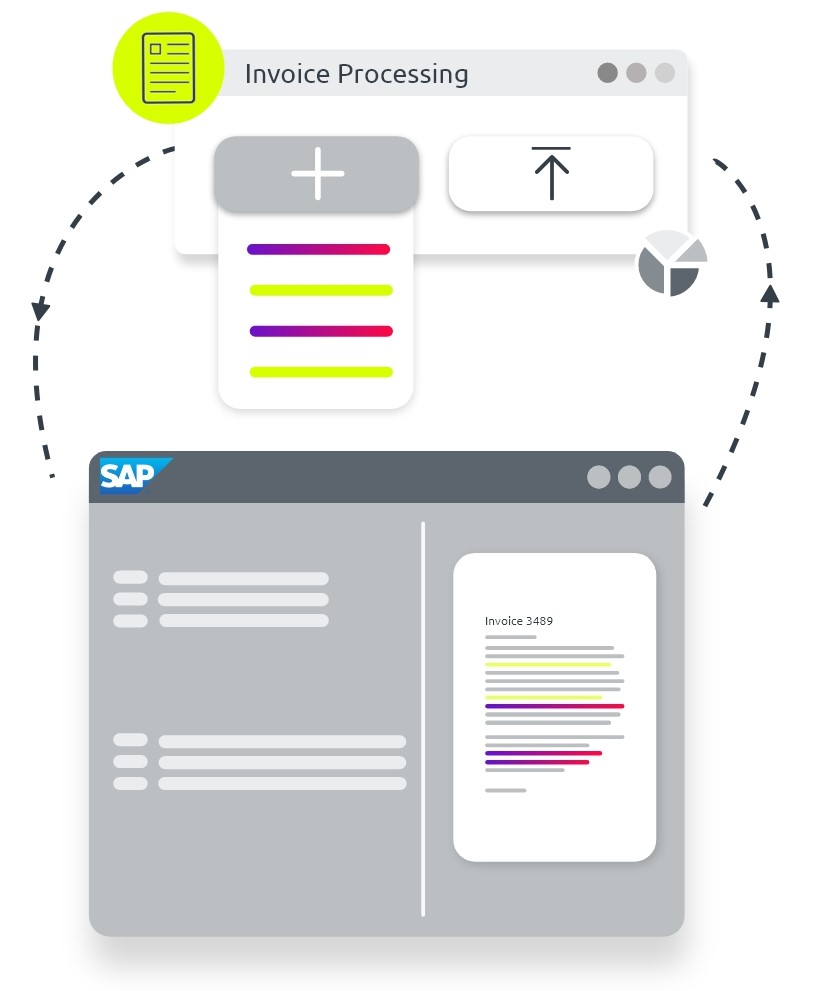 Tamper-proof archiving: Keeping all invoices in view
The booked invoices are securely stored in the digital archive and can be accessed at any time and from anywhere. Access is controlled through individual authorization structures, ensuring the integrity and security of the archived documents.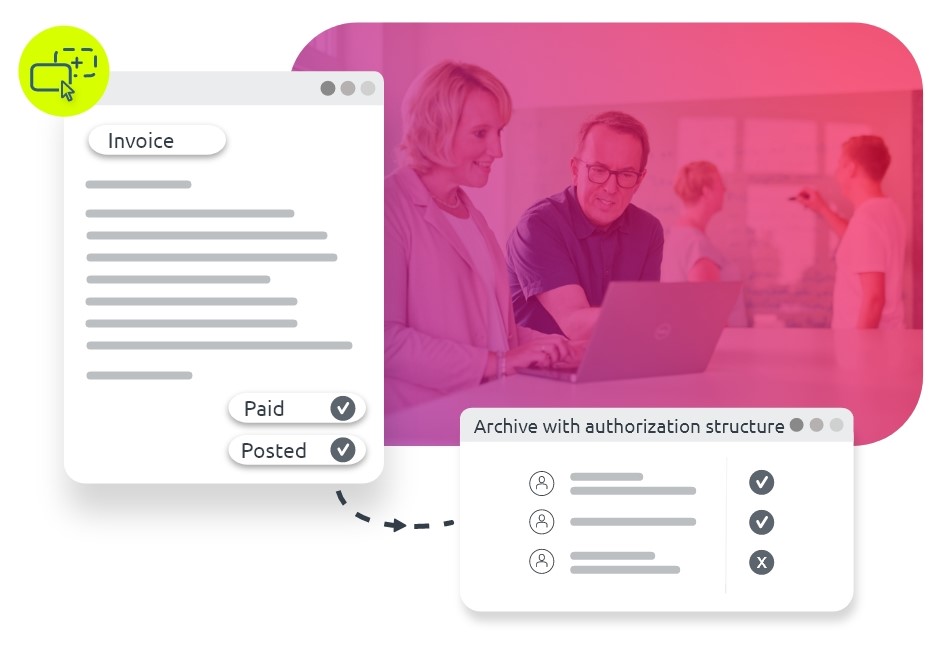 SAP invoice workflow highlights at a glance:
Workflow integrated into SAP
Shorter processing times without transport and waiting times
Reduction of transaction costs by up to 75%
Variable mapping of company processes in the workflow
Item-level factual verification and release (unlimited levels)
Cash discounts and timely month-end closing
Central data management without redundant copies
Lower error rate thanks to automated duplicate checks
Cross-location checking via smartphone app
Analysis via statistics report (throughput times, users involved, numbers of unexplained items, etc.)
This is what our customers say about digital invoice processing in SAP
Torsten Gronemann, Project Manager DMS | FIEGE Group

Daniel van de Weyer, Accounting | Jacques' Wein-Depot GmbH

Winkhaus

Mike Riddermann, Finanzbuchhalter | Winkhaus
Blog article on digital invoice processing in SAP
Why artificial intelligence (AI) plays a significant role in SAP FI invoice processing will be further discussed in the blog article.

The motto is: "It's all about the money!". Here, the focus is on the receipt of invoices and the subsequent payment transaction.

How do I optimise my SAP Document Management and which of the numerous offers on the market is the right system for me? We have five tips to help you make your choice.
SAP competence by d.velop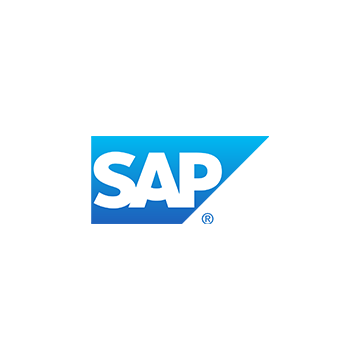 As an official partner of SAP AG, our solutions are SAP-certified. d.velop AG can be your perfect team of SAP experts, because SAP is a fixture in d.velop's own strategy. The company also has its own SAP center.
d.velop is a long-time certified SAP partner.
Developed within your own namespace
More than 700 customers use d.velop products in the SAP environment
Dedicated SAP center with experienced SAP advisors and SAP developers
Want to know even more? Head over here.
Request a free demo of d.velop software.