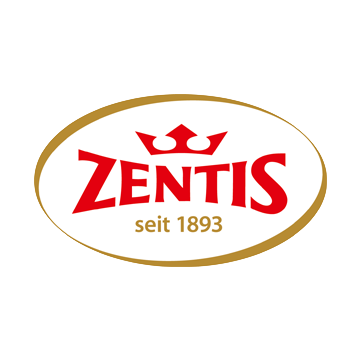 Reference story Zentis
Zentis makes corporate knowledge available
About Zentis GmbH & Co. KG
Zentis, one of Europe's leading fruit processors relies on d.velop
In 1893, Franz Zentis opened his grocery store in Aachen, laying the foundation for a success story. His innovative spirit gave him the idea of ​​processing sugar and dried apricots into jam for the first time. The result of this innovation was FAMOS, an abbreviation for "Finest apricot jam without syrup".
More than 120 years have passed since the founding of the first shop (Zentis recently celebrated its 125th company anniversary) and Zentis has extensive experience in connection with the processing of fruits and other natural raw materials. In total, the processing capacity at the headquarters in Germany and six international locations is now around 525,000 tons of fruit preparations, jams, and confectionery.
product samples
are created at Zentis every year
That is what digitization stands for at Zentis
Ideal processes when developing new products
Transparent communication regarding the product samples at all times
Precise analysis of these product samples
Quick and easy research in d.velop's digital files
Digital business processes that are created across departments
This is how Zentis benefits
Increasing the quality of all products
Reduction of process costs
Large archive rooms become obsolete
Digital delivery of payslips to employees' cloud archives saves costs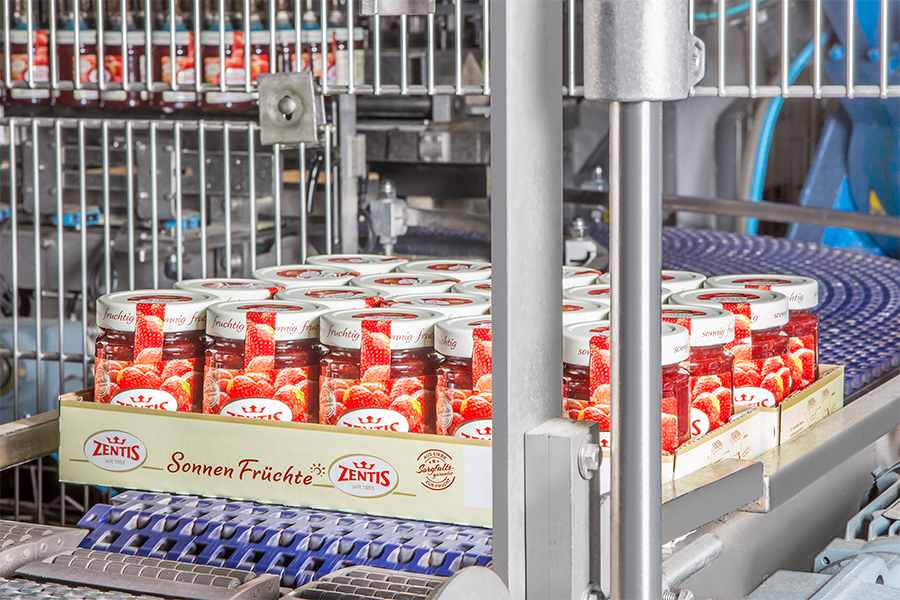 Zentis makes corporate knowledge available
with d.velop enterprise search
Knowledge management in the company is more important than ever. Zentis GmbH & Co. KG is aware of this and has asked itself how all information can be made available quickly and easily. The answer is: with a company-wide search that includes all data sources in the organization. This makes it possible to find information in a matter of seconds —and not just in the DMS, but across all systems. Just as you would expect from a good search engine.
The selection process
Innovative products are part of sustainable corporate success. Another part is modern technologically supported organizational processes that make efficient and resource-saving processes possible. At Zentis, the technical basis for this consists of the ERP system from SAP and a digital document management system (DMS). A DMS increases productivity, accelerates processes, and offers employees greater comfort when completing their tasks.
Zentis had already dealt with DMS and Enterprise Content Management (ECM) in the past. However, the audit-proof archive for invoice processing and some other tasks was no longer technically up to date. Since it could no longer adequately meet today's requirements, it was to be gradually phased out. At this point, the far-reaching question had to be answered as to which platform should be used to step into the DMS future.
Zentis, whose headquarters are in Aachen, used the professional support of the Research Institute for Rationalization (FIR) at the local RWTH for the selection process. Together, the advantages and disadvantages of numerous DMS solutions were examined in a detailed, multi-stage selection process. Not only IT experts were integrated into this process, but from a certain point in time also department heads and key users. This ensured that user requirements were precisely observed right from the start.
High requirements were successfully implemented
At the end of the process, there was a clear decision: d.velop had won the race. According to Udo Hanke, the reason for this was not only the attractively priced offer but also the convincing technical competence of the software house from Gescher. The possibility of being able to take on tasks within the framework of the planned project was also compelling. This enabled us to do without additional consulting services, despite their difficult-to-calculate prices and time constraints.
"We were very quickly convinced that d.velop simply suited us best, and that was confirmed at all times in the professionally executed project. Overhead was avoided, and d.velop also created first-class documentation," says Udo Hanke.
An ambitious approach has been implemented across the board
The introduction was a complex project. At the same time, an ambitious project to optimize product development was launched. This is a process with a wide range of product samples and test productions that ends with the handover to the customer's series production. Today, around 15,000 product samples are created at Zentis every year. These can be found in a little more than 1,000 digital files with tens of thousands of documents. Before the introduction of the DMS, a large physical archive was used here. The search for information was correspondingly complex and time-consuming.
"A particular challenge of product development is that it requires processes that affect almost all areas of the company, from sales to production," says the head of the organization, Phillip König. For this reason, the linked d.velop solution was rolled out across the board. The project was implemented in three phases. First, document archiving and workflows for the leading documents were implemented, and then the process for the test series was determined. This all-encompassing approach ensures that the product development process fully supports the finished product. The respective filing plans are assigned to the associated value chain. The new product development process at the Aachen site works so well that it is currently being implemented in the USA.
We were very quickly convinced that d.velop was simply the best fit for us. And this was confirmed at any time in the professionally executed project. Overhead was avoided and d.velop has also created a first-class documentation.

Udo Hanke
IT Manager
High approval ratings among employees
"The reactions of employees in various areas of our company also show that the commitment to the new project was worth it," explains Hanke. "We receive a lot of inquiries from employees who are interested in expanding the DMS platform, which makes it clear that it is so well accepted, and that has given us completely new perspectives for digital innovations."
Employees and companies also benefit from advantages that were not even thought of at the beginning. Examples are improved transparency and better options for evaluations. Very precise analyses can now be performed thanks to the digital foundation. For example, it is now possible to determine how many recipe samples were produced for a customer within a given period. Furthermore, the available data can be used to conduct trend analysis. The resulting overall increase in quality has already been positively registered by external auditors.
Personal cloud archives save on payroll costs
Zentis employees can also benefit from the advantages of digitalization in other ways. In addition to the DMS (digital management software), d.velop Post was introduced for electronic billing delivery. Statements are linked to the SAP HR system and are electronically transferred to the personal cloud archives of the Zentis employees via encrypted file sharing.
The d.velop solution is legally compliant, is hosted in Germany, and all data transmission is encrypted. In addition, the solution pays off because the delivery of the statements via the cloud archive saves around three euros per month per employee. "Although the digital service is used voluntarily, more than 80 % of employees in the administration area alone use it," says Hanke.
The introduction and permanent development of the DMS landscape at Zentis is an essential step in the strategic direction of Zentis to utilize digital media to improve working processes to develop new business concepts.