The automation of purchase requisition to invoice verification is only possible, if the documents are available at any time as well as quickly and easily accessible in every step of the process. SAP archiving helps you to store the documents, optimally supporting your procure to pay process.
We continue our series of blog entries around the digital procurement process in SAP. In previous posts, we analysed the individual parts of the purchase-to-pay process and highlighted to what extent automation of the individual subprocesses from SAP purchase requisition to SAP invoice verification is possible. This automation can only be successful, however, if the documents to be processed are available in their entirety at any time. This means, quick and easy access at every process step is a vital quality characteristic.
The archiving of documents in SAP along the entire P2P process
In particular throughout the purchase-to-pay process, there is a multitude of important documents that require coordination along the process chain. Whether procurement request, delivery note or incoming invoice, you can only perform subsequent process steps if these documents are available and accessible. In SAP, document management is mapped in only a rudimentary way with the so-called SAP Document Management System (DMS). This is just the nature of things, as SAP is primarily a powerful ERP system.
So why should you add another archive solution to your SAP solution?
Let's take an example from the typical procurement process to answer this question:
Here documents are copied and stored by the relevant specialized departments. The original is then forwarded. The storage of the original actually happens only in the last process step. This increases the risk of unnecessary duplicates being created or even original records getting lost in the process.
This is not only an obstacle to fast processing but can also cause problems considering the legal aspects.
In a consistently digital purchase-to-pay process, on the other hand, documents and records are scanned within the relevant specialized departments in the archive system or via a central scan point throughout the process. In SAP transactions, the document flow and all other relevant documents located in the archive system are displayed for each SAP record, thus enabling direct access.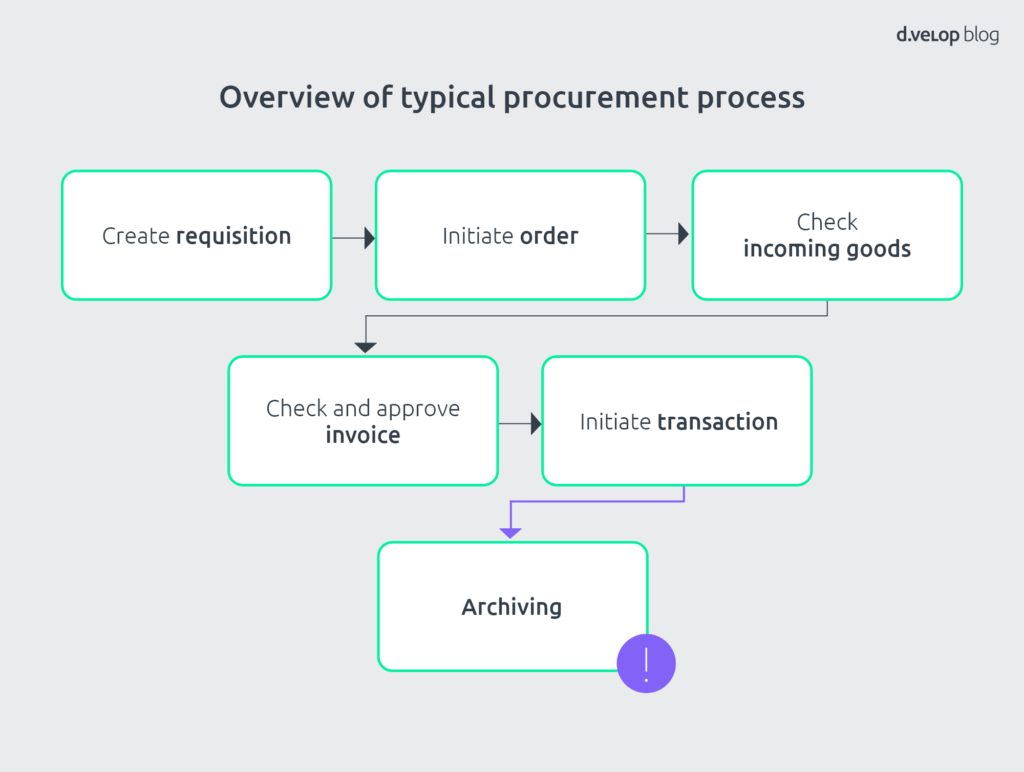 In this case, archiving in SAP no longer occurs at the end of the P2P process as before. All documents are archived from the get-go and related processing and approvals are logged throughout the process. Furthermore, processes are transparent, which allows them to be traced immediately without requiring further input from colleagues. Thus, employees have better access to information (depending on preset authorizations) while at the same time reducing manual effort across the board.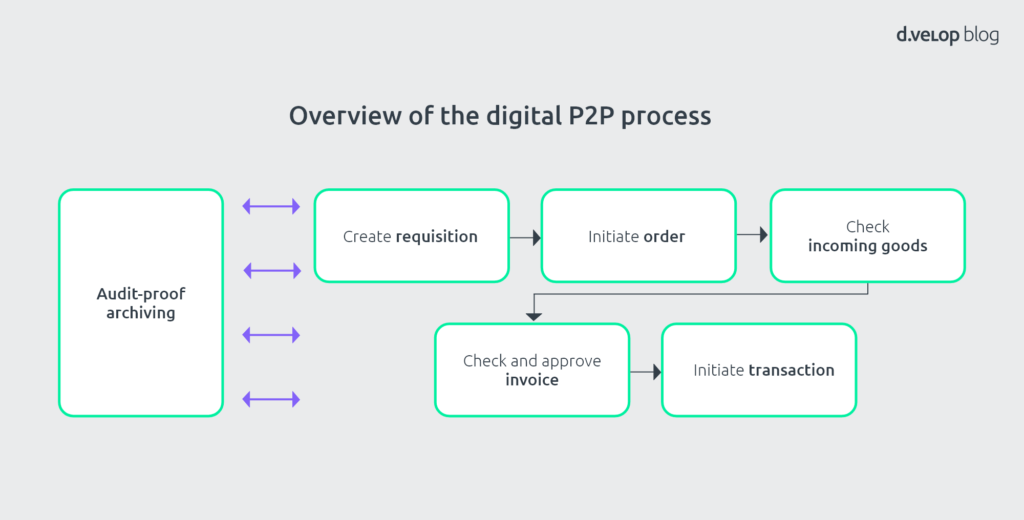 Increasing company value using process automation
If we view all process steps in our purchase to pay blog series as a whole, one thing is clear: Your annual financial statement and profit and loss statement gain more validity as a result of correctly posting incoming invoices, SAP archiving in an audit-proof manner and using comprehensive process automation. The benefits you reap from process automation (quicker, cost-saving and error-free processes), maximum cash discounts and avoidance of penalties as well as additional factors, such as the time saved by each employee, increase the value of your company sustainably over the long term. Plus, digitization is advanced throughout the company.
Are you further interested in the automation of procurement processes? Get further information and download our white paper.