Is it all just splitting hairs? For some, the terms "DMS" and "DMS Online" mean the same thing, while others insist on a clear distinction. Now who is right? In this article we clarify the most important questions about DMS Online and present five reasons why every company should switch to it.
What does DMS Online mean?
Before we get to the five reasons, we should first take a closer look at the term "DMS Online". What is DMS Online actually? How is it different from the DMS and how does it work?
Definition: DMS Online
A DMS Online (Document Management System Online) is software that enables documents and other digital content to be stored, organised, managed and shared in a central, online accessible database.
An online document management system is accessible via a web browser, which serves as the central hub for all electronic documents in the company. Depending on the provider, a DMS Online provides a wide variety of functions such as creating, editing, sharing, releasing and archiving documents for users.
What is the difference between DMS Online and DMS?
The key difference between a DMS Online and a DMS is accessibility. While a DMS Online – as the name suggests – is hosted online and can therefore be used from anywhere via the Internet, a DMS can also only be installed as a local software solution on the computer or on the in-house server. "DMS" is therefore the collective term for all types of document management systems and "DMS Online", is the specific form that is used as a web application over the Internet.
How does DMS Online work?
As we have discovered, DMS Online is used via a web-based client. An application that allows users to access documents and processes securely via a web browser. This means that all that is required is an internet connection and employees can access the required documents centrally. These are automatically filed in digital files. The web-based application can also be, fully integrated into leading business applications and processes such as SAP, Salesforce and workflows.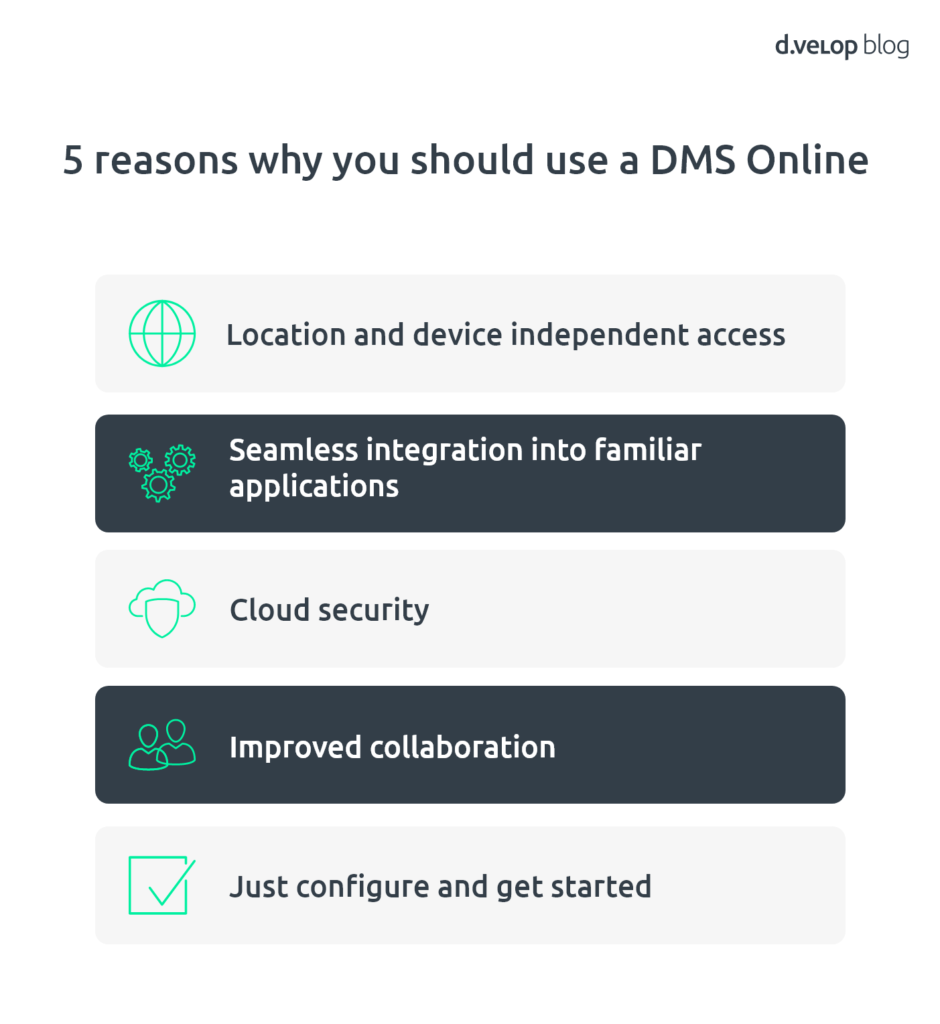 Reason 1: Location and device independent access
Probably the greatest advantage of a web-based application is location-independency and flexible use. In a now digitised and automated world of work, the accessibility of information and data plays an increasingly important role. No matter whether from the home office, in the office or working remotely for instance on the train – a DMS Online makes digital documents available 24/7 for any mobile device that is connected to the Internet. In addition, it can be linked to a mobile app to make access even more convenient when on the move.
Reason 2: Seamless integration into familiar applications
We humans are known to be creatures of habit – particularly in working life. The changeover to a new application, can potentially be problematic, both technically and from the perspective of employee adoption. An online DMS takes this fact into account and offers users a wide range of integration options in existing applications. For example, employees can participate in business processes directly from Microsoft Outlook or from the SAP ERP interface without having to leave the respective client.
Reason 3: Cloud security
Online document management – this is where the first alarm bells ring in many companies. Hacker attacks, unauthorised access, data manipulation: concerns on the security of sensitive information and documents are always questions to be answered   Even if complete security cannot be guaranteed, in principle, online DMS solutions such as d.velop documents meet the highest security standards. In particular, the connection to a certified and encrypted cloud solution ensures secure and compliant work.  
Reason 4: Improved collaboration
A DMS solution via web client contributes significantly to improved collaboration by simplifying the exchange of documents and information between employees. A DMS online enables multiple users to work on a document and make changes at the same time. This is particularly useful when multiple collaborators are working on a project and need to keep each other informed. Functions such as versioning mean that the latest versions of documents can be accessed anytime, anywhere. The simple integration of well-known applications such as SharePoint Online allows transparent and seamless document collaboration through the comment function and change marking.
Reason 5: Just configure and get started
Last but not least, DMS online is usually configured in just a few clicks and is designed for maximum user-friendliness. While a classic, locally installed application on the computer is often associated with service and IT staff, the web-based client is installed quickly. The flexibility offered means that in just a few steps, the online DMS can be configured easily to enable users to have only the functions available that they currently need. Employees are no longer "overwhelmed" by numerous features that are not required. However, should their operational requirements change, these can be made quickly.
Our blog article on the topic of document control shows how to implement efficient and secure workflows: You should heed these steps.
Online document management with a system – holistic digitisation with d.velop software
That's it – five reasons why you should rely on a DMS Online. However, there are numerous other reasons that speak in favour of online document management via d.velop documents. From significant cost savings to digital files to numerous expansion options such as digital signature – all important advantages and functions are clearly and summarised in the white paper document management simply explained.