Contract management with Microsoft SharePoint & Microsoft 365
Challenges in contract management
Contracts are the basis of every business relationship. The number of contractual agreements with suppliers and customers is constantly increasing.
If you work with contracts every day, you know how difficult it is to keep track of all your contracts. Consequently, it costs time and money.
Additionally, contract management with SharePoint & Microsoft 365 helps you get your contracts in order. Regardless of which industry you are in.

Support through all contract phases
The central contract management platform maps the entire contract life cycle, providing assistance during contract generation, ensuring that items are processed within applicable deadlines and allowing for structured management of tasks.
Additional security is provided by the easy-to-manage and highly granular rights structure, the reporting module's wide range of evaluation options, the costing function and the audit-compliant archiving of contractual documents.
Deadline management
Contract terms, cancellation periods, notice periods or re-negotiation periods: The system automatically monitors all periods and upcoming deadlines. You can create these periods with ease in the user interface and utilize the automatic deadline calculation function, which notifies you well before the deadline is reached.
You can see an overview of all upcoming deadlines either on the homepage or in the detailed reports from the contract reporting function, filtered by contract type, person responsible or due date.

Work as a team
Utilize SharePoint's extensive collaborative features, which are ideal whether you are working on a document as part of a team, sharing tasks or looking to approve your contract. The standard workflows provided can be adapted easily and allow you to work across locations, or even include external contractual partners.
Moreover, comprehensive documentation ensures that you can track the progress of a contract at a later time.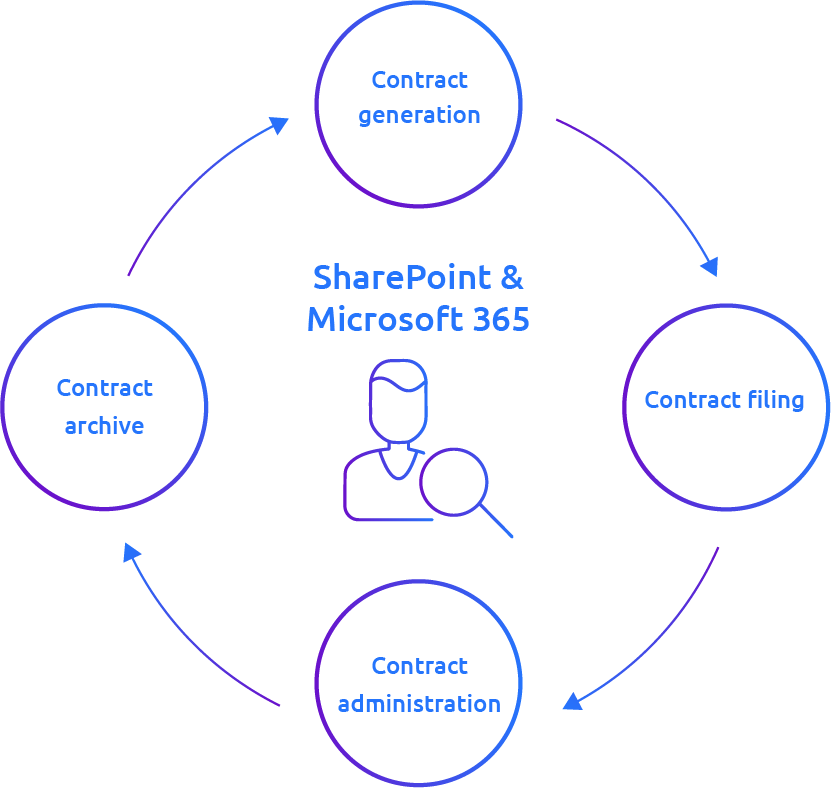 Your solution: Digital contract management with Microsoft SharePoint and Microsoft 365
Contract creation
Contract management even provides template management and ready-made boilerplate texts to help you create contracts. Additional to the embedded versioning information, meta information is also available in the document. For instance, information from the contract file, comments and release information can be viewed.
Filing and finding contracts
As well as the integrated full-text search function in SharePoint, d.velop for Microsoft 365 provides other innovative functions to help you research contracts. These are for example the easy-to-use quick search function and the convenient metadata search function.
Contract management and reporting
The reporting module lets you evaluate key figures such as risks and costs while keeping track of all upcoming periods and deadlines. For instance, you can use this module to create custom dashboards.
Contract archive
The built-in, audit-compliant archiving function provides the process reliability required to handle your contracts. Above all, the d.velop archive component ensures compliance with legal framework conditions and tamper-proof documents.
Factsheet: Digital contract management with SharePoint and Microsoft 365
Download our factsheet and learn how to efficiently perform contract management tasks with Microsoft SharePoint and Microsoft 365.
What's in it for you? You always have an overview of your contracts, you never miss deadlines or lose contracts again.
Microsoft SharePoint contract management – added value through integration
Are you looking to integrate master data or information from your principal system, such as SAP, Microsoft Dynamics NAV/AX or SharePoint?
Our digital contract management solution with SharePoint and Microsoft 365 can be flexibly integrated into your application landscape.
Do you want to experience the possibilities of integration live?
Or do you want to know how to use contract management effectively?