SAP Information Lifecycle Management – SAP ILM
The standard SAP system does not map the entire lifecycle of data and documents. That's why SAP ILM module was created – to supplement it with important functions for GDPR-compliant archiving. All storage periods and locations for archiving can be set in the ILM rules in d.velop ILM. Data destruction is carried out strictly according to the legal retention periods and is assured by a fixed workflow.
Using SAP in compliance with GDPR
With SAP Information Lifecycle Management (ILM), SAP offers customers a proprietary solution to assure the provision, indexing and long-term retention of data throughout its lifecycle. The introduction of the EU's General Data Protection Regulation (GDPR) and similar data protection and privacy legislation worldwide mean companies now face the challenge of finding ways to archive personal data in accordance with this regulation. This is no easy task, especially in SAP – because the majority of data from manufacturers, suppliers, customers and employees includes direct references to individuals (and therefore personal data).
Our module for SAP ILM allows you to set up technical and organizational tools to block and delete personal data in SAP and store documents in a GDPR-compliant manner.
Certified SAP integration

The d.velop ILM Archiving for SAP module is certified as an official SAP integration. This certificate confirms compliance with SAP technical requirements in relation to the Information Lifecycle Management solution.
The d.velop ILM interface at a glance

Quick installation Easy to manage Certified SAP integration
Use d.velop for ILM-capable storage
In addition to the provision and indexing of personal data within SAP, the ILM-capable archive is also a key component of a good data protection strategy. The SAP WebDAV interface was extended to include Information Lifecycle Management to allow for the transfer of affected data to the archive and a WORM-like storage medium. The d.velop ILM Archiving for SAP interface is used both during the transfer and for the ultimate ILM-capable storage.
With the d.velop ILM interface, (personal) data and related data properties can easily be stored in compliance with the data protection law. This ensures that compliant and efficient storage, blocking and deletion of data can be guaranteed throughout the entire lifecycle.

Easy to install. Intuitive to manage.
Installing and configuring the d.velop ILM interface is easy and speedy thanks to an intuitive admin interface. You only require a Windows server, an MS-SQL or Oracle database, and the d.velop adapter to set up your archive storage system.
In combination with the ArchiveLink interface, the ILM WebDAV server communication settings can be maintained directly via the admin interface. This ensures that when deletion requests come from SAP via d.velop archivelink, the authorization for deletion is always validated via an ILM WebDAV server query.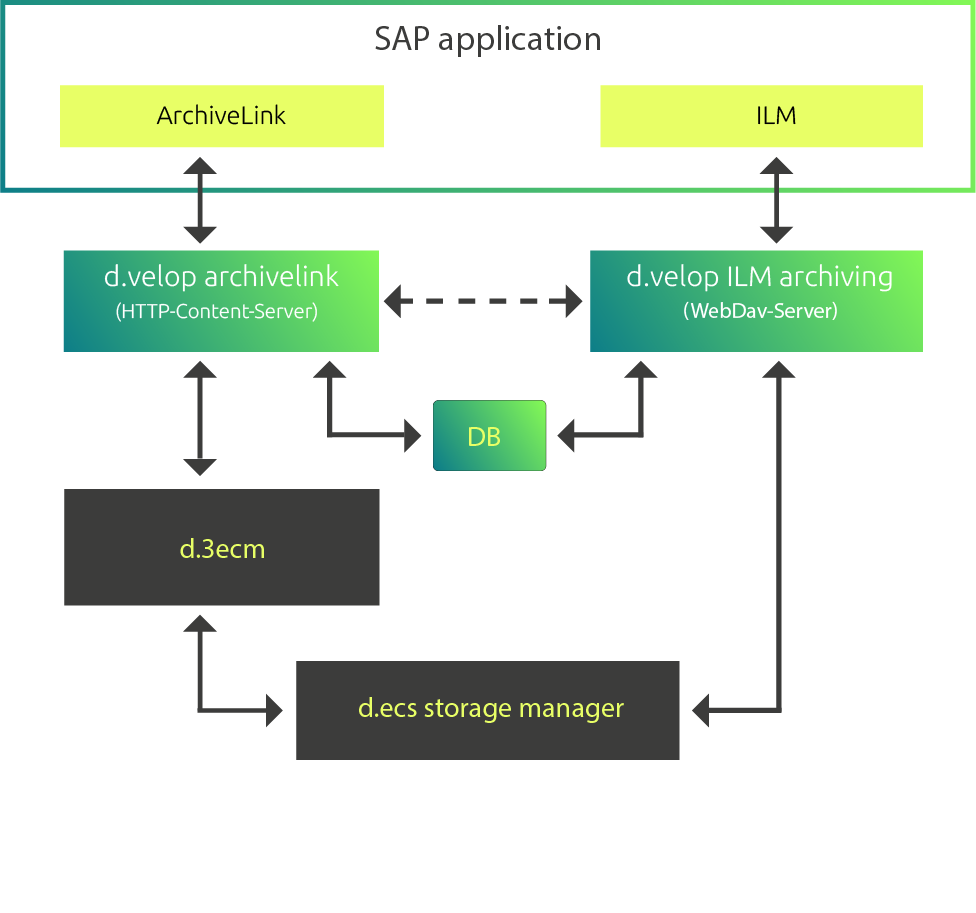 Are you still at the beginning or would you like to experience all the advantages of a integration live?
Request a free demo of d.velop software.