You are faced with the question: How do I optimise my SAP Document Management and which of the numerous offers on the market is the right system for me? We have five tips to help you make your choice.
1. Integration with SAP
The most obvious function that a document management system should have in this case is the possibility of integration into your SAP system. Nobody is helped if the SAP document management takes place outside of the ERP system and another window must be opened in addition to the numerous applications and programs. Instead, the DMS should be integrated in such a way that employees can call it up in the SAP system within any transaction and then work in it.
2. Audit-proof, long-term stable storage of the documents
Another factor that is extremely important in connection with documents – not only in SAP Document Management – is revision security. The document management system should ensure audit-proof, long-term stable storage of all documents enabling compliance with ISO27001. This providing your organisation with confidence in complying with standards such as:
Clear identification of each document – Name, date, author etc
Changes are controlled and identified
Distribution, Access, Retrieval
Confidentiality, Permission to view and make changes
Management of different types of documents – PDF, text, spreadsheets etc.
Controlled and audited Retention and Disposal
With this certification, independent auditing companies certify that the software offers audit security when used correctly.
3. Optimal support for your business processes
Calling up the DMS in the SAP system optimally supports your business processes. By opening it directly in the transaction, you have "permission controlled" access to all documents that are necessary to complete the activity, whilst offering a far better user experience negating continual screen swapping and copy/paste activities. In addition, documents for the respective business transaction can be stored directly and easily in the DMS using drag and drop.
SAP Document Management does not only mean filing and displaying documents. A DMS should have the ability to use and create workflows. For example, utilising workflow-supported checking and approval of incoming invoices, order confirmations, customer orders, delivery notes etc. Or the simple creation of internal circulation folders for a wide variety of documents. These functions enable optimal support, enhance process and maximise customer interaction and satisfaction levels.
4. ArchiveLink and CMIS – not either or, but both!
A key question in your choice of SAP Document Management, must be in respect of the flexibility offered to your business, enabling you to choose the best type of operation suited to your business e.g. – on-premises, cloud, hybrid, ArchiveLink or CMIS. A DMS should give you the greatest possible flexibility and not limit your options. Ideally, with the DMS you have the freedom to choose the type of operation and the security that in the event of a change, migration is possible at any time. In order to ensure this flexibility, the DMS should therefore be both ArchiveLink and CMIS-capable.
5. Think beyond your SAP system
SAP Document Management is an important topic. However, there are often employees in companies who do not work in the SAP system but who need to have access to the information in the same way.

A DMS should also work independently of the integration into the SAP system, for example via a browser. For employees who spend most of their working time in e-mail or an Office program, integration into these applications is critical. In the area of workflows, the DMS should have a web and/or mobile client in order to be able to integrate both SAP and non-SAP users. These flexible operating variants also enable location-independent work.
It is important that no matter whether you open the DMS from SAP or an Office application, in the browser or mobile, you always work with the same information and functionality.
The DMS should be easy and intuitive to use and thus avoid high training costs. This not only makes work far easier for employees, it saves time and increases acceptance when introducing a new tool.

The last, but no less important factor is the possibility of expanding the DMS into a fully-fledged enterprise content management system. Your chosen DMS must offer expansion based upon a solution by solution growth strategy for example, digital signature, contract management, travel expense management, whilst still providing a guaranteed full blown enterprise growth path.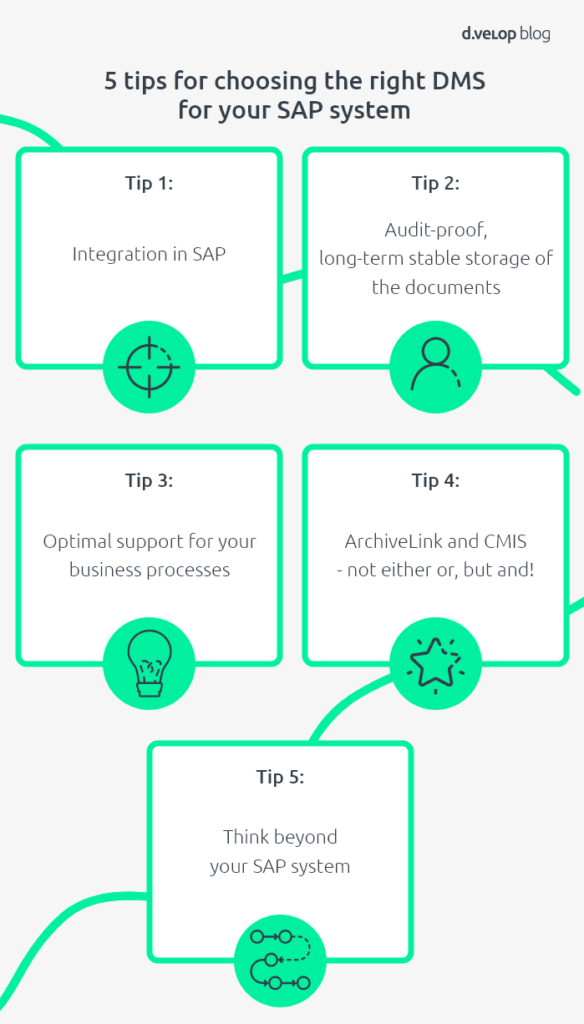 Conclusion
It is certainly no surprise that the d.velop DMS d.velop documents offers all this and much more. If you are planning to digitally transform the future of your company, then as we have tried to convey, a DMS is a fundamental piece of the digital jigsaw. Remove existing silo'd business practices, maximise centralised data value, whilst providing the core environment to fully integrate your business process and practices.
White paper | SAP
A guide to automated procure-to-pay processes in SAP