E-mail archiving: Relief for

mailbox and employees
Simplify the use of your most important means of communication
E-mail archiving: Fully automated. Intelligent. Legally compliant.
In today's business world, it is hard to imagine life without it. But even in the private sphere, very little works without it: The e-mail.
More than 80% of business communication is electronic these days. The consequences of this are experienced by everyone who deals with you on a daily basis. The mass of information that is sent digitally is constantly growing. More and more emails arrive, are sent and need to be stored.
Need to be saved? Did you read that correctly? Yes. There are emails that you have to save in the original format. An example of this are emails that are relevant under tax law according to GoBD.
Why does it make sense to use email archiving? Legally compliant archiving
Put your trust in security, put your trust in e-mail archiving from d.velop. Thanks to the legally compliant storage of your data and documents and the associated protection against changes, you can work in compliance. Relieving the load on the mail servers
Simple installation and configuration of the archiving options enable holistic monitoring of the mail servers. This means that mailboxes can be relieved more quickly and storage space optimised. Manage knowledge and processes
E-mails can not only be made available company-wide, but can also be directly assigned to processes and files. With process automation for the smooth digitisation of business processes.
Use journal archiving and rule-based archiving in combination.
Highest efficiency at low cost.
With the d.velop AG solution, you archive all incoming and outgoing e-mails in a legally compliant manner directly when sending or receiving them. At a later point in time, you can relieve the user mailboxes. The practical thing about this is that a duplicate check is carried out automatically, so that the same e-mails are only archived once, thus saving memory.
One possible use of email archiving is combined journal archiving, which is as follows: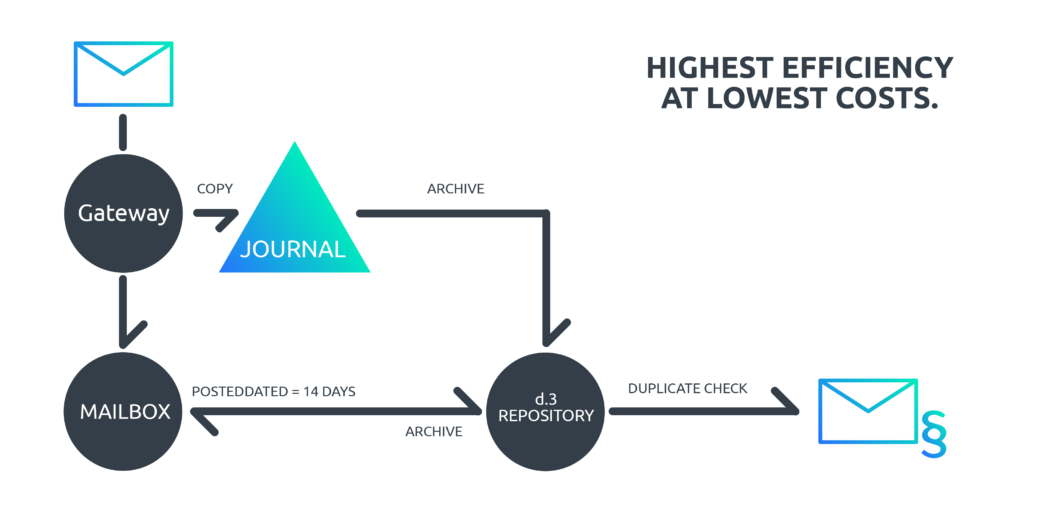 E-mails arrive at the gateway and are copied into the journal.
All emails from the journal are archived in compliance with the law.
Emails from the user mailboxes are archived at a defined time.
During archiving, the duplicate check takes place.
With the help of procedural documentation, your email archiving process becomes legally compliant.
Archiving emails has never been easier
Storing your e-mails in the digital archive reduces the storage requirements and the storage costs of the e-mail server quite considerably. E-mail archiving by d.velop prevents accidental data loss, shortens the duration of data backup and makes separate backup of PST files or archive databases unnecessary.
It offers you comprehensive document management functions such as versioning and check-in/out, simple and flexible customising for adaptation to individual requirements and the ability to integrate into existing applications such as Microsoft Outlook, SharePoint or Office. This allows you to adapt e-mail archiving to your company and your employees.
With seamless integration into your mail client, the system supports your staff in searching for information or possible filing locations in the context of an email. In addition, archived emails can be found quickly with an intelligent full-text or keyword search. Workflows linked to email management increase process efficiency.
And should the requirements increase, the digital archive can be scaled very easily.
Manage emails in no time
In day-to-day business, email management should not be a problem. Because far too much time is lost in the daily checking and processing of emails. Sharpen your user focus. With d.velop's e-mail management, you as a user stay focused on your daily business. The complete archiving process runs in the background via defined criteria. Of course, you can also manually assign important mails to digital files or processes.
As a user, you continue to work as usual with your Microsoft Outlook or IBM Notes. E-mails that have already been archived are still found in your mail programme. This means that all the contents of the e-mail can be accessed either directly or indirectly from the ECM system. And that even with mobile access.
Further advantages: Thanks to the connection to the ECM system, you can find already deleted e-mails in the document management or access digital files, information (e.g. documents from your ERP system) or processes contextually.
E-mail archiving with d.velop Simple filing of incoming and outgoing e-mails
Full text search in the ECM system for archived e-mails Display and export of documents from the ECM in the mail programme View and edit processes in the company
Do you have any questions?
Our team will be happy to advise you on optimising your email management.