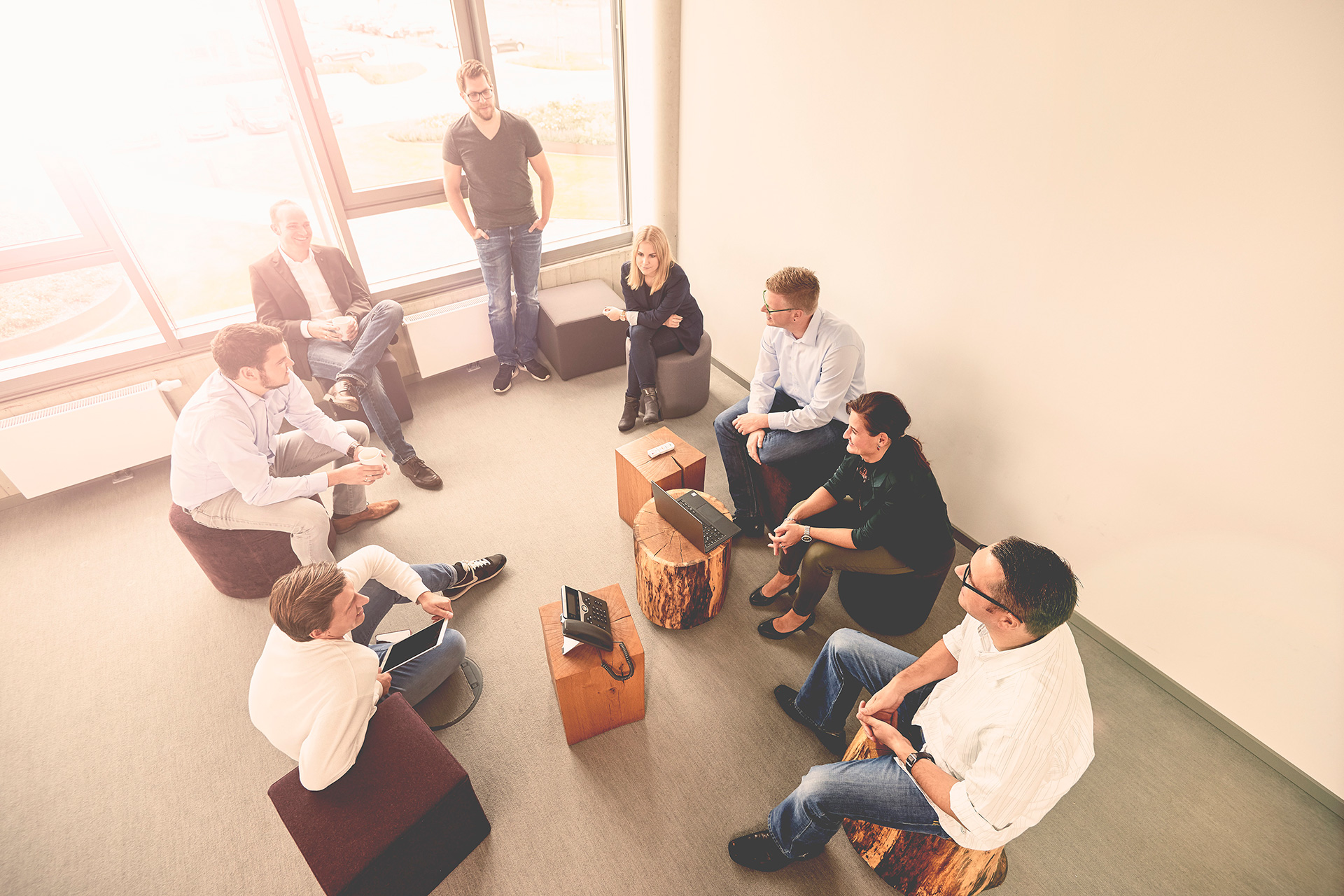 E-mail archiving: Free your inbox,


free your mind.
Simplify your most important means of communication
Email archiving: Smart, automated, and compliant.
Email is a big part of our lives – both at home and in the workplace.
Over 80% of business communication is electronic nowadays. The result is a flood of information arriving in our inboxes every day – and it just keeps on growing. And as more emails arrive, more are sent, and more need to be stored.
What's that about storing emails? Indeed, there are certain emails that have to be saved (or archived) in their original format. One good example is emails that must be stored for taxation or legal purposes.
Why use an email archiving system? Audit-proof archiving
Store your documents in a way that's secure and meets all applicable legal requirements. Legally compliant data and document storage while preventing later alternations ensures full compliance, allowing you and your staff to get on with your work with full peace of mind. Reduce mail server load
Easy installation and configuration of archiving options make it easy to keep all mail services compliant and in order. This allows mailboxes to be emptied faster, optimizing your storage capacity. Manage information and processes
Emails can be made accessible to the entire company, and even allocated to specific processes and folders. Process automation is a key component of streamlined digitalization of business processes.
Combining journal archiving and rule-based archiving
Maximum efficiency at minimum cost
The d.velop AG solution allows you to archive all incoming and outgoing emails directly on receiving or sending them – in a legally compliant way. At a later point in time, user mailboxes can be emptied accordingly. The automatic duplicate check is a handy feature, ensuring emails are only archived once – which saves on storage.
One possible use of email archiving is combined journal archiving, which would look like this: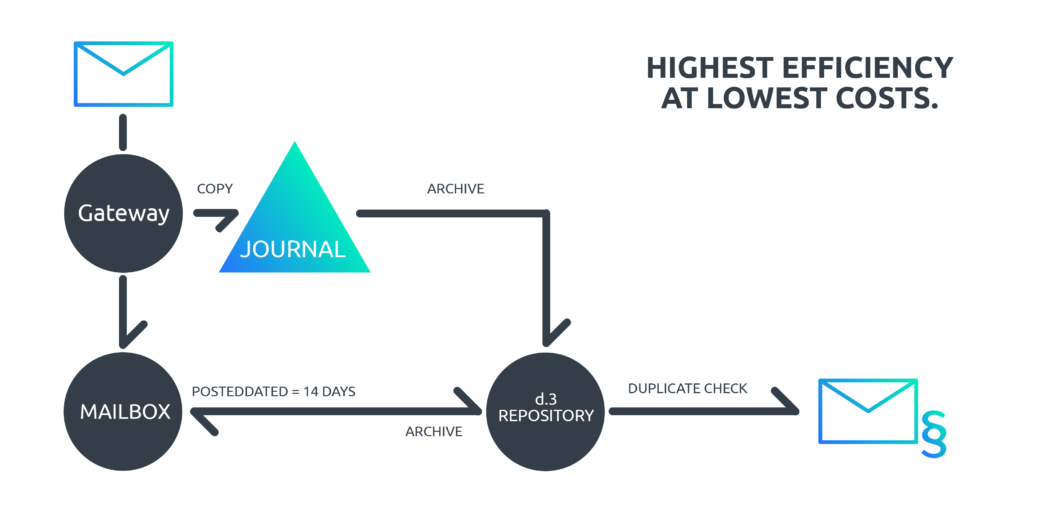 Emails arrive at the gateway and are copied into the journal.
All emails in the journal are archived according to the law.
Emails in the user mailboxes are archived at a specified time.
A duplicate check is done during archiving.
Full documentation ensures your email archiving process is fully legally compliant.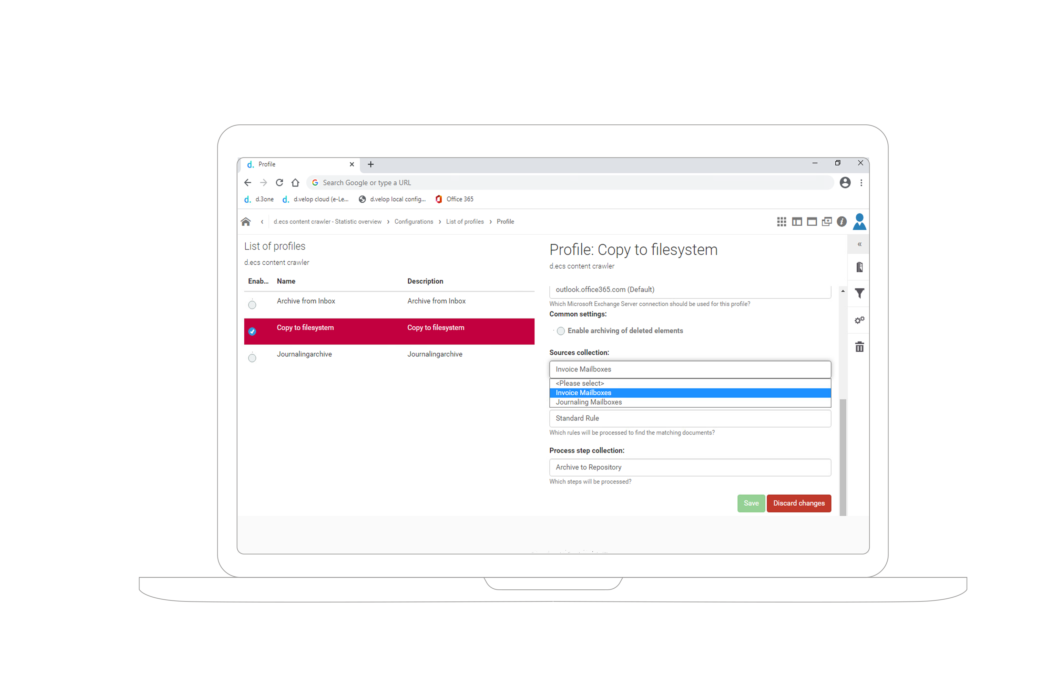 Archiving emails has never been easier
Storing emails in the digital archive considerably reduces your storage requirements and the associated email server storage costs. d.velop's email archiving tool prevents accidental data loss, makes backups faster, and eliminates the need to back up PST files or archives separately.
It includes comprehensive document management functions such as versioning and check-in/out, simple and flexible customization options to adapt the system to your individual requirements, and easy integration with existing applications such as Microsoft Outlook, SharePoint or Office. This allows you to adapt email archiving system to suit the needs of your company and employees.
Seamless integration into your email client ensures your staff can easily locate information or access possible storage locations while working through emails. Archived emails can also be found quickly via an intelligent full-text or keyword search. Workflows integrated with your email management system increase the efficiency of your processes.
It's also easy to scale up your digital archiving system should your needs increase.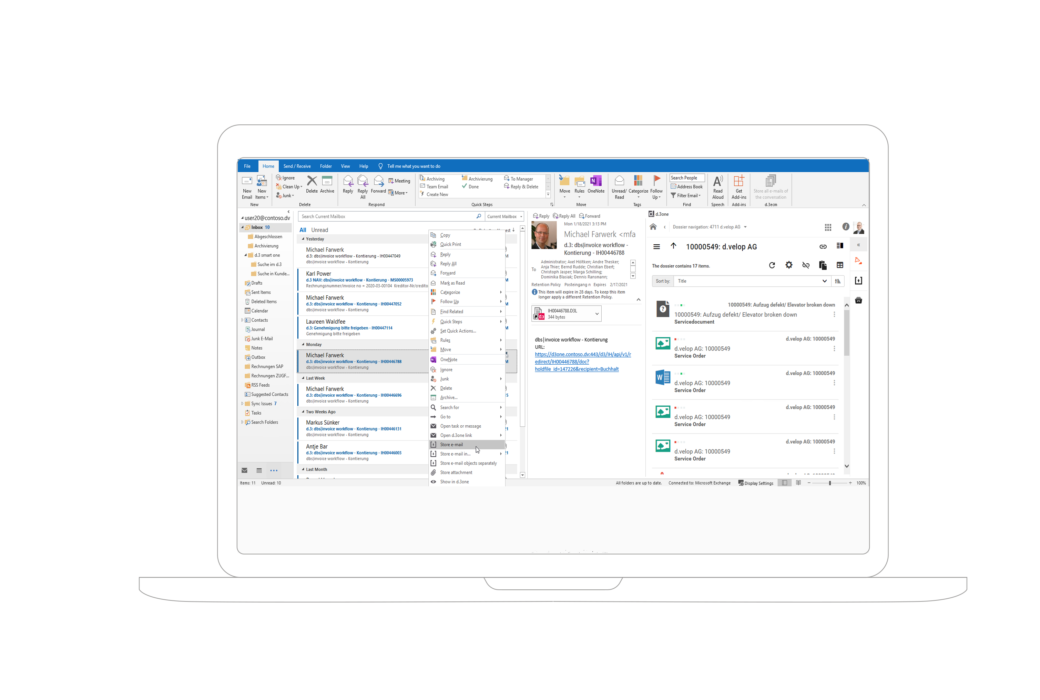 Eradicate time wasted managing emails
Day-to-day email management shouldn't be an issue. Far too much time is wasted checking and processing emails every day: d.velop's email management system allows users to focus on more important things. The whole archiving process runs in the background based on set criteria. Of course, you can also manually assign important emails to particular digital folders or processes.
Users can keep using Microsoft Outlook or IBM Notes in the same way as ever. Emails that have already been archived can still be found in your email program. This means all the contents of your emails can be accessed either directly, or indirectly via the ECM system – even via mobile access.
And there's more: the integration with the ECM system allows you to find emails that have already been deleted via the document management system, or contextually through digital folders, or in relation to information such as particular ERP notes or processes.
Email archiving with d.velop
Easy archiving of incoming and outgoing emails Full-text search for archived emails via ECM system Display and export documents from the ECM via your email client Display and edit business processes
Curious about something?
Curious about something?