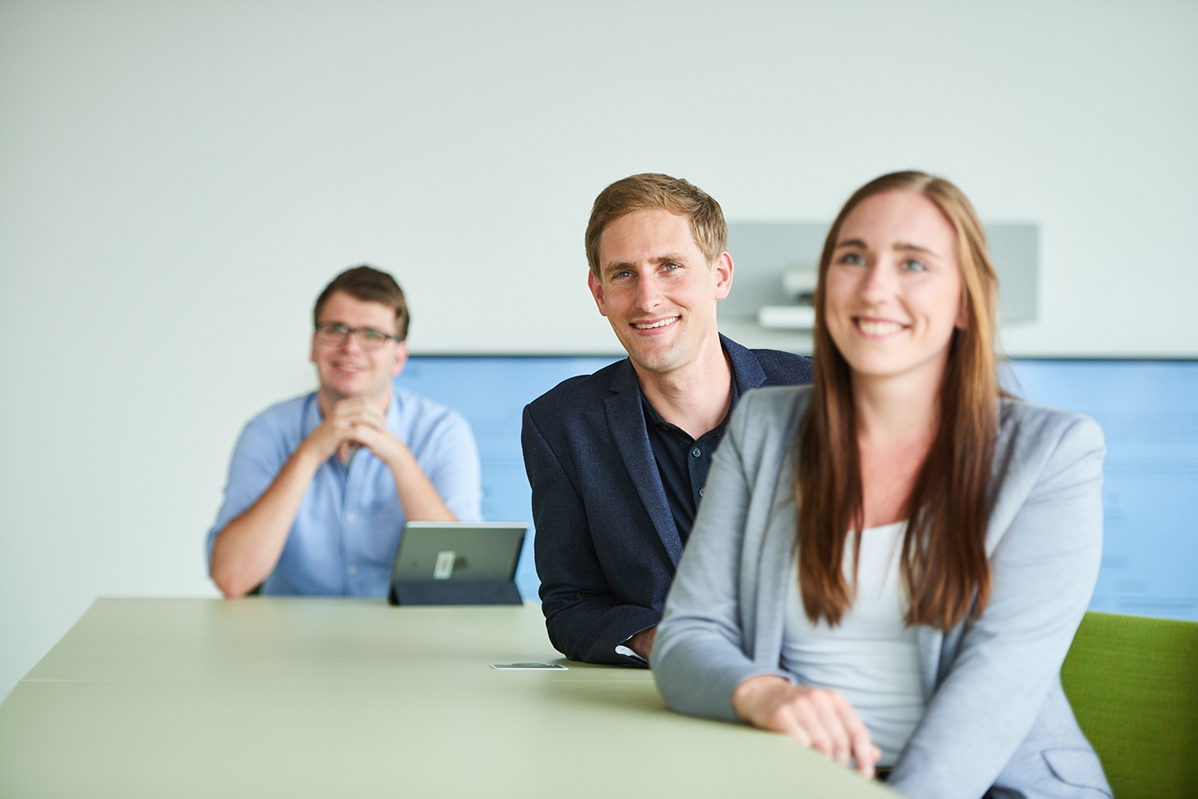 Betafashion automates contract management
Online retail has upended a number of established business models. The fashion industry is no different. More and more sales are being made online. Fashion manufacturers are finding it increasingly difficult to place their goods in full and effectively with the right retailers.
This consideration inspired Stefan Voß to found Betafashion. The Berlin-based limited company (GmbH) provides software for fashion labels that automates processes for selling to retailers. "We're turning the fashion-industry logic on its head," says Stefan Voß, CEO of Betafashion GmbH, "and we're digitalizing the merchandizer's workplace, i.e., the salespeople working for the various brands."
Betafashion's software applies market conditions to determine which goods, such as pants/trousers, T-shirts, or coats, have the best chance of being sold at which shop. Voß: "This applies to everything that is still there and that's just been made. Brands that use our digital allocation solution send their products to wherever they are needed and will be sold. We increase the brands' sales rate by an average of 15 percent."
Digitalization is in Voß's blood. "It pays to digitalize the data generated by processes as soon as possible to make automation as easily as possible." But Betafashion had not yet reached this level of digitalization in its own contract management systems. The contract documents were already available as PDFs with folders in the Microsoft environment. But the company still didn't have automatic deadline management or a full-text search function. Employees who were not familiar with the folder structure had to search.
Stefan Voß was looking for a document management system for Microsoft 365 and SharePoint capable of always providing up-to-date and legally compliant information from contracts for further processing. It would also need to be reliably accurate and easy to use.

Contract Management for Microsoft 365
Product

Textile industry
Industry

20
Number of employees
Hand-maintained Excel lists
Until now, Betafashion's most important metadata and contract information ended up in an Excel list that was maintained by hand. This required a lot of ongoing effort to keep the list always consistent with the facts. "People have good days and bad days," says Voß, "And this of course led to typos and incorrect invoice amounts. Things like that happen when you're entering things manually. At the same time, you can't eliminate this source of potential error."
This system was also slow and cumbersome to use. Employees always had to search for the correct, up-to-date list. This led Betafashion to look for a way to eliminate these sources of error and hurdles. But that wasn't the only requirement.
The solution also had to enable centralized access to up-to-date versions of all information from the contracts, without an employee having to relocate data by hand. The aim was to digitize all contracts in order to always be in the loop about deadlines, to receive reminders, to avoid mistakes and to always know the expected company cash flow for the near future. The goal: a dashboard for up-to-date, critical information extracted from the contracts.
For Stefan Voß, digitalization is key to scaling processes. This allows processes in the company that are largely automated to become more productive – without any additional manual work when the number of orders increases. For Betafashion, this is also how contract management should work on a day-to-day basis. Paperless, with digital interfaces to the respective offices that work with this data down the chain.
The company uses Microsoft 365 (formerly known as Office 365) and has already achieved 92 percent digitalization of all processes. "I can scale these processes a thousand times over," says Voß, "and it's all documented according to ISO standards. I wanted my contract management system to be the same.
"I wanted my contract management system to be the same."
Now, digitalization expert Voß and his staff could have chosen to adapt the Microsoft 365 environment to capture contracts digitally. But this poses challenges. After all, employees have to type in every single contract by hand and observe legal requirements. This manual process introduces potential sources of error, so the input screens, for example, had to be as clear and user-friendly as possible.
Everything also had to harmonize with Microsoft 365. "Building this digital contract management system ourselves would have been too complicated for us," says Voß, "we would have also had to know a lot about contract management. We'd rather use a standard product that already has the functions we need." Further, Betafashion wanted to digitize different types of contracts, such as insurance, leasing, maintenance, service, and customer contracts, along with licenses, personnel or even investment agreements.
Betafashion needed a standard product that was easy and quick to implement. This led him to d.velop. Voß: "I collected a few quotes, but ultimately d.velop's contract management system was exactly what I was looking for."
These are the three most important points for Betafashion that made Voß choose d.velop contract for Microsoft 365:
Document management software for Microsoft 365 and Sharepoint
Information from contracts is stored in a legally compliant way, always up to date, and available for further processing
Exceptional usability
"We were still using a lot of pen and paper right up until 2017. It pays to digitalize the data generated by processes as soon as possible to make automation as easily as possible. I wanted my contract management system to be the same. Whether it's a customer contract, an NDA, a personnel agreement, or a rental agreement: all data contained in contracts now goes straight into our reporting. This reduces the administration work involved to a minimum. For my staff, this leaves only the truly unavoidable manual tasks."


Stefan Voß
CEO | Betafashion GmbH
Contract management for SharePoint and Microsoft 365
Betafashion looked at using d.velop contract for Microsoft 365 as a central platform for the administration of contracts. This makes it possible to log contracts in a managed way, to customize the way contracts are administered, and to map the company's individual workflows (Click here for the fact sheet). "Microsoft 365 is well suited for use as a document repository," describes Markus Bütterhoff, Product Manager Microsoft Solutions at d.velop AG, "but not so much for what Betafashion had in mind, such as administering contracts and integrating further business processes via interfaces."
Digitalization also means that different apps and software solutions can seamlessly use data from the same source and pass it on to each other. Bütterhoff adds: "This could be from an input or contact form into SharePoint, from there into an ERP system, or into the component that enables digital signing."
Another example is the termination date. "With d.velop contract for Microsoft 365, Betafashion employees can choose to be notified," explains Timo Osterholt, Senior Project Consultant Microsoft Solutions at d.velop AG. For example, when a notice period is about to expire, and a contract is to be renegotiated. But you could also set up a reminder to change the tires of leased vehicles.
Minimal administration work
"The start page of d.velop contract for Microsoft 365 displays the contracts that demand the user's attention." says Osterholt. "Those might be incomplete documents, for example, or have deadlines that are about to expire." Users can browse through contracts via full-text search, sort contracts by topic, allowing them to find what they are looking for more quickly. When the user goes to log a new contract, the software guides them through the process. Compulsory fields must be completed, and the entire contract can be set up in three to four steps. "This ensures the process is less error-prone and faster, reducing administration time," Osterholt explains.
For Stefan Voß, software usability is a key issue in handling daily administrative tasks. Forms with dozens of fields are confusing and often lead to mistakes being made. On the other hand, clearly structured pages create transparency and help employees focus on the task at hand. "d.velop always has their eye on ease of use", according to Voß.
Once the contract data has been logged digitally, this goes through to automatic evaluation and reporting, via interfaces in Microsoft 365. Voß: Whether it's a customer contract, an NDA, a personnel agreement, or a rental agreement: all data contained in contracts now goes straight into our reporting. This reduces the administration work involved to a minimum. For my staff, this leaves only the truly unavoidable manual tasks."
Betafashion's key benefits from using d.velop contract for Microsoft 365:
Betafashion uses data pool that d.velop contract for Microsoft 365 generates using the digitized contracts. This data enables a number of automated functions, such as:
Calculation of commission for sales staff
Determination of the contract term
Reminder of expiring contract terms and deadlines
Summary of expenses
Summary of expected cash flow
Reconciliation of actual income with projected income
Notification of emerging problems
Passing on data to service providers, e.g. reporting new employees to the tax advisor
Digital signatures
Checking of draft contracts
Many administrative processes can be scaled up without additional employees
The evaluation of data is followed by further processes and workflows. This also applies, for example, to the process of hiring new staff. Once the form with the personnel data has been completed digitally, the employee is sent it for review. Once details such as salary or holiday entitlement have been negotiated, the digital signature is added using Microsoft 365 and in cooperation with Bundesdruckerei, which verifies the identity of the signatory.
"My job is to keep the organisation able to act at all times and to ensure everything is managed in a cost-effective way. And there are few more cost-effective measures than making administrative processes as digital as possible."

Stefan Voß
CEO| Betafashion GmbH
Would you like to start your own digital success story?