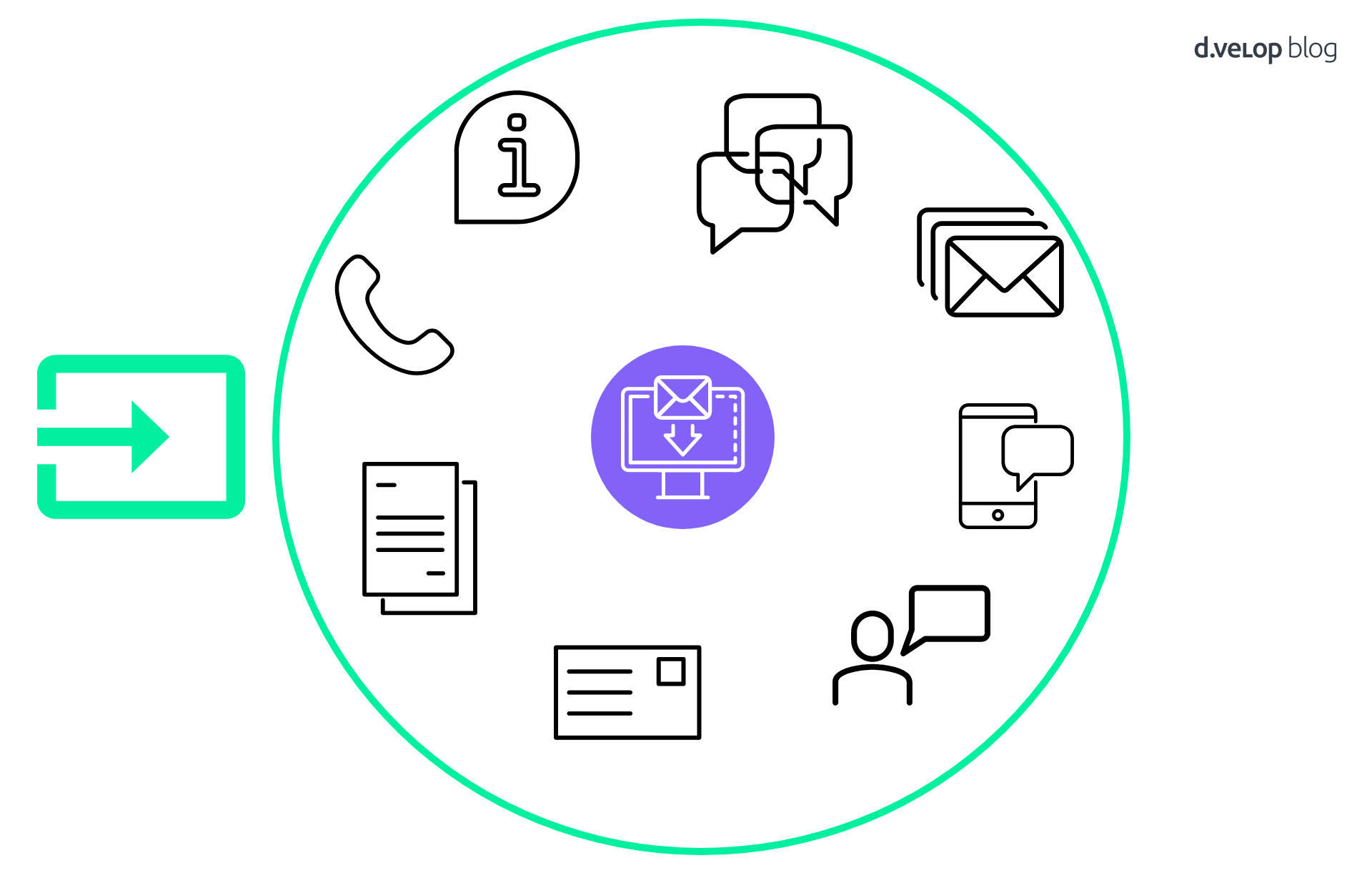 Every day, companies around the globe are receiving large inputs of information. This includes letters, emails, social media messages, online forms, or other contact points provided by the company. All incoming information must be captured and made available for downstream processes. The process of providing information can be referred to as input management.
This process can prove challenging and time-consuming which in turn affects downstream processes. Not only does this reduce productivity, but it can also have a negative impact on employee motivation. The challenge of collecting information from different channels and sources in a uniform and structured manner and forwarding it automatically can be met by means of input management. In other words, input management means providing information automatically.
What Does Input Management Do?
To understand what input management does, it helps to know first what input management is defined as.
Definition of Input Management
Input management describes the approach to digitally capturing business-relevant data, as well as the associated selection of suitable hardware and software and the connection to downstream business processes. The entire process of providing digital data from documents that exist in paper form is referred to as input management.
The associated techniques can be summarized under the term "capturing". Input management uses scanning, OCR, and full-text search techniques to accomplish the digital capture of documents.
What Are the Tasks of Input Management?
The tasks of input management include: processing incoming documents digitizing them when needed), regulating the distribution of documents within the company, and ensuring the quality and organization of the filing system. Structured and unstructured data from multiple sources is captured in input management and made available for further processing. A very efficient method of managing input is to scan the documents received in paper form and then process them using intelligent software.
According to the assessment of IT and departmental decision-makers in a study by IT-Business in Unternehmen, around 36% of all documents in a company are still in paper form. These must be processed accordingly and archived digitally. Input management can help by directly digitizing incoming documents making them available to systems.
Input management is a modern system for document management or enterprise content management (ECM). These systems are used to capture and digitally provide input with subsequent archiving. In the best case, input management is integrated into such a system, for example as a module of the software used. Then an input management process could like something like this: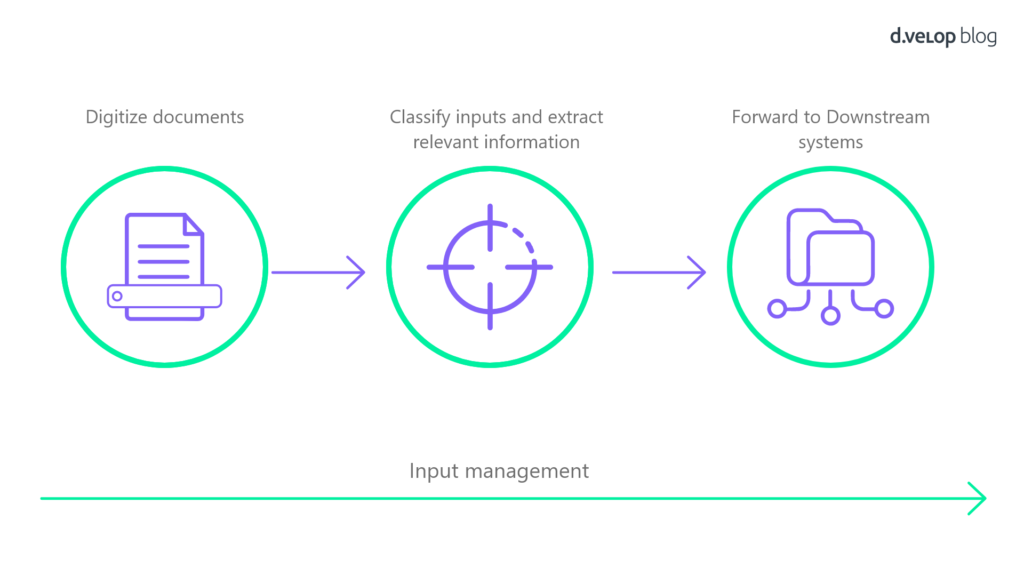 Overcoming Challenges with Input Management
Large volumes of incoming documents can present a few challenges. This is especially true for the incoming mail department. Employees often have to manually enter incoming mail, which not only takes a tremendous amount of time impacting downstream processes but also creates opportunities for errors. The complexity of the various inbound mail channels should not be ignored.
In today's world, there is a wide selection of channels clients can use to communicate with businesses. Companies have profiles on social networks like Facebook, Instagram, and LinkedIn. Almost everyone has a camera with them thanks to their cell phone, which means photos of invoices or receipts for insurance companies can be sent quickly and easily. On top of the numerous social media channels, there is still an inflow of paper letters and forms that filter into the mailroom to be sorted and processed. Knowing who gets which letter and when they should receive the letter adds to the confusion and the stress. Digitally capturing this data with the appropriate software allows each piece of mail to be processed effectively and assigned directly to the correct recipient. This massively reduces delivery times of important documents within the company.
Structuring and Processing Information with Input Management
Input management helps companies structure incoming information and process it uniformly. Different formats and sources are brought together;linked with structured information from the specialist systems.
There are a wide variety of options and tools that can implement input management in the company. These include: capture, classification, transformation, and processing of information from documents and the corresponding provision in the systems.
Input Management System Tools Include::
Scanning software: used to digitize paper documents
OCR technology: converts image information into readable and searchable text
Classification tools: categorize documents based on content and assign them to appropriate document classes
Extraction tools: read data from documents based on rules and store it in a structured form
Interfaces to downstream systems: Information and results are transferred to downstream systems for further processing
Workflow: tasks can be executed automatically
Reporting: analysis tools that determine the performance of a process
With the help of these tools, efficient input management can be implemented in the company. In doing so, the challenges that a company faces with document and information processing can be overcome. Systems can only reach their potential if the organizational framework conditions have been created. For example, in the mailroom, all incoming mail should be digitized in an early stage so that further processing can function more successfully. The sooner you can digitally capture your company's documents, the better!
Automating Processes with Input Management
Incoming documents are directly related to business processes. This is particularly important for the finance department, as it should have access to all relevant information. A smooth flow of documents increases efficiency, saves costs, and ensures satisfied business partners. Efficient input management can be of great benefit to companies. Document processing is faster and easier. Documents are automatically captured and classified. All relevant information is extracted and forwarded to the relevant departments within the company. Error rates can be reduced using input management because the incorrect allocation of documents or misfiling is prevented. Input that is available in paper form is digitized and merged in a uniform manner eliminating redundancies and inaccuracies. The central document management of a company is favored by input management. This means that all existing documents can also be archived in an audit-proof manner.