Offer more as a software producer!
Create new added value for your customers by adding cloud-based document management to your software.
letterscan takes your documents out of the archives and into the d.velop cloud
Although d.velop is a group with more than 500 employees, the collaboration feels very personal. They are very agile and able to make decisions without holding long internal discussions

Maximilian Kruschewsky
Managing Partner/Data Protection Officer
letterscan GmbH & Co. KG
Offer your customers more – integrate ECM solutions in your software
As a strategic partner of d.velop AG, you get to offer your customers new added value by adding useful functions from the d.velop AG ECM system to your solution. For instance, you can ensure that your customers have access to an audit-proof archive system for their documents. In the era of GoBD and GDPR, it is an added value that your customers will appreciate – if not one they already expect.
And the best thing about it? You can make these new opportunities available through the cloud without any major installation expenses. Nothing changes for your customers apart from the product you offer. Our cloud solutions seamlessly integrate into your software, so much so that you would not even notice that they are from a third-party supplier.
Added value for decision-makers
Further differentiate your solution with a greater scope of functions
Focus your resources on core competences
Reduce costs with easily integrated functions, custom solutions and innovations
Future-proof cutting-edge technology with transparent pay-per-use model
Added value for your customers
Highly-scalable Enterprise Content Management functions that can be booked without any additional installations
Reduce your own IT operating costs by using cloud services
Fulfill legal requirements for storing company-related documents
Increased productivity because documents can now be found quickly and processes can be enriched with important knowledge.
Added value for developers
Completely effortless and uncomplicated automatic updates in the background
Easy to make available in the cloud and integrate into your systems thanks to REST API
Display your structures in a way that makes your customers feel at home with us
There is no need for in-house hardware infrastructure, administration is simple and projects can be implemented quickly
Utilize the d.velop ECM system functions
The d.velop AG Enterprise Content Management system lets you digitally archive all your customers' business documents in the cloud. They can avail of useful functions such as digital dossiers, an audit-proof and GoBD-compliant storage system and context-sensitive document views. It lets you offer an overview of all their important information in just one user interface.
We are constantly adding more cloud services to the ECM system. For instance, we are currently working on an invoice reader that will be available in 2019.
How do I get started? The d.3 API
Is it always difficult to begin with? Are you sure?
As you know, API stands for "application programming interface." If this API is not clearly defined and described, it is difficult for a developer to program with it. To ensure that you have no issues, the d.3 API is made available to you free of charge in just two clicks.
Register and get started
Simply register on the d.velop service portal to access the d.3 API. Why wait? You can go right now and see for yourself how easy it is to program with this interface.

Ready for a deep dive? The technological framework in detail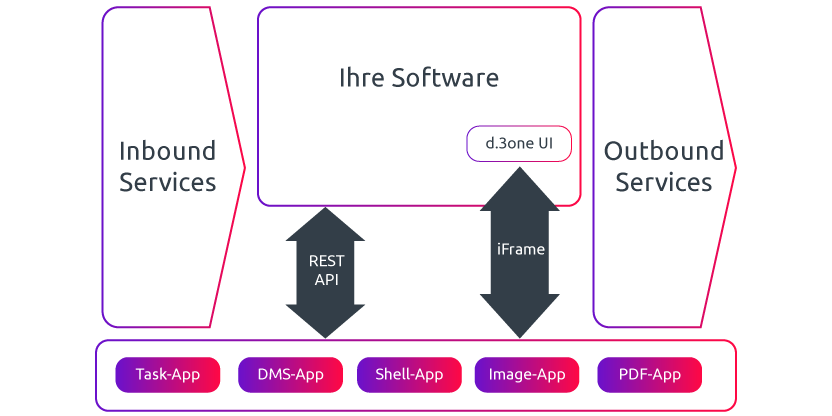 Our cloud solutions are extremely easy to integrate into your software. Browser client functions are displayed by iFrame. The documents communicate via a REST API that is open and freely available, and the individual modules (apps) communicate with your software via this REST API, allowing the TaskApp to ensure that user tasks run smoothly. The ImageApp renders the image data and makes it available to the user in a viewer.
In addition to the standard d.velop documents range, other inbound and outbound-related services can also be offered, including services for supplying documents outside of your company or scanning documents directly to the cloud. Just get in touch!
Do you still have questions? Arrange a non-binding appointment with our experts.
"What exactly can the d.velop software actually do? How simple is it to operate the API? What does the partnership model look like in detail?"
Discover the advantages of a strategic partnership for cloud solutions. How you benefit as a partner:
• Personally tailored partnership
• Attractive margins and revenue opportunities
• Shared and target-based marketing activities
• Your own producer profile
• Access to the d.velop competence network
Do you want to know what the first steps together on the path to partnership look like? Then let's talk about it. Just select a non-binding date to talk to us.
d.velop AG – producing software for more than 27 years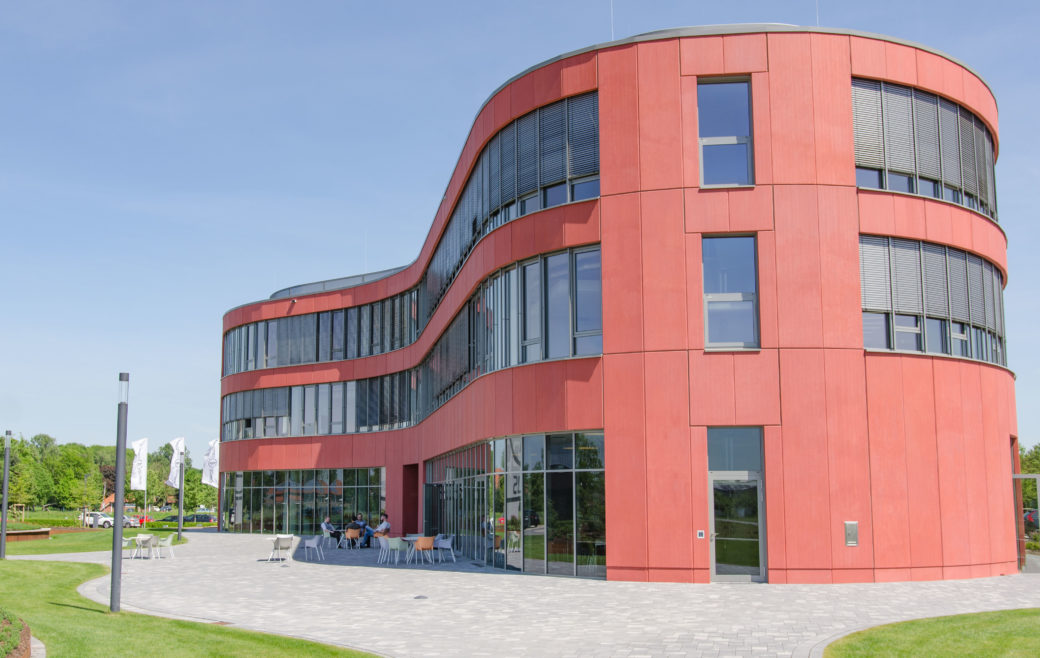 Just like you are the specialist in your area, we are the specialist in ours. From the very first day we were founded in 1992 we have lived it: ECM. At d.velop, we develop software for the ongoing digitization of business processes and sector-specific administrative processes. What exactly does that mean? Our software portfolio spans the areas of document management, archiving and workflows, mobile apps and standardized and custom SaaS solutions. We can also provide solutions as managed services options, all the while guaranteeing legal certainty and compliance with statutory provisions thanks to our sophisticated Compliance Management system.
A strong global network of around 250 specialized partners ensures that d.velop Enterprise Content Services are available worldwide.
Basically, at d.velop, we provide digital services that connect people with one another and simplify and redefine workflows and cases, helping companies and organizations to fulfill their full potential.