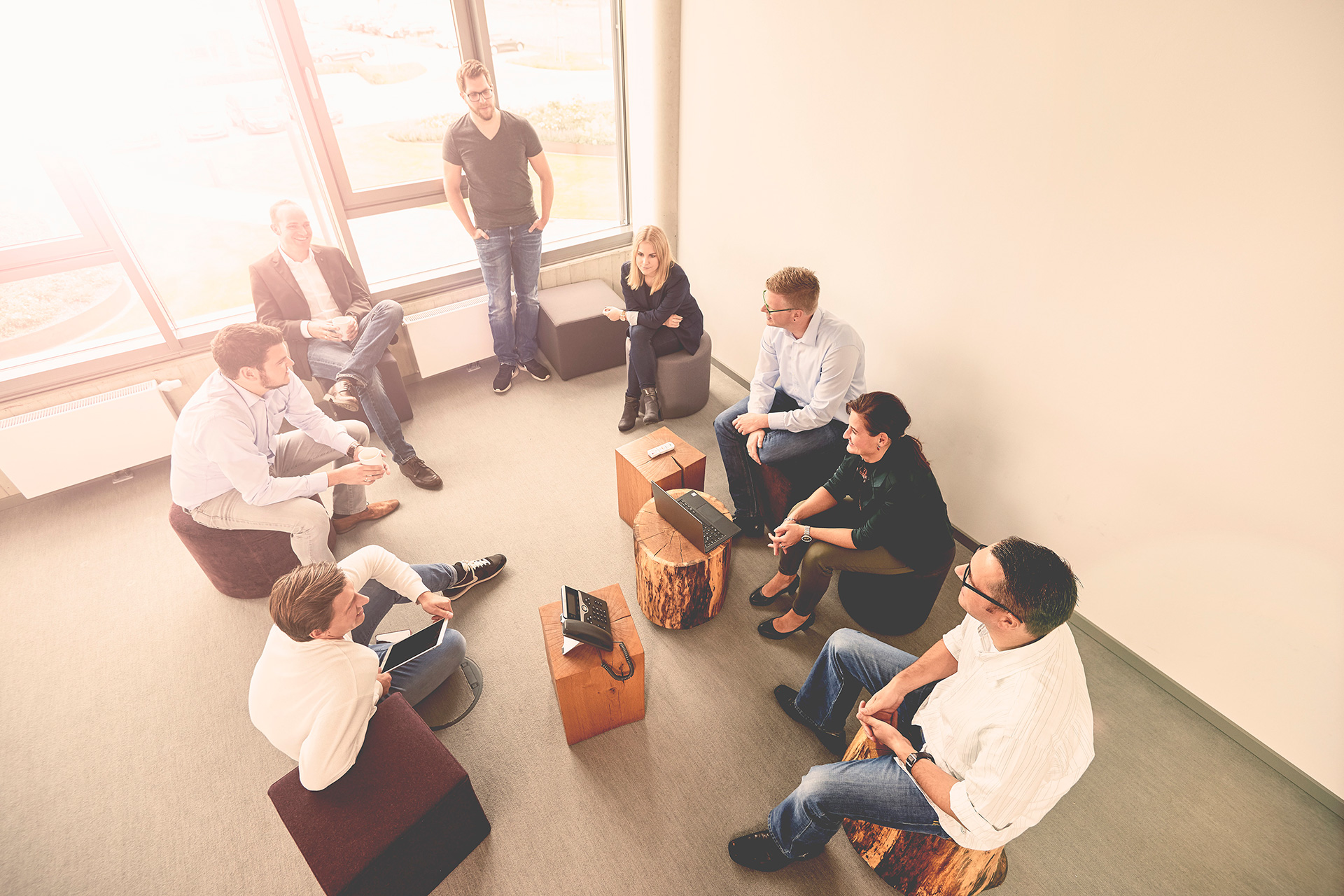 Digital procurement
processes in SAP
Optimize your SAP environment with d.velop software for SAP ERP

Build your digital procurement process with SAP products from d.velop
Using SAP? Then you already have the perfect basis to completely digitalize your Procure-to-Pay process, also sometimes referred to as Procure-to-Pay. But why would you want to go digital?
Procuring materials is complex, comprising five individual steps – from purchase requisition to payment (Procure-to-Pay, or P2P for short). The graphic shows all the different components involved.
Not so complicated, right? Remember that the individual sub-processes include incoming documents such as purchase orders, delivery notes and invoices. These must be processed and approved, all by different employees across different departments.
SAP offers some solutions for a few sub-steps. However, the procurement process is not considered as a whole. Individual workflows are not connected to form an end-to-end process. Switching between digital and analog processes and all the risks that entails is part of the design.
It's time to invest in an all-encompassing Procure-to-Pay process based on SAP.
---
If the procure-to-pay process is not mapped end-to-end in SAP, there will be stumbling blocks:
A lack of checks in purchase order processes can result in wild buying behavior (the maverick buying effect). This means a department can end up buying goods or services without involving the purchase department.
Long waits for approvals and the resulting long processing times lead to reminder fees and the loss of cash discounts.
A lack of transparency in the process increases the loss of control and leads to breaches of company guidelines.
Manual steps in the process are very time-consuming, which often leads to dissatisfied employees.
These stumbling blocks ultimately have a negative impact not only on employee satisfaction, but also on the company's bottom line. Potential advantages cannot be leveraged – advantages your competitors may have already secured. You too can reap the benefits of an optimized P2P process with a document management system integrated into SAP.
Advantages of a digital Procure-to-Pay process
Reduce process costs. Electronic procurement reduces process costs in purchasing by an average of 30% (BME e.V. study).
Enjoy discounts for early payment and avoid fines for late payment.
Gain full transparency across all procurement processes in SAP and the DMS. Overview of all orders, invoices, goods, and payments.
Lower purchase prices. Stopping maverick buying reduces purchase prices by an average of 7% (according to a study by the Association for Supply Chain Management, Procurement and Logistics).
High level of process automation. Direct pre-entry in the SAP system eliminates the need for manual data transfer.
No wasted time. Authorized parties and deputies are clearly defined to avoid deadlocks.
Audit-compliant archiving All important information such as purchase requisitions, approvals, and purchase orders are automatically archived in accordance with legal requirements.
Free up capacity. Reducing time spent on manual tasks frees capacity for more important things.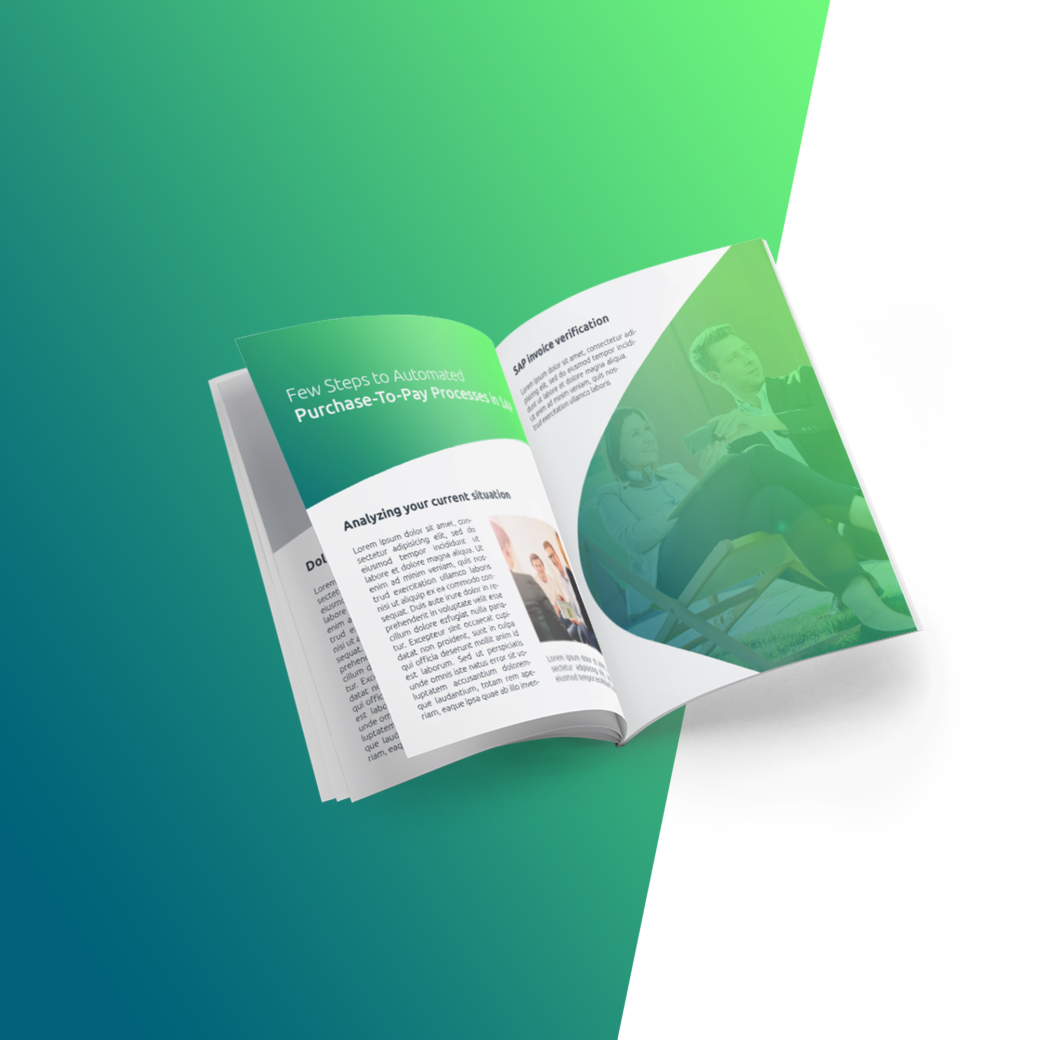 Whitepaper: In 4 steps to an automated procurement process
Download the whitepaper now and learn on 18 pages how to automate your procurement process. From the as-is analysis to the digitization of the individual sub-processes.
step: Create purchase requisition & trigger order
step: Check goods receipt
step: Check & release invoices
step: Trigger purchase order & document storage
Get insights into what a digital procurement process looks like and the advantages it offers over a traditional process.
Our internal processes were rigid and flawed. d.velop helped us define our Procure-to-Pay processes more clearly and dramatically improve our processing time.
Bernd Raabe,
Messer Information Services GmbH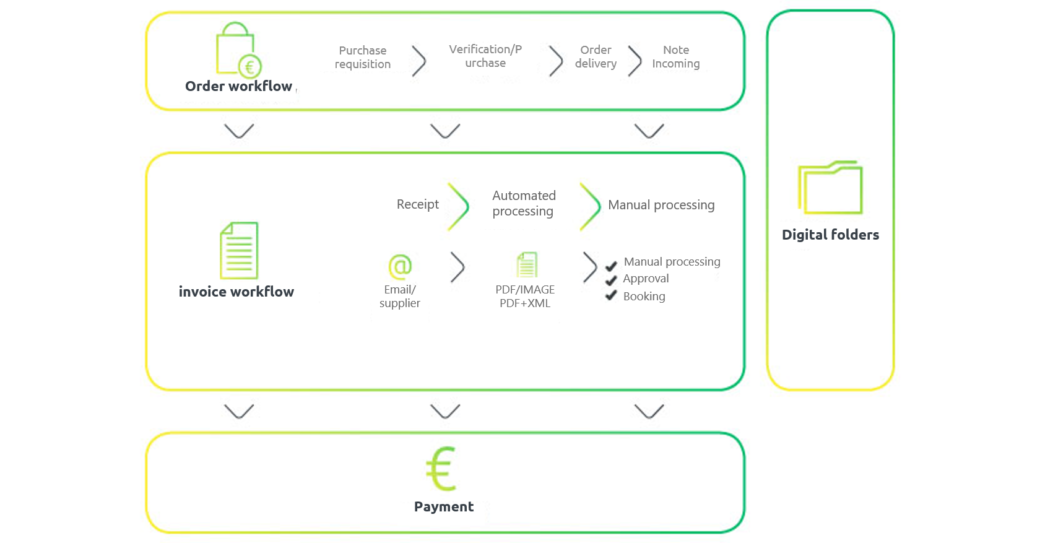 Four solutions that make your procurement process even more powerful
You need a digital solution that connects individual steps with each other, covering each stage of the Procure-to-Pay process.
d.velop's solutions extend your SAP environment, adding the components you need. How? Four software solutions especially developed for SAP provide what you need.
Easy-to-use purchase requisition and order processing with the d.velop procurement workflow for SAP ERP.
Clear and central overview in SAP warehouse management with d.velop delivery note logging for SAP ERP.
Invoice management with d.velop incoming invoice processing for SAP ERP.
Overview of all process-related documents in a digital folder with d.velop smart folders for SAP ERP
SAP competence by d.velop

Are you looking for a team of experts who've been working in the SAP ERP environment for years? Then you've come to the right place.
SAP is a fixture in d.velop's own strategy. The company also has its own SAP center.
d.velop is a long-time certified SAP partner.
More than 700 customers use d.velop products in the SAP environment
Our SAP customers include:
Westfleisch SCE mbH, Weber GmbH & Co. KG, Eismann Tiefkühl Heimservice GmbH
Dedicated SAP centre with experienced SAP advisors and SAP developers.
Let's talk. Learn how d.velop can help your business with a live demo.
Select a time – Select a date and time for your personal live demo. We'll then send you an invitation to join us via Microsoft Teams.
Tell us what you need – Next, tell us about your requirements. What challenges are you facing? Which d.velop solutions would you like to see?
Your live demo – We'll set you up with the right expert for your live demo based on your specific requirements. If we're not quite sure who that might be, we'll get in touch in advance to clarify the final details. Our expert will talk you through everything. You'll get to see exactly how it all works right before your eyes.
Free trial – Sign up for a free trial of d.velop documents and start trying it out for yourself right after the demo.
Would you like to learn more about the procure-to-pay process in SAP? Read more in the d.velop blog.