Procure to Pay Process in SAP
Procurement Automation with integrated d.velop solutions for SAP ERP and S/4HANA
Build your digital procurement process with SAP products from d.velop
We believe that your investment in SAP is absolutely the right decision to stay ahead of an ever faster changing economy. SAP offers the perfect groundwork to completely digitise the procure-to-pay process.
This process is one of the most sophisticated business processes in organisations covering all activities from requisitioning to paying and accounting.
(See the process chart illustrating all 5 steps of the process).
A closer look at the entire process reveals its high complexity. The process involves multiple employees across departments and locations. Numerous inbound documents such as purchase orders, delivery notes and invoices need to be processed and approved.
SAP offers solutions that address only particular steps of the entire process. However, a consistent and seamless solution that guides through the complete process from requisitioning to the paying is not available.
5 Reasons for Automating Procurement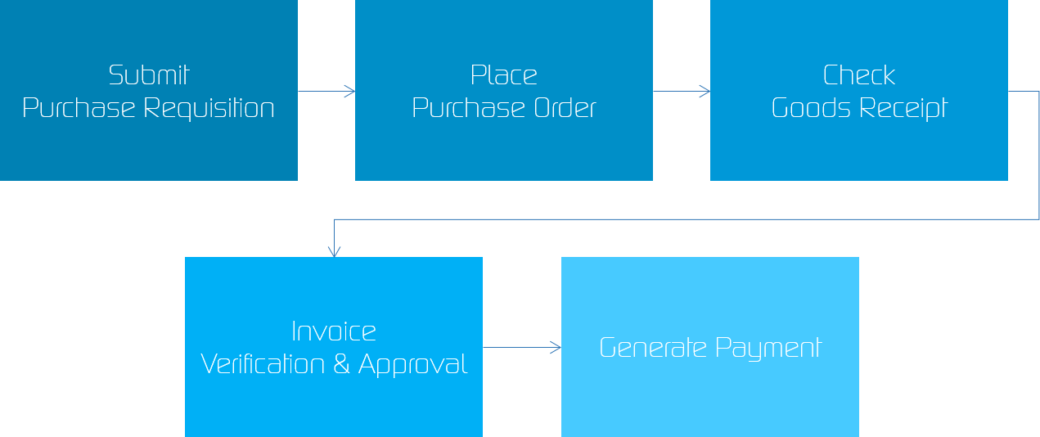 The bottom line is organisations may face unleveraged potential regarding employee satisfaction as well as profitability; potential that will make a difference in a competitive market.
The digitisation of such a complex process requires a solution that covers all steps involved; otherwise the process is prone to failure:
The lack of control over the ordering processes can lead to wild buying; also known as the "the maverick buying effect". This means a department is buying goods or services without involving the purchase department.
Higher prices are paid due to missing or poorly lead negotiations and smaller quantities.
Cash discounts are missed as well as high penalty fees are faced due to excessive processing times and delayed approvals
Missing process transparency leads to failing company policies and poor visibility for the purchase department.
Manual steps of the process are very time consuming which often lead to unsatisfied employees.
White Paper: Few Steps to Automated Purchase-To-Pay Processes in SAP
In order to ease the transition to a completely automated procurement process, you'll find step-by-step instructions in this white paper about how you can automate your procurement process: from analyzing your current situation to digitizing individual subprocesses. Gain insight into what a digital procurement process looks like and its benefits over the traditional process.
8 Key Benefits of a Procure to Pay Process:
Reduced Process Costs Electronic procurement reduces process costs in purchasing by 30% on average (according to a study by the Association for Supply Chain Management, Procurement and Logistics).
High Level of Process Automation Automated processing of inbound documents, digital verification and approval workflows and consistent integration of all process steps minimises manual effort in SAP.
Complete Visibility Full overview of all orders, invoices, goods and payments in all ordering processes.
Concentrate Effort on Added Value Process automation reduces time and costs for manual effort.
Lower Purchase Prices By putting an end to "maverick buying," purchase prices are lowered by an average of 7% (according to a study by the Association for Supply Chain Management, Procurement and Logistics).
Improved Profitability Secure cash discounts and avoid penalty fees.
Faster Processing Times Persons responsible and deputies are clearly defined to avoid process deadlocks during absences.
Compliance Archiving All important information such as purchase requisitions, approvals and purchase orders are archived automatically in compliance with regulations and standards.
Our internal processes were rigid and flawed. d.velop helped us define our procure to pay processes more clearly and dramatically improve our processing time

Bernd Raabe
Manager IT, Project Management
Messer Information Services GmbH
4 Solutions to Fully Digitise Procurement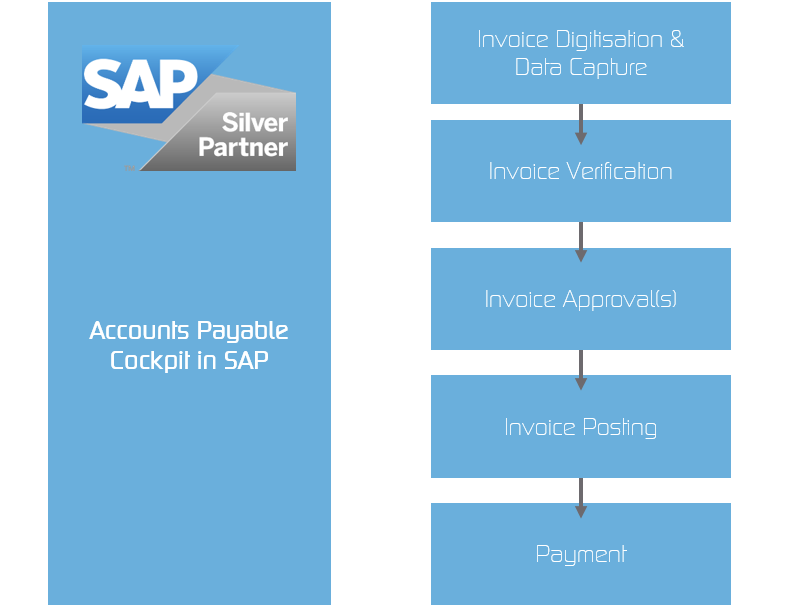 Four d.velop solutions specifically developed for SAP provide a completely digitised procurement process for your SAP system. Deliver full visibility and control to your purchase department as well as increased usability and faster access to required goods and services for your employees.
d.velop's SAP Expertise
Are you looking for a team of experts, who have operated successfully in the SAP ERP environment for years? Then you have come to the right place. SAP solutions are strategically positioned in d.velop AG and tested and developed in our "state of the art" SAP centre.

d.velop and SAP have been partners for many years
Currently over 700 customers use d.velop products in the SAP business environment
d.velop SAP competence center with experienced SAP consultants and developers
Would you like to learn more about the purchase to pay process in SAP?
Read more in the d.velop blog.
Schedule a Demo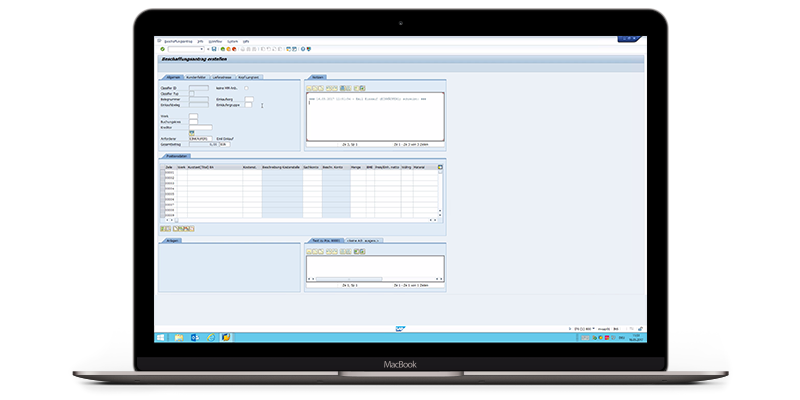 We would be happy to answer any further questions and provide a no commitment presentation of our solutions. Experience how 700+ customers relying on d.velop solutions for SAP succeed in business by increasing employee satisfaction, reducing costs, and driving the digital transformation with our procure-to-pay automation.