Trying to manually manage a variety of document types within the sales process is no longer enough. To make the most of your team's efforts, your business should review the current processes and integrate a full-featured document management system (DMS) that creates the basis for mapping digital processes end-to-end. Learn more about the benefits of incorporating a DMS for the digitization of sales assets and how they can be conveniently integrated into your Microsoft Dynamics 365 Sales process.
When should our sales processes be digitized in Dynamics 365 Sales?
The answer to this can depend on several factors: the size of your business and team, the size of your client base, and the type and nature of the customer-specific you're working with. Also consider which documents need to be created in Dynamics 365 Sales and to what extent? If complex offers or extensive contracts are typical in day-to-day business, then the need for automation and traceability also increases.
For example: Employees in a particular industry may create individual and specific offers in the quotation cycle but also may need to update them with additional information like data sheets, certificates, terms and conditions or visual assets. In this situation, it's not just the usual offer or contract that is involved, but all the other associated documents and assets that make up the sales correspondence. In addition, many of these documents will have to be coordinated with colleagues, legal teams, and other key stakeholders or even exchanged with customers and prospects.
For a scenario like this, every automated process can increase efficiency, improve accuracy, and increase the reliability of the process.
The central element here is the digital customer file. This also fulfills the requirement of sales managers and chief sales officers (CSOs): Complete documentation and traceability in customer management. Only with the right database in sales can reliable forecasts be made, tactical strategies derived, and ultimately, customer satisfaction increased.
Electronic customer files in the D365 DMS are at the heart of digital sales processes
The digital files represent an essential part of a DMS system for Dynamics 365. In order to maintain an overview of the business processes and obtain a 360-degree view of all related information, an electronic customer file is created in the DMS system. This file contains all customer-related documents, from quotations to invoices. This type of structured filing system makes the entire document cycle in the sales process traceable and improves accountability. In addition, all information is centrally available to every employee on the designated sales team as well as their colleagues in the back office that have the appropriate access.

How can confidential documents be transmitted securely in the sales process with a DMS?
In many industries, proprietary information is at stake and protection and security are a priority. These types of documents should not simply be exchanged via email during the customer relationship. Security vulnerabilities, wrong addresses, and even accidental cc's can be a risk with standard emails. To ensure security and improve compliance, consider options like distributing the documents to customers via file transfer (file sharing). While there are many vendors in the software market to meet this use, integrating your document distribution directly into the D365 document management system is a much better approach.
For starters, no additional systems are required, saving both monetary and time costs. In addition, document security is significantly increased. Edits and updates of customer related correspondence are verified at any time by a simple signature. And a direct, digital document exchange with prospects and customers is established and maintained.
From collaboration to electronic contract conclusion
What distinguishes "digital distribution" from real collaboration? Electronic distribution to one or more recipients only represents pure delivery. However, when it comes to collaboration with internal and external partners and stakeholders, an integrated feedback channel in a portal solution is a must have. With proper collaboration tools and processes recipients can easily see and respond to changes via the same channel – without media disruption and loss of process visibility.
For example: The offer and specifications of a potential client were exchanged and finalized with stakeholders via a collaboration platform. All necessary documents and data are always kept in the document reference in the DMS. The know-how of the supplier and the requirements of the customer solution remained confidential. With the d.velop sign integration for qualified signature, the final contracts can then be concluded securely digitally and are legally binding.
Which compliance measures can be mapped in the digital sales processes?
Implementing the dual control principle
When it comes to high volumes in sales, be sure to pay close attention to the quotation process. Despite all the product structures, text modules and good preparations, there's always the potential for errors to creep in during the quotation process. For important projects with a high order value, the principle of dual control is considered best practice. This ready-made solution can be easily integrated into d.velop documents with a workflow for the signature run. Sales managers automatically receive the respective offers for visual inspection and can even additionally apply their signature. In conclusion: It is very easy to introduce guidelines for secure processes in Dynamics 365 Sales for optimal results for your customers.
Document management from the cloud for MS Dynamics 365
d.velop documents – the digital audit-proof archive thus forms the basis for filing and storing documents.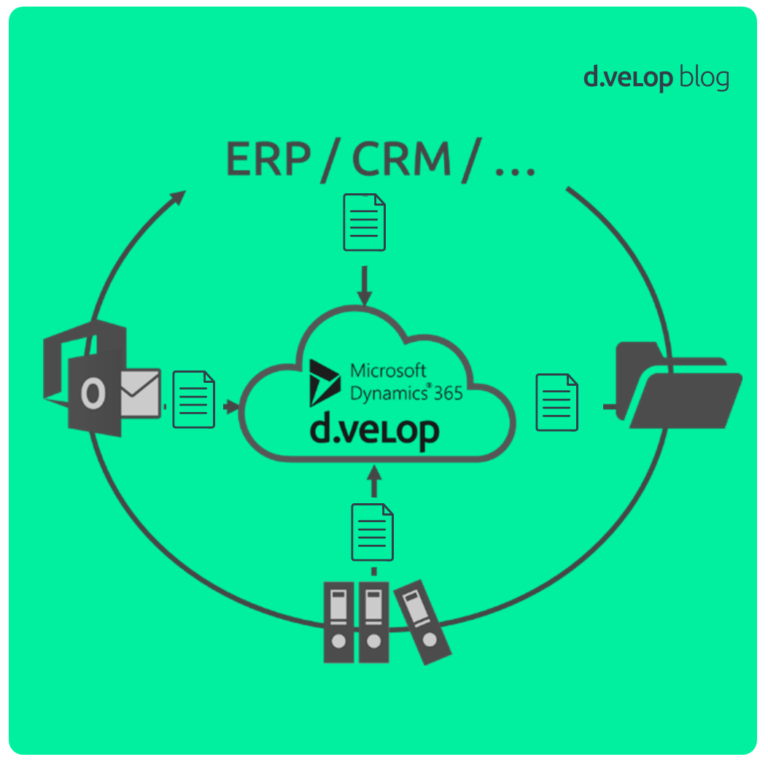 Intelligent digital input channels allow documents such as incoming invoices to be captured and processed. Extensions for contract management or digital signature options can also be added at the push of a button. d.velop connect for Microsoft Dynamics 365 offers complete integration in Dynamics 365 for the Finance and Operations and Sales modules. Thus, d.velop documents can be seamlessly integrated as a DMS into the existing Dynamics 365 environment to further expand the company-wide information center with d.velop apps.
Book a Software Demo
Or book a software demo directly and have the process demonstrated live to you.