Automated processing of incoming invoices and approving digital invoices remain an unresolved issue in the Microsoft universe. Both Microsoft Dynamics 365 Finance and Operations (F&O), and the previous version – Dynamics AX 2012, don't have any functions for these purposes. Many managers and end-users involved in processing and approving invoices within their companies could make good use of such a function. And why is it such a problem? In its default state, the various sub-processes do not automatically interact with one another, which results in a lot of manual tasks left to the user.
It is true that the Power Automate platform can be used to automate some steps in the Microsoft Dynamics F&O invoice approval process. But this requires a fair bit of expertise and time to implement. That aside, maintaining custom-created workflows is quite time-consuming.
In this article, you'll learn about the essentials of digital invoice processing and invoice approval. You'll also learn which of these basic needs can't be met by Microsoft Dynamics F&O in its out-of-the-box state. This article also provides an overview of how digital invoice processing and approvals can be implemented in Microsoft Dynamics 365 F&O using workflows that are ready to work straight away.
What would it take to enable efficient invoice approval in Microsoft Dynamics 365 F&O?
Before we go into detail, let's take a brief look at the four different sub-processes that have become established as key components of invoice processing and approval – regardless of the specific ERP system in use:
Receipt of the invoice (e.g., as a PDF or other digital invoice received via email, or paper invoices).
(Automatic) categorization of the incoming invoice by checking it against the ERP system's master data
Going through an approval process
Generation of a posted invoice note in the ERP system
The following graphic illustrates this process flow:

From the user's perspective, this approval process is somewhat unspectacular. After all, the user simply receives an email stating that an invoice is available, pending their review or approval. They just click on the link, and it's approved – done!
For companies, however, several questions arise when they want to rollout a new invoice processing system. It's the actual defining of these processes that makes it all so complex.
A couple of considerations:
What are the responsibilities?
Do we need different approval workflows for different situations? (e.g., intercompany invoices, monthly phone bills, or traditional invoices based on a purchase order)
What amount limits should be set, defining the point at which additional people would need to be involved?
What reconciliations are required? (e.g., against purchase orders or goods receipts)
Are there tolerances within which it is not economical to correct an invoice?
What are the sub-processes within a digital invoice processing and invoice approval system?
Now let's take a closer look at the individual steps in these sub-processes. Here we will learn which key components are required. Consequently, we'll also uncover the various shortcomings in Microsoft Dynamics 365 that need to be rectified.
1) Receiving the invoice
In the past, invoices were usually scanned. But this has changed dramatically. This is because an increasing number of invoices are being submitted via email, due to the lower costs and lower environmental impact. The result is that any modern system must be able to process invoices received via either channel.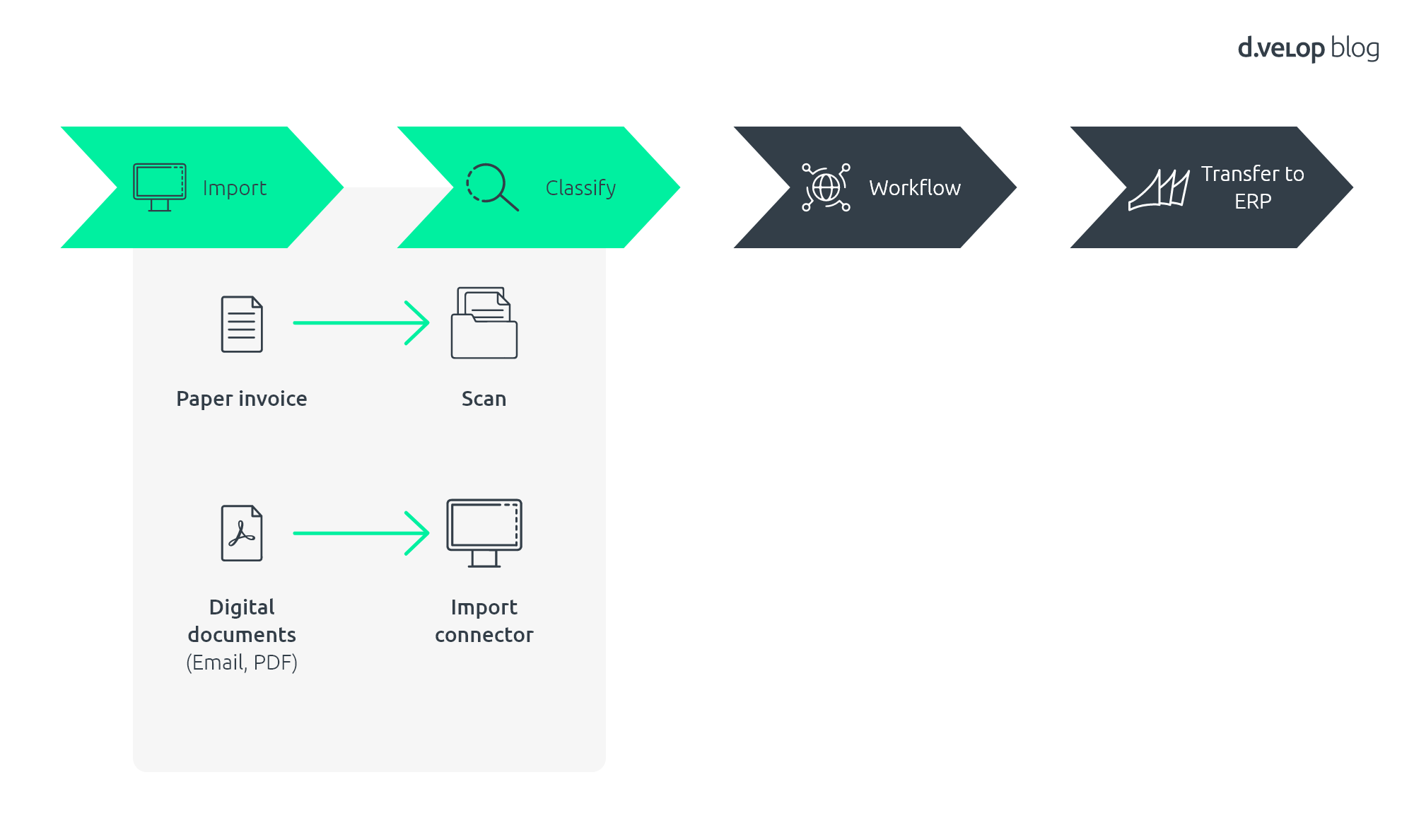 It should be noted that other digital invoice formats may be required in addition to the PDF format.
Despite all the best digitalization efforts, some incoming invoices still arrive by post. Therefore, it is important to consider whether these documents can be separated from one another when processing them, e.g., via a bar code, or perhaps this can be done automatically via AI.
What's the problem with Microsoft Dynamics 365 F&O?
Dynamics F&O does not cover the whole process of scanning paper invoices and receiving digital invoices. Similarly, it doesn't offer the facility to read documents. Invoices cannot be directly scanned from the application and automatically imported into Dynamics.
2) Categorization of the incoming invoice by checking it against the ERP system's master data
Every incoming invoice document is scanned using OCR text recognition. This means that, for Western languages, every page is scanned from the top left to the bottom right. The text data is recognized by AI and then matched against the master data in the ERP system, at both the header and item level.
People often ask exactly how good the recognition quality actually is. In fact, it's more a question of how good the master data in the underlying ERP system is. 😊
The categorization can be done completely automatically in the background. This means that an incoming invoice arriving via email can be categorized in the background. The invoice is then automatically forwarded to the right person to check the invoice – as defined in the approval workflow.
This eliminates a touchpoint from the process, reducing complexity and the time taken to complete the task. This is time that employees can then use to focus on more important matters. Aside from being a technical necessity, it's particularly important for the accounting department to have an account book in such a situation. The accounts team must be able to trust the solution and be able to check the status of any invoice at any time.
Where the categorization is completely automated and performed in the background, readers might wonder how any recognition errors might be rectified.
These are dealt with directly from within the workflow interface.
What's the problem with Microsoft Dynamics 365 F&O?
Automatic categorization isn't included in Microsoft Dynamics 365 F&O. Nor is there any OCR facility to recognize header text or item data, nor is there any form of automatic page separation. It's not even possible to automatically compare the received invoice with the original purchase order.
3) Executing the approval workflow
Many companies consider the approval workflow to be the heart of the process. This is where it's decided which workflow steps to execute under which conditions.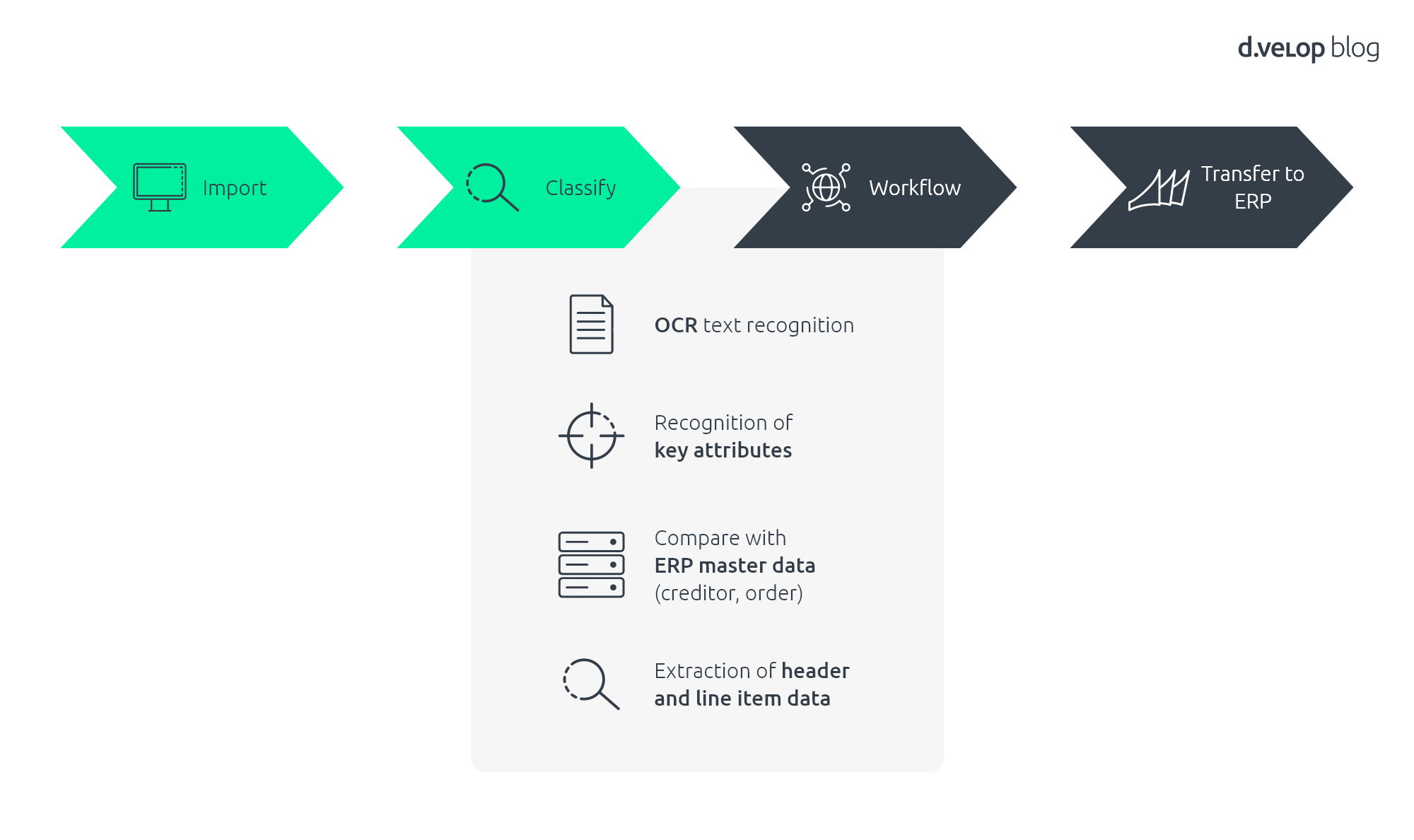 For example, an invoice that doesn't differ from the purchase order could be posted directly. This means the workflow doesn't really activate at all – it's posted automatically without any human involvement.
It may also be the case that the workflow automatically decides who is involved in particular approval processes, and who else might be involved above a certain approval limit, i.e., where additional parties must sign off on larger sums.
It makes things easier for employees whose job it is to verify and approve invoices if they can view accompanying documents, such as the purchase order generated by the ERP, goods receipt documents, any correspondence relating to the purchase order, and so on, from within the approval workflow itself.
One of the key questions here is whether the workflow should be mapped either within the leading ERP system or outside it, e.g., using Microsoft Teams.
A workflow that is mapped within the ERP system offers the advantages of great data integrity along with flexibility in the assignment of accounts. This is because the logic of the ERP system can be accessed from right within the ERP.
A workflow that is mapped outside the system, however, has the advantage of being able to integrate employees who do not have an ERP license. The implementation time is also often significantly shorter if the workflow is performed outside the ERP system.
What's the problem with Microsoft Dynamics 365 F&O?
Even though Dynamics 365 F&O already contains some relevant functions that are required in an approval workflow as standard, there are still some key areas where the default setup does not hold up. For example, automatic approvals aren't possible. It's also not possible to post anything to GL accounts. And please don't even dream about any automatic posting of assets or projects.
4) Generation of a posted invoice note in the ERP system
If the accounting department deems everything to be in order after the release workflow is complete, the (posted) data record can be generated in the ERP system: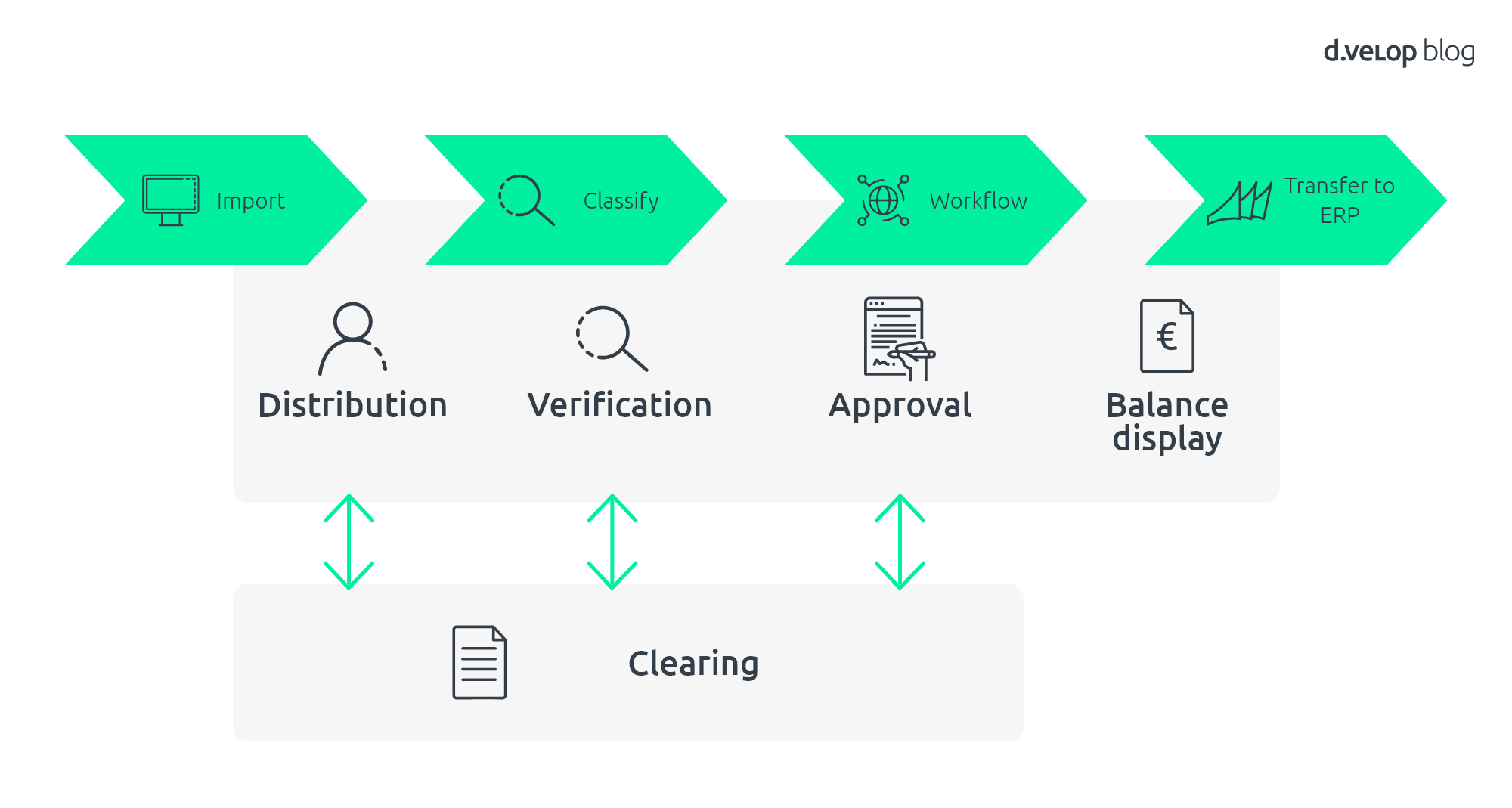 Depending on the requirements, the record can also be posted automatically.
What's the problem with Microsoft Dynamics 365 F&O?
This part works fine, actually. After all, you'd expect an ERP system to be able to post things! 😉
In short: High-quality, readily deployable solutions can close the gaps in Microsoft Dynamics 365 F&O.
As you have read, the standard version of Dynamics 365 lacks the critical functions needed to fully digitalize invoice processing and invoice approval workflows. Microsoft Power Automate can be used to create custom solutions, but it's not the right answer for everyone. For many, these solutions are too complicated to implement or insufficient to map company-specific processes. In such cases, you can deploy a ready-made solution built around best practices. These can be rolled out and adapted to your needs in no time.
The d.velop solution is 100% cloud-based and works in close concert with Microsoft Dynamics 365 F&O. For example, the d.velop interface with Dynamics 365 F&O ensures that accounts payable and purchase order master data are available for categorization. This allows the information on the invoice to be compared with the information held in Dynamics 365 F&O, and any discrepancies will be detected. The subsequent transfer of the posted invoice as a Dynamics 365 F&O record is also done via the d.velop interface.
In the case of d.velop's solution, the actual workflow is mapped outside of the ERP system in Teams and SharePoint Online.
Where a supplier invoice is received via email (e.g., an email to invoices@YourCompany.com), this would trigger the following steps:
The invoice is received via the mailboxFefu and automatically stored in Teams/SharePoint Online.
The document is automatically categorized.
The workflow starts and the person assigned to review the invoice is automatically identified.
The person performing the check receives an email asking them to process the invoice.