The technology market just keeps on growing. As a company, there are various tools and approaches you can use to identify the best IT providers around. One popular resource trusted by many companies is the Gartner Magic Quadrant. But before we delve into the Gartner Magic Quadrant methodology, it's important to first understand who or what Gartner is.
What is Gartner?
Gartner is a leading US research and advisory firm founded in 1979 by Gideon Gartner. Since its founding, Gartner has gone on to acquire more than 25 companies working in its key field of research and related fields. According to company figures, Gartner currently employs just under 16,000 people, including hundreds of analysts and consultants, and has annual revenues of US$4.1 billion.
It's clear Gartner is a major player among analyst firms. Now let's take a closer look at the Gartner Magic Quadrants.
What is a Gartner Magic Quadrant? What is its purpose? How does it work?
The aim of the Gartner Magic Quadrant: to provide greater visibility into complex IT markets.
The Gartner Magic Quadrant is designed to help organizations gain insights into complex and rapidly changing IT markets. This methodology is designed to identify business types and narrow a user's search for potential vendors in a given market. By offering a graphical presentation of data along with a unified set of evaluation criteria, a Magic Quadrant helps organizations quickly determine how well technology vendors are performing in relation to their stated vision – and how well they compare to Gartner's overall analysis of the market.
The Gartner Magic Quadrant methodology
The Magic Quadrant is a research method and data visualization tool used to provide a more accurate assessment of a company's position in a specific technology marketplace. The Magic Quadrant is a two-dimensional matrix with four quadrants. The horizontal axis of the matrix is the Completeness of vision, while the vertical axis shows the Ability to execute.
Gartner® positions d.velop as "Visionary"

For the first time, the d.velop Group is represented in the Magic Quadrant for Content Services Platforms (CSP) published by Gartner. The German software manufacturer has been positioned as a "Visionary," indicating that according to Gartner, it stands out for its exceptional understanding of market trends or a vision regarding the transformation of market rules.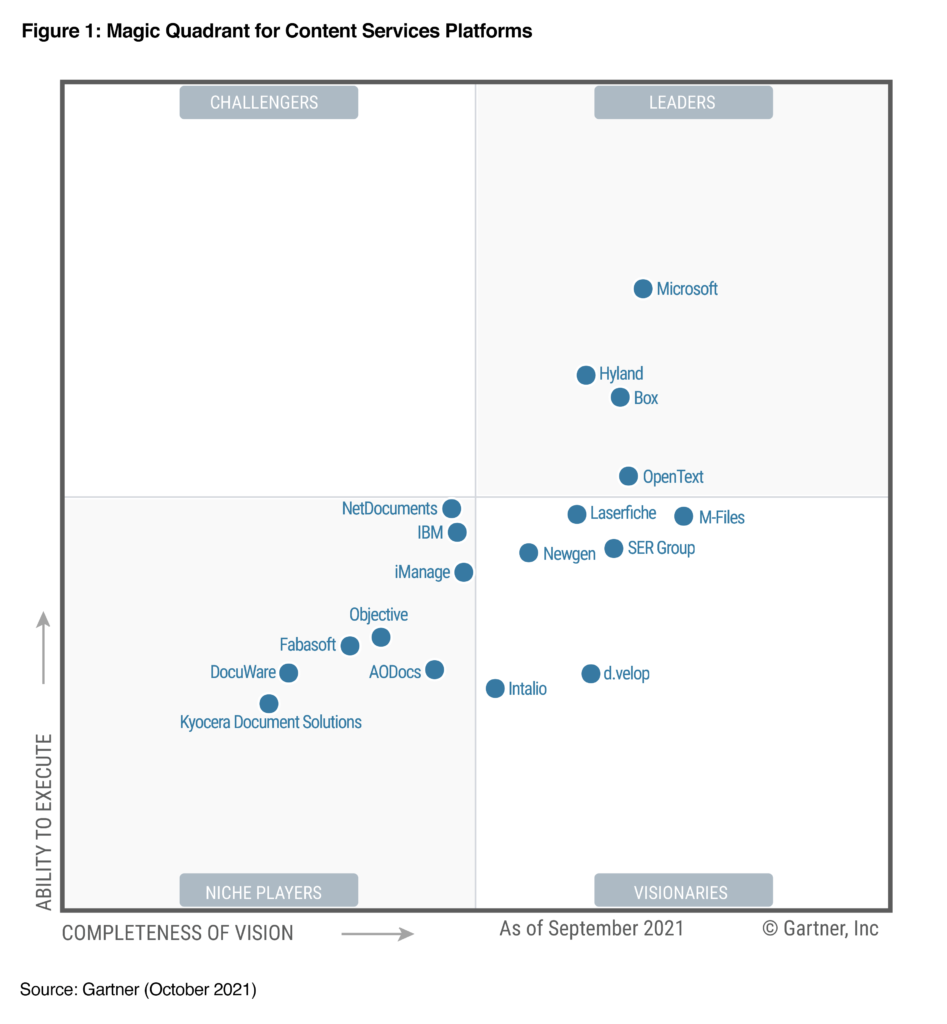 Each quadrant represents a type of company within the market. These are divided into Niche Players, Challengers, Leaders, and Visionaries.
Niche Players: Niche Players occupy niche markets. They are strong in a particular technology, but their visions are incomplete and can't yet fully play to their strengths, as they are usually still relatively new to the market.
Challengers: These are fast-growing companies with outstanding solution expertise. However, these Challengers still need to work on developing a strong and convincing vision in order for market participants to perceive them as Leaders.
Leaders: Leaders hold a leading position in the market. These companies have both a complete vision and a large customer base. The resulting high degree of solution expertise means they have a critical influence on market trends.
Visionaries: In contrast to Niche Players, Visionaries have a complete vision for their solutions. In order to become Leaders, these innovative companies must cement their visions even further.
A vendor's position within the Magic Quadrant is determined based on points awarded according to pre-determined evaluation criteria. Gartner transparently presents these evaluation criteria in its reports, which usually number more than 30 pages. These reports also contain detailed information on the pros and cons of each vendor, their products, and strategies. The evaluation criteria are explained in great detail.
The Gartner Magic Quadrant should absolutely not be taken as a recommendation for those companies identified as Leaders. There are no shortcuts to avoid the nuanced work involved in procurement – such as examining alignment on specific business goals and the individual requirements of each company – and this is unlikely to change any time soon.
>> All Gartner Magic Quadrants
Any positioning in the Gartner Magic Quadrant is already a high distinction
When a company is given a position in the Gartner Magic Quadrant, this speaks for the high quality of a company's offerings and its relevance in the market, regardless of where it is placed. This is actively reported on in the press and the included companies express their excitement over being included. For example, Shopware's reaction to being included was:
Only a few German companies ever appear in the Magic Quadrant.
An example of a Magic Quadrant: The Content Services Platforms (CSP) Magic Quadrant
In its Magic Quadrant for Content Services Platforms, Gartner examines solutions that manage, organize and store enterprises' digital assets. Gartner abandoned the previous Enterprise Content Management (ECM) designation because it believed this to be too monolithic, with too little focus on integration with other business applications.
CSPs, as defined by Gartner, allow employees to access and work with content in a modern, seamless way across organizational boundaries and independent devices. These are integrated with other business applications to support easy access, while simultaneously providing organizations with the tools to fully comply with data protection and digital retention policies. That said, the systems that still fall under ECM or document management in German-speaking countries are also moving in the direction described by Gartner. Regardless of terminology, users of solutions like these are well-advised to take a look at Gartner's analysis. (ECM Guide)
Gartner emphasizes that the CSP Magic Quadrant helps users find the right CSP provider:
The new report on the CSP market will be published in the coming weeks. We will keep you updated on who has made the cut.
Gartner Peer Insights is a useful evaluation tool for companies, providing year-round insights
Another increasingly popular decision-making tool among many companies is Gartner Peer Insights. Gartner promotes this site with the tagline: "Choose IT Solutions with Confidence". The ratings here are evaluations of companies verified by Gartner. As an example, here is an excerpt from the evaluation of d.velop: