In O365 and SharePoint, Microsoft offers a wide variety of functions for implementing DMS solutions. How can you better make use of them? The success of SharePoint/O365 has opened the door to a completely new type of DMS solution.
O365-based or SharePoint-based (both are referred to below simply as O365) solutions offer an alternative to conventional DMS solutions and enrich the market for DMS solutions substantially. One common feature of classic DMS solutions is that they offer a highly specialized set of functions and applications.
Companies and organizations that require strategies to digitize their primarily document-based processes use these solutions. Classic DMS solutions focus on increasing speed and productivity in paper-based business processes and reducing costs. 
O365-based DMS solutions are designed to achieve similar economic and efficiency-enhancing benefits as stand-alone DMS products. However, their real strength is in collaboration and the sharing of information in a variety of different facets. These solutions are especially beneficial for companies that already have a clear O365 strategy as part of their collaborative goals (for their intranet, for instance) and that now also want to incorporate DMS solutions. 
The multifunctional alignment of O365 is beneficial to corporate IT strategy
In terms of collaboration, O365 constitutes a multifunctional platform with tools such as OneDrive, Teams, Skype, and so on, that reach into practically every corner of a company. It serves not only as the basis of a DMS solution, but also incorporates a multitude of other applications.
The overarching idea is to make information easy to find, easy to exchange in a transparent way, easy to edit together with others ("co-authoring") and easy to communicate directly (Skype). The information does not have to take the form of documents. It can be appointments, tasks, reports, blogs or wikis within a project space.
This multifunctional alignment of SharePoint is helpful for IT strategists, because separate costly systems do not have to be implemented and operated for individual requirements. Instead, existing platforms and, for instance, platforms such as O365 that are already in use through the enterprise plan can be utilized.
The cost savings associated with reducing the number of standalone solutions to be operated and the greater flexibility for leveraging notoriously scarce personnel are an important factor in the choice of an O365-based strategy for establishing DMS solutions. 
IT strategy is crucial to DMS solutions
If a company is only considering introducing a digital dossier/archiving application, they can do so by using either a stand-alone DMS solution or one based on the O365 platform. The decision to introduce one or the other of these two options is usually not fundamentally about the product features, but is generally driven by  the higher-level strategy. 
In terms of the aspects of a DMS solution that are relevant to the user (e.g. speed, click sequences), the user may be better served with a classic, stand-alone DMS solution. For instance, developers of a classic solution know exactly how to make special functions that are required in a DMS available to the user in just a few mouse clicks, whereas these functions may be a little more difficult for the user to access in the O365 (SaaS) version.
Think of a Swiss army knife: it has an all-purpose use, serving as a knife, a scissors, a corkscrew, a screwdriver and more. However, its individual functions do not have the same quality as their equivalent standalone tool. This example is similar to the comparison of a multifunctional platform such as O365 with a specialized DMS solution. Essentially, the question here is how often does which user require which special function and how much money are you willing to spend for this special function? 
In addition to the basic DMS functions covered by O365 (check-in/check-out, versioning, sharing), more advanced requirements (dossier management, scanning, Outlook integration, ERP integration, workflow/forms) call for solutions from third-party providers that turn the basic functions in O365 into a full DMS solution and make them easy to use. 
No matter whether a company uses an O365 SaaS infrastructure or an on-premises infrastructure for SharePoint, with security concepts including a backup, the level of investment in system technology for operating the DMS solution with these add-ons is much lower. Furthermore, the expense involved in training end users is significantly reduced by integrating the solution into the Microsoft environment, which dominates the desktop and is familiar to most users. The rollout is also much quicker. 
A comparison of a classic and O365-based DMS solutions
What are the differences? Should a company choose one version or the other for their DMS system?
The following aspects are helpful when comparing the two options:
Strategic alignment
Target groups
Functional performance profile
Access rights
Usability
Implementation effort
Effort for DMS operation
Integration capabilities
Scalability
Further development
Community/ecosystem
A comparison of O365-based and classic DMS solutions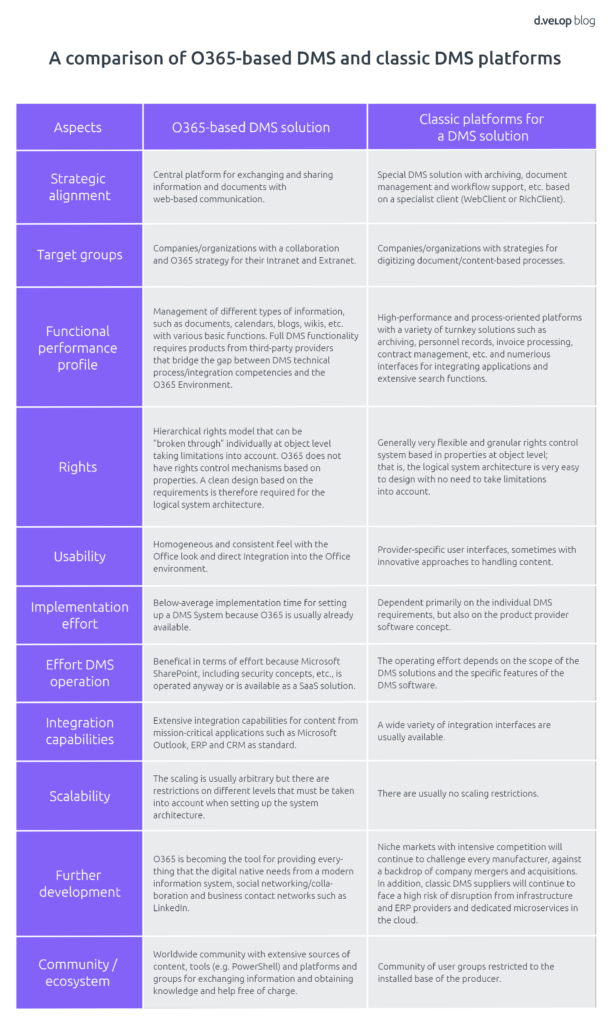 Do you want to know how you can turn your SharePoint/Office 365 into a real document management system? Read our white paper or watch our webinar to see what DMS possibilities SharePoint and Office 365 can offer you.