The fourth step of the cloud migration journey involves tasks related to the procurement and cloud provider management, as well as iteratively measuring the success of the cloud.
The management of cloud services can quickly become complex for the following reasons:
Companies often purchase services from several different public and private clouds.
Companies work together with different providers.
Different user groups use the cloud services.
The cloud must be used securely and in accordance with legal requirements.
Now that you have identified your potential in the cloud, developed a suitable strategy and planned your migration, we would like to present you with the next part of our "Cloud Migration Journey" blog article series, about why a functioning provider management system for issues related to the cloud is necessary and why it requires a dedicated change in your organization.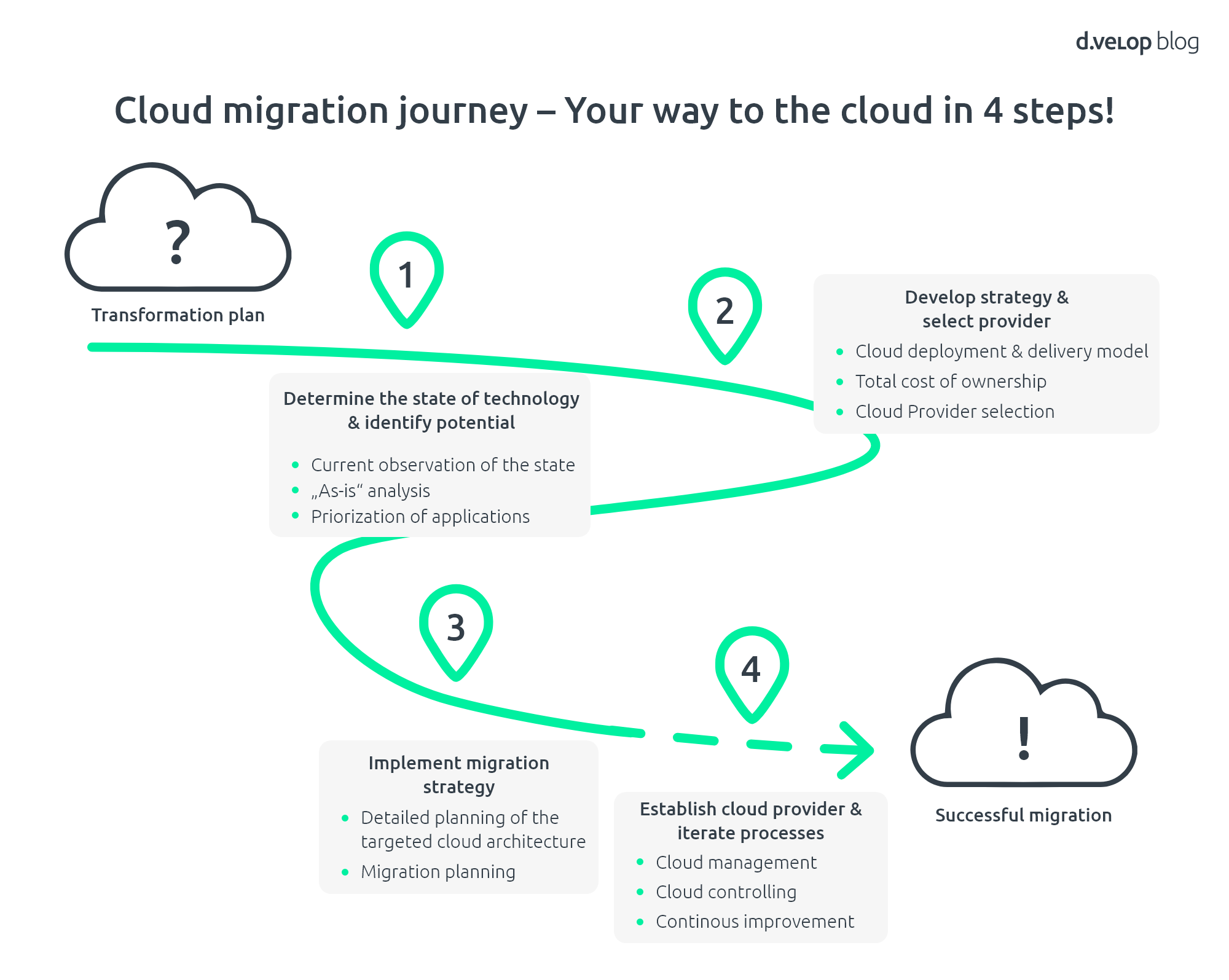 If you fail, fail fast
Anyone planning on making the switch to the cloud should take the issue of cloud management into account from the very start. Why?
As an integral part of sourcing strategy, cloud sourcing is a permanent addition to the scope of provider management systems. The options for direct monitoring and control of cloud services are changing alongside the increasing rate of vertical integration in the cloud. Companies need to be aware that the use of different cloud operating models will soon be the rule rather than the exception. You are likely to be involved with a variety of different service providers, with their own usage contracts, service catalogs and support concepts. Naturally, this multitude of different services and providers also has an effect on your administrative burden. IT organizations that need to administrate and manage cloud services from external providers instead of operating their own internal systems need to adapt. In this regard, it is vital to create cloud-specific governance models.
According to a recent study by the Information Systems Audit and Control Association (ISACA) at the start of 2018, 32 percent of companies do not calculate the return-on-investment (ROI) of their cloud projects. It is clearly a challenge to take into account the many factors involved and record the cost structures – but it is for this very reason that IT processors and controllers need to devote sufficient attention to cloud cost structures. There are hidden costs everywhere. Incorrect cost estimates practically always lead to failed cloud projects.
That is why a cloud cost controlling system should be set up. The aim in doing so is to establish reliable cost control in the face of different invoicing types, metrics and provision models.
A multi-cloud operation creates even greater complexity. The cost structures of individual cloud providers often cannot be directly compared to each other. Each cloud provider offers their own management tools. They are rarely compatible with each other. Unified Performance Management tools (UPM) are a viable way to monitor all your cloud components. Crisp Research is making a list of such UPM providers available as part of a comprehensive cloud study.
Companies should check whether and how suitable cloud management and automation tools can help to reduce the complexity of buying and using services based on different operating models.
The management of cloud service providers is much more automated than it is in classic IT outsourcing. Cloud Provider Management therefore usually has to work with standard service provider monitoring and has little leeway in this regard.
With that in mind, your organization should be preparing for the task of cloud provider management. The switch to the cloud not only changes your form of operation, but also your internal organization, which requires adjustments of internal processes. No matter which solution your company chooses for cloud management: you must be ready to prune old leaves and accept new routes in constant consultation. Above all, cloud services bring added value when they are flexible.
Cloud check: define benchmarks and metrics
Define your own metrics for fully measuring and tracking not just costs, but all the planned success of your cloud initiatives. That is the only way to learn from your cloud projects and derive recommendations for action for the future.
As well as defining scopes and targets during the strategy phase, companies should also consider continually measuring progress.
It can be helpful to define metrics and create transparency. You can record the following metrics, for instance:
Time (planned workload vs. actual workload)
Quality (errors factored in vs. errors that occured)
Budget (planned costs vs. actual costs)
Index values such as these enable you to make the health of your cloud initiatives transparent and verifiable at all times.
Regular reviews also help to uncover problems so that corrective measures can be taken quickly.
Conclusion of the cloud migration journey: a step-by-step approach for success in the cloud!
We take a look back at "cloud migration" A study by IDG (2018) showed that companies generally view the results of their cloud migration projects positively. 94 percent of the surveyed companies rated their journey to the cloud as worthwhile.
Our step-by-step guide gives you a good summary of your necessities, requirements and options in the cloud. The path to the cloud requires comprehensive planning and preparation. Due to its complexity, it is best not to move your whole IT environment to the cloud in one go. Instead, you should pragmatically review which bits and bytes actually help to provide the flexibility required to implement changes.
An evaluation of the described technical components of the cloud is necessary, but not enough. Companies should broaden their horizons and ask the strategic question of which services and new business models will be achievable in the future with the aid of cloud solutions. Be creative and think about data-driven or even disruptive business models!
Start your personal paradigm shift today and begin your company's journey to the cloud.
The d.velop practice tip
Apply your theoretical construct to an example in practice.
Begin with a specific application in your company, such as your Enterprise Content Management system.
Situation A: Still no solution?
A cloud-native SaaS solution could be the answer. Or even simpler, individual service solutions from the cloud such as d.velop GDPR compliance center – a tool for implementing the requirements of the GDPR. Learn more how to migrate to the cloud here.
Situation B: Are you using an ECM solution?
You have to weigh up your options in this case: does an available cloud-native SaaS solution cover all your business-critical activities? If not, what might a migration look like for the application? Learn more about cloud applications on our website.