The cloud migration often requires a paradigm shift where companies fundamentally rethink how they wish to consume and use IT resources in the future. But what is the right way to switch to cloud-native products?
One out of three companies already has experience with cloud migration projects
The question has long ceased to be whether it makes sense to use a cloud platform. Rather, it is about the specifics of your route to the cloud. A recent study by IDG Communications Media AG on the subject of "Cloud Migration" demonstrated this fact, showing that one in three companies already has experience of cloud migration projects.
In information technology, a migration is a conversion process in data processing systems. Cloud migration is derived from this term and involves the relocation of data and applications from local systems to the cloud.
While it is easy to switch existing applications over to cloud-native products, the migration of business-critical applications that are tailored to and integrated into the organization is more challenging and therefore requires thorough planning. With that in mind, companies should prepare well and plan extensively for their migration to the cloud. In particular, the expected benefits from using cloud services should be evaluated in advance.
Step-by-step guide for a successful cloud migration
In this series of articles, you can find out what you need to be aware of during your migration to the cloud. Get closer to your goal and receive valuable and practical tips for your implementation in our step-by-step guide.
Step 1: Evaluate the current state of your technology and the potential of the cloud
Step 2: Develop your cloud strategy and choose a cloud provider
Step 3: Define and master your cloud migration
Step 4: Establish your cloud provider management system and review your success iteratively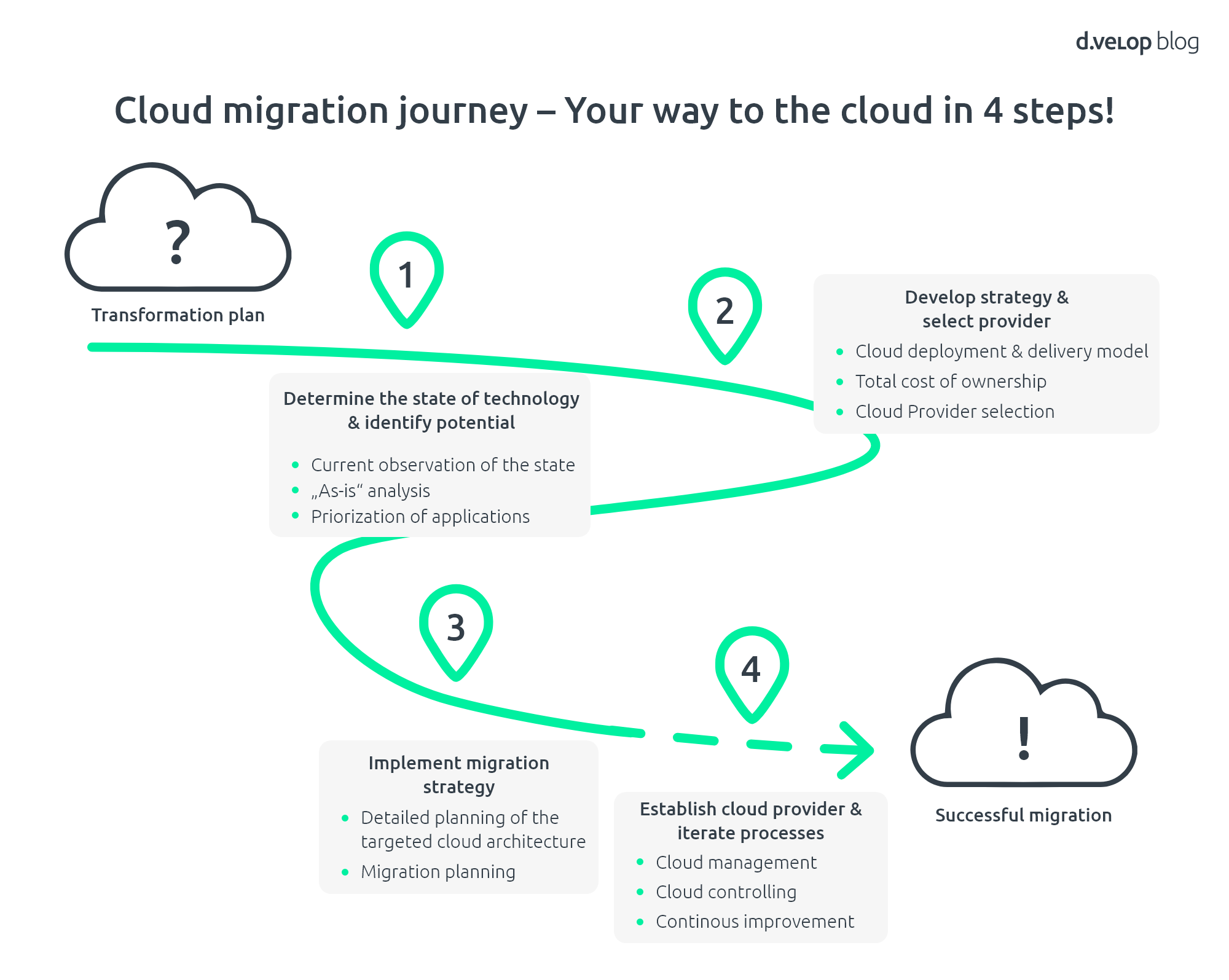 The first step: Evaluate the current state of your technology and the potential of the cloud
To make success of the migration to the cloud, companies should thoroughly analyze their existing IT landscape. The stated goal in doing so should be to rate the priority of topics and evaluate economic efficiency in each application. This phase is of immense importance and provides the basis for all the other steps you will take.
Current state observation: comprehensive "as-is" analysis
A successful start in the cloud begins with an in-depth assessment of your current IT organization. Businesses in the cloud have to deal with a new ecosystem of providers and services. The analysis includes evaluating the cloud capabilities of existing applications and grouping service requirements, complexity, security restrictions and interaction with other systems.
The analysis must be extensive and should take not only technical issues such as infrastructure, architecture, applications and sub-systems, but also organizational and commercial aspects into account.
Furthermore, from an operational perspective, compliance, security and data privacy regulations also pose a challenge. For databases that form the backbone of a large number of applications, you have to consider whether and how you can safeguard availability, performance and licensing in the cloud. The difficulty for contract specialists often lies in checking when and whether new licenses need to be purchased.
The following subject areas should be considered in the 'as-is' analysis:
Status quo
IT organization
IT strategy
IT budget
IT service strategy, service design and service operations
IT operations
IT contracts and licenses
IT infrastructure and applications
But what then?
Rate the priority of your applications
Using the "as-is" analysis as a basis, it is imperative to identify the applications, data and processes for which you can already use cloud solutions as of today. You also have to assess how to rate their criticality, degree of standardization and integration capabilities. Once you have this information, you can derive priorities from it. To use the cloud in the optimal way, it is therefore vital to work out where you stand beforehand.
The results of the analysis provide the basis for a comprehensive cloud strategy. The next step is to create a specific project plan including workflows, milestones, KPIs and risks.
Follow our blog series about cloud migration to get to know more about the four steps to the cloud: In the article "Cloud Migration Journey: Developing a cloud strategy and choosing the right provider", we assist you with the specifics of developing and defining your cloud strategy. "Cloud Migration Journey: From Lift-and-Shift to Full Rebuild – Find the right method for your strategy" explains how you can master the technical issues involved in the migration.
To pave the way further into the cloud, read about specific services and references of d.velop customers.