Migrating to the cloud is primarily a strategic company decision. By utilizing cloud services, your IT landscape changes from an exclusively "on-premise environment" to a new (hybrid) arrangement. How can you develop a targeted vision for your cloud and find the right cloud provider?
Flexibility, rapid provision times and convenient use with low investment and operating costs: the cloud promises a lot. However, the economic and technological benefits that can be achieved largely depend on your strategy. Migrating to the cloud is thus primarily a strategic company decision. By utilizing cloud services, your IT landscape changes from an exclusively "on-premise environment" to a new (hybrid) arrangement.
To develop your targeted vision for your cloud, you have to clarify which cloud applications bring the most added value, taking effort, benefit and risk into account. When doing so, it is important to critically assess the various aspects of your current IT strategy and make any adjustments that are required.
In the first part of our series of blog articles on cloud migration, we explained how you can take stock of your current IT landscape to identify the potential of the cloud. In this article, we also intend to give you specific assistance with developing and defining your cloud strategy. A binding strategy lets you avoid disappointment during implementation.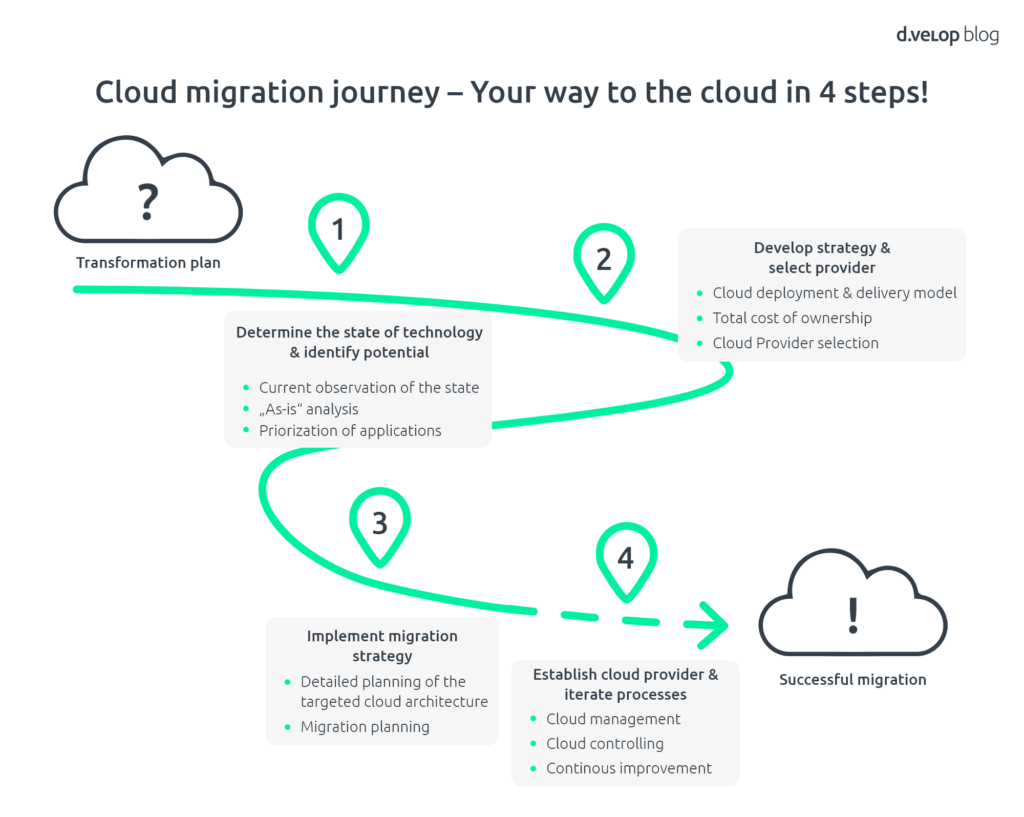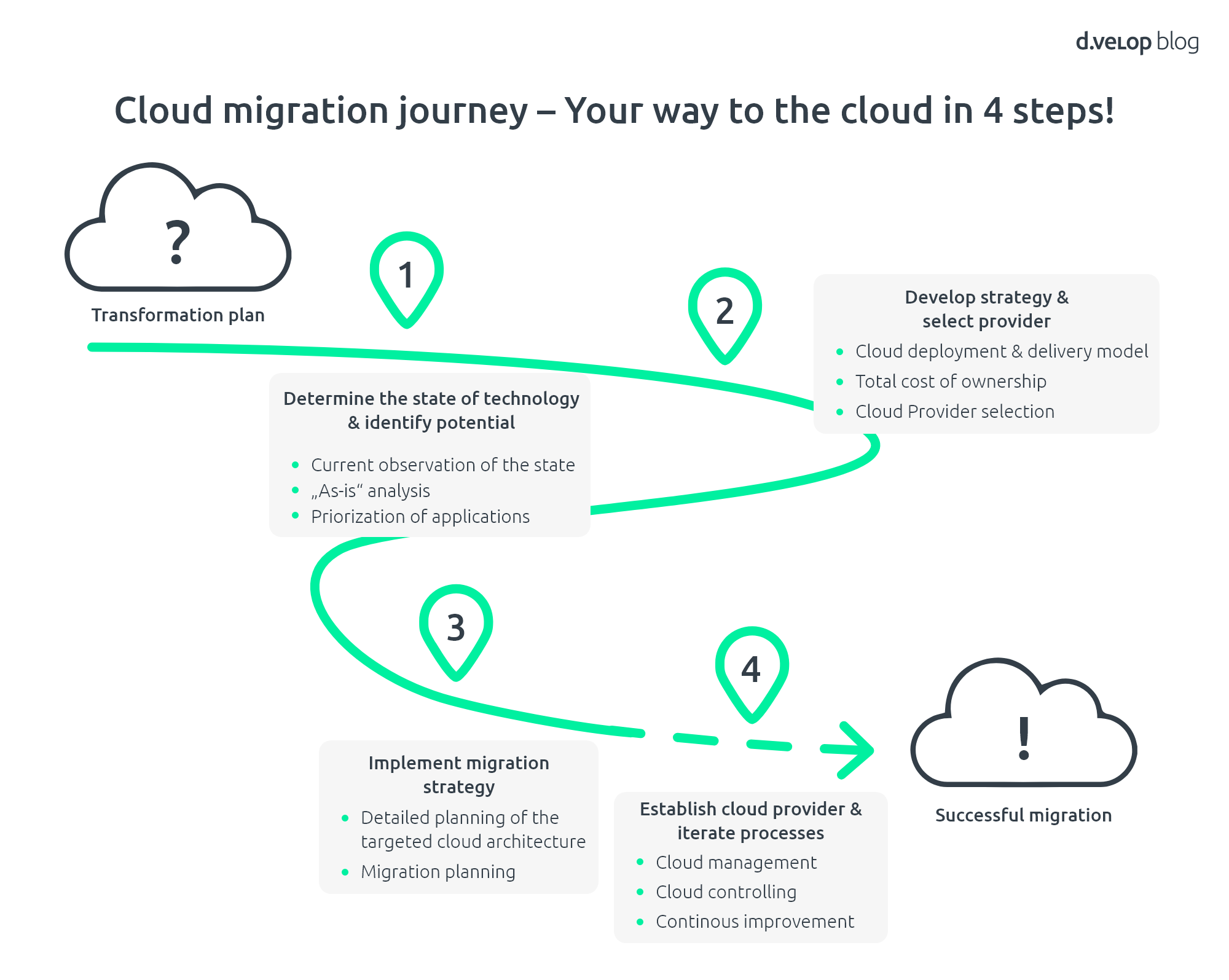 Develop a target vision for your cloud strategy using cloud deployment and delivery models
Once you start thinking about your cloud strategy, the question of which deployment model to use quickly arises. Do you intend to operate your applications in the public cloud, private cloud or a hybrid in the future? You can read about all the advantages and disadvantages of the different deployment methods here.
While the customer has greater involvement in a private cloud, the market standards of the provider are applied in the public cloud. There is no "one-size-fits all" solution here. You should therefore always assess the deployment model based on the specific application.
The same applies when determining your level of vertical integration (delivery model) in the cloud, taking your organizational structure and purpose of business into account. You can choose between IaaS, PaaS or SaaS solutions:
Infrastructure as a Service (IaaS) supplies basic IT resources such as computing power, storage or network capacities. Platform as a Service (PaaS) provides a programming model and developer tools for creating your own applications. In contrast, software as a Service (SaaS) represents the highest level in the cloud model. In this case, the provider supplies a custom application for users. The customer of an SaaS provider does not have to deal with technical infrastructure or the installation and update of the application. The introduction of a SaaS solution is often a smart choice compared to the more laborious migration of an existing legacy application.
At this point in the cloud migration journey, you have to make choices that will have a major effect on the shape of your IT in the future:
For which applications are you prepared to use cloud-native standard solutions (SaaS) that may cause a certain drop in performance and where exists a need to fully migrate business-critical applications?
At the same time, the cloud solution has to be integrated and orchestrated in existing IT systems. Make clear specifications regarding which legal and regulatory requirements must be met for cloud compliance (data privacy and security). Last but not least, you should define exit scenarios to safeguard cloud-based applications, data and business continuity at all times.
Total cost of ownership: carry out a comprehensive cost/benefit analysis
A cost/benefit analysis is essential for defining a cloud strategy. Companies can determine the profitability of their cloud initiatives in a number of different ways. The analysis should take into account the effects on operating costs, savings on capital expenditure and the costs for specialist personnel. The cost shift is another advantage alongside the classic cloud benefits: Fixed capital expenditure (CAPEX) is replaced by variable, ongoing costs (OPEX, operational expenditure). Cloud solutions may therefore constitute a strategic factor in financial and investment planning and may allow you to make shifts in your balance sheet.
Establish transparency regarding the price models of providers for public cloud services (IaaS, PaaS, SaaS) and compare them to the classic outsourcing options. In doing so, pay particular attention to the issue of storage. There may be a linear or exponential increase in storage costs – regardless of the selected model. Selecting the right storage account based on its performance and replication options is vital for greater economic efficiency. To maximize your success and avoid setbacks, it is important to evaluate the full costs of your cloud initiatives (including redesign, redevelopment, migration application, etc.) before starting your journey to the cloud.
Selecting a cloud provider: the search for the right service
Once you have defined your strategy, you have to find the right cloud service provider. Here again, the choice of provider varies (single vs. multi-cloud) depending on the applications in question.
A multi-cloud solution involves the integration of multiple cloud services and therefore the parallel use of various cloud service providers. If necessary, you can find summaries and evaluations of cloud service providers in studies such as "Cloud-Computing Vendor Providers & Service Provider Comparison" (2018) by Crisp Research. When choosing your cloud provider, you should check whether the functions provided by the cloud service meet your specified requirements. Finally, you should thoroughly assess the provider in question and its range of services in terms of functions and availability, prices, SLAs (Service Level Agreements), data privacy and security before making a decision.
Every target platform has different strengths and weaknesses. To keep track of their objectives, companies should define specific requirements to help choose their provider. The compliance requirements in cloud sourcing are not new; in fact, they are identical to those from classic IT outsourcing to a great extent. The cloud market has responded to the various risk scenarios, and gains trust from the customer through quality seals, standards and certificates. The issue of security is always of utmost importance in this regard.
You've got a lot of work to do! However, it's worthwhile to go through every step carefully. Thanks to phase two of your cloud migration journey, you are now equipped with a comprehensive cloud strategy (including cost/benefit scenarios) and have made the best preparations for choosing the right service provider.
The blog article "Cloud Migration Journey: From Lift-and-Shift to Full Rebuild – Find the Right Method for Your Strategy" assists you with the next step of the journey.