Salesforce is often the leading system in many companies and can be used in a variety of different business areas: Whether it's in sales, service, or marketing – processes and workflows are mapped out via Salesforce. However, the creation and management of the associated documents often takes place in a scattered landscape, and as a result, documents can be stored in different systems that are not centrally available to all employees. Whether your company is small to enterprise-level, in order for these business-relevant processes to run effectively, all departments must have access to the correct versions of the appropriate documents.
What is DMS in Salesforce?
Access to these documents is not enough; simple, standard operating procedures are also needed to start workflows or to edit documents across teams and systems. For these purposes, the standard Salesforce features are not always sufficient and can present companies with challenges when establishing and implementing processes. This is where a document management system that is centrally accessible to all employees and offers an interface to common CRM and ERP systems can boost your company's efficiency and success.
The on-boarding tools for documents in Salesforce
Salesforce is the most widely used CRM tool on the market, and for good reason. If you're considering integrating a full-featured document management system, it's worth taking a look at the features already included in the standard Salesforce offering to understand what's available to manage and create documents:
Files Home: personal documents can be uploaded and shared with team members under "File Home."
Salesforce CRM Content: Allows document generation and sharing of various documents from templates. Documents are shareable within the team and externally.
Salesforce Knowledge: This is where articles are shared that are used for knowledge transfer. The articles can be divided into different categories and made available internally as well as externally.
Documents Tab: Logos etc. (Visualforce) can be stored here.
Attachments: This functionality offers the possibility to add files to different data types (contracts/offers) as attachments.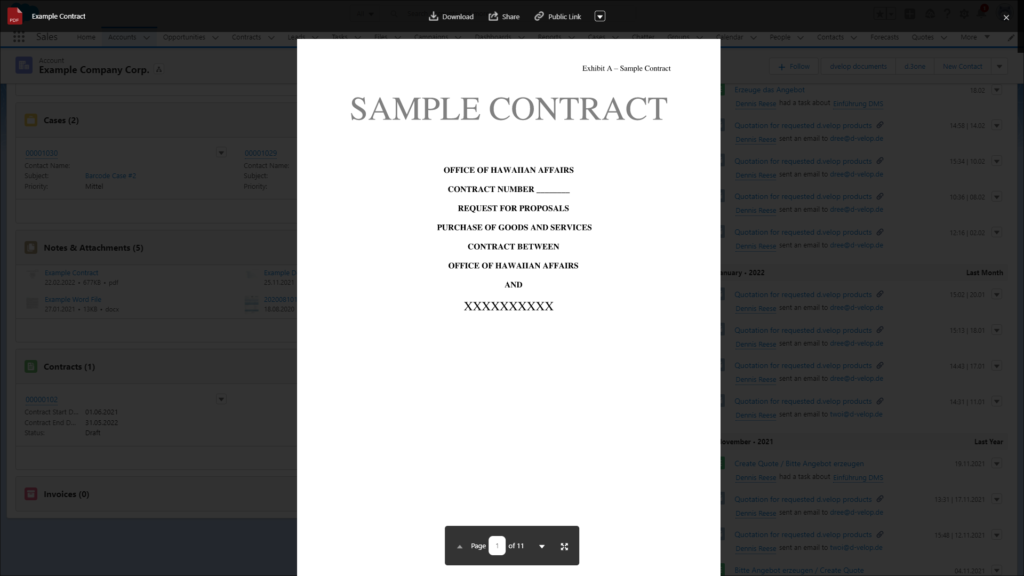 Additional metadata can be added to the documents that are filed in the different categories afterwards to improve retrieval via global search. But robust DMS functionalities, such as a full-text search or attribute-based search are not possible. In addition, document-based workflows such as approval processes for incoming invoices, are also not possible by default in Salesforce. These workflows can be created manually (although this can be time consuming and cumbersome) via the Process Builder or Flows as custom logic.
How do I manage files that have been saved to or created in Salesforce?
Once a document is saved in Salesforce, the options for management and collaboration are unfortunately very limited by default:
Viewer: The viewer shows a preview of the document, advanced functions such as zooming do not exist.
Download: The files can be downloaded.
Share: Documents can be shared within the organization
Public link: By generating a public link, external people can also access documents.
Upload new version: Users can upload a new version of the document.
File details: Here additional metadata can be added to the document (title and description are the default).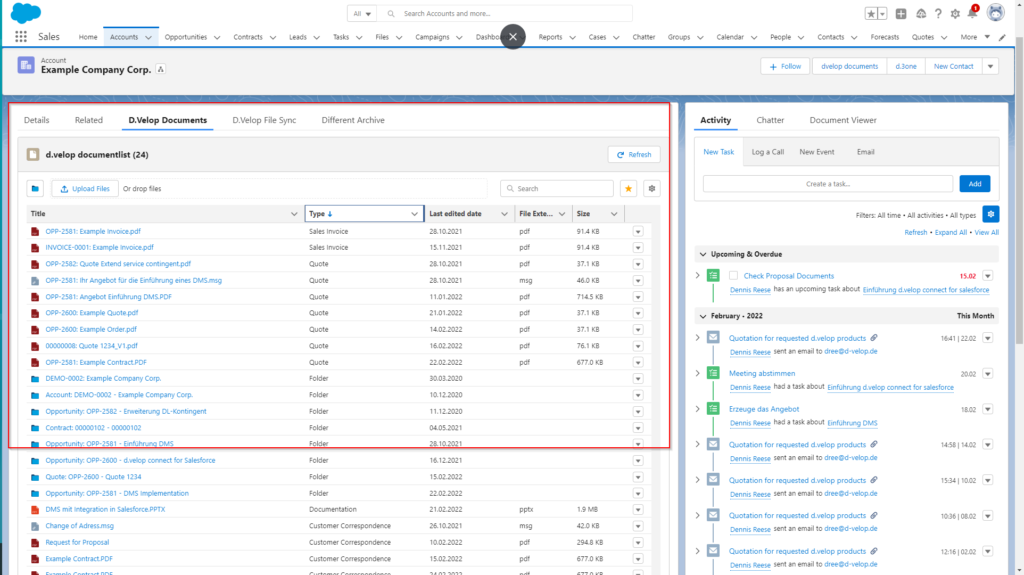 How are documents stored in Salesforce?
Last but not least, storage can also be an issue in the Salesforce environment. While every organization and user gets an included storage amount, it can get expensive when the storage limits become exhausted and need to be upgraded. To include additional storage outside of Salesforce, Salesforce provides the "Salesforce Files Connect". This allows cloud storage such as OneDrive, Box or Google Drive to be integrated and used. However, this tool comes with some limitations: Files can only be shared and pinned with colleagues via the Chatter function. At first glance, the functions seem diverse. However, in the end, these options are not enough to effectively work collaboratively with documents throughout the entire organization.
Document Management for Salesforce
Now that we have a better understanding of the standard document functions in Salesforce, the bigger picture can seem a little hazy. For many business organizations, not all employees in the company will have a Salesforce account (due to the high licensing costs of Salesforce) and therefore have no possibility to work on documents within the Salesforce platform. In addition, there can be comparatively high storage costs in the Salesforce cloud, which can represent a further hurdle in the case of large volumes of documents, or situations where there is a distributed system landscape, wherein documents may be generated in other platforms and are not available directly in Salesforce. In this case, a centralized platform like d.velop documents, in combination with our Salesforce DMS integration can help to make all customer-related documents available to all employees with the appropriate access authorization. In addition, a DMS with integration into the Salesforce environment offers further advantages such as:
Unique (digital) folder structure & metadata-dependent search.
With a high volume of documents, difficulties can arise when searching for files and file information. Especially if a document is relevant in different data sets, as unnecessary duplicates can quickly be generated, taking up additional storage space and leading to employees working with different versions causing inaccuracies. With the help of a contextual search via metadata & a central digital folder structure, documents can be displayed in a structured manner even in different data sets directly within Salesforce. As a result, every employee can find all relevant information at any time.
Advanced search functions
The global search in Salesforce only offers the option of performing a search by file name, which means that team members can have difficulty finding files if they don't have the exact info at hand. Let's say you want to search for an order for a customer. However, you don't have an order or transaction number at hand. You only know that the customer ordered the product "DMS". This is where the powerful search functions of a full-featured Salesforce DMS come in handy. In addition to the file name, you can also search the metadata, the attributes and the entire text! This is made possible by the included OCR full text recognition. This ensures a search result even if little information is available.
Office Integration
Almost all document management systems now offer Office integration, so that Office documents can be edited directly in the browser. With a corresponding integration into the Salesforce world, quotations, contracts, etc. can be processed directly from Salesforce in the Office applications, finalized and then made available to the customer via Salesforce on-board tools.
Legal requirements
Companies in the European Union are faced with major challenges in the context of legally compliant data storage. Utilizing a feature-rich DMS as the central data storage enables companies to store documents in an audit-proof and traceable manner and to comply with all legal requirements. In addition, the data is stored within the EU, which is not necessarily the case with both Salesforce storage and other providers.
Always and everywhere the latest version of a document
A decentralized data storage and the lack of access for a part of the employees regularly leads to duplicates and outdated files. By using d.velop documents all your employees can work on one and the same document. Regardless of whether in Salesforce or directly in the DMS. Due to the revision security, changes to documents can always be traced and, if necessary, an older version can be restored.
The document repository is your choice
Whether you want to use d.velop documents in the cloud, on-premise, or in a hybrid version – you have the flexibility to choose and can build the system according to your company's needs. In addition, d.velop also offers the possibility to use a Sharepoint as a repository via our Microsoft 365 adapter. Of course, in this variant, you always have access to your documents within Salesforce.
Is d.velop documents for Salesforce suitable for me?
The first step is assessing your team's needs to determine what you want to achieve with a DMS for Salesforce? If you just want to store the existing files and documents in a different location to reduce the storage costs at Salesforce – Then external storage apps from various providers may be a viable solution and sufficient to meet those needs.
If you're looking to organize the existing documents in a logical way and provide them company-wide for all employees to boost the efficiency and collaboration between teams and have corresponding DMS/ECM functionalities, then d.velop documents for Salesforce would be an optimal solution.
Choosing the right document management system for Salesforce
In order to make a thoughtful decision, consider the following questions for your team's needs and objectives:
1. Are there employees in the company who do not have access to Salesforce, but still need to view or file documents?
2. Do I want to have access to all relevant documents of a customer, even if they were not created or stored in Salesforce?
3. Do I need to comply with legal requirements when storing and editing documents?
4. Do I want to add real DMS functionality to my Salesforce?
5. Do I want my employees to be able to work more efficiently and collaborate quickly with Salesforce files?
For some companies, the standard features of document handling within Salesforce may be sufficient for their current needs. However, if you are looking for options to get more out of your data, to make cross-departmental work in your company more efficient, and to provide a great customer experience – then d.velop documents for Salesforce is the boost you're looking for!
Book a Software Demo
Or book a software demo directly and have the process demonstrated live to you.