Who doesn't know it – "I heard it through the grapevine". Smiled at by many, but immensely important for companies. In addition to the classic gossip during the lunch break, important company information is brought into the company via word-of-mouth propaganda" and ensures better internal communication. What role does an employee app play in the communication?
An open and good internal communication culture leads to increased employee satisfaction in companies of all sizes. Always being informed about news, changes and trends is essential for the successful employment of employees.
"Have you heard…?"- Internal communication as driver in your company
For classic office employees, this information transfer is supported by classic information sources, such as the intranet as a digital notice board or other internal (digital) communication channels, in addition to the rather less controllable "through the grapevine" communication. The interaction of all channels leads to a transparent corporate culture.
Looking beyond the horizon, it quickly becomes clear that for many of the approx. 3 million companies in Germany, this ideal remains an ideal image due to the daily business, which can at best be achieved with all the effort, but is difficult to achieve with the old-fashioned and classic means. Among the more than 45 million employees, 50% (!) are non-desk workers. Is the conclusion that all these people in your company should forego the benefits of good internal communication? – No!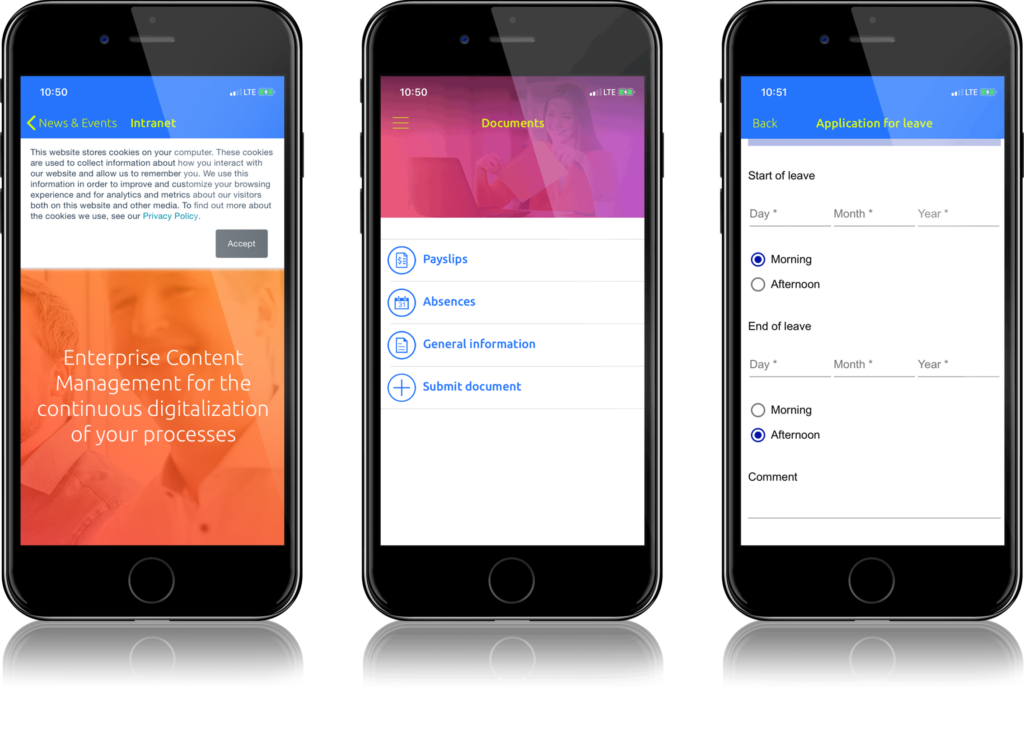 Optimize internal corporate communication, simply via app
But how can we do justice to all employees and provide them with information at the same time with the same intensity, regardless of whether they are classic desk or non-desk workers? There are over 57 million smartphone users in Germany (as of 2018). As the lowest common denominator, the smartphone opens up new possibilities in times of permanently advancing digitalization and brings company-relevant information directly into the pocket of the employees. The use of an employee app lays the foundation for flawless internal communication at a manageable cost. In addition to the informative character through the integration of already existing sources, such as intranet, menus or contact details of colleagues, topics such as an internal encrypted chat or the digitalization of business processes are clear arguments for a company app.
It is possible to start a vacation request or sick leave workflow from the sofa without going to the mailbox. Salary slips and other personal documents are delivered digitally directly to the smartphone and can be easily managed there. And all this without annoying paperwork, without franking and postage costs. A single app as a central contact point for all employees? This is guaranteed by the integration of external links, which are required in daily business. Tiresome searching and rummaging around with search engines or web portals is now a thing of the past. All in all, an employee app can make all relevant internal information available to every smartphone user in a transparent and freely accessible way.
"My daily business is more than just a job to me." – Turning employees into fans with an employee app
The more an employee can identify with a company and the higher the employee satisfaction, the more successful it can be. Turn your employees into fans and put their needs first. Your employees will also check the employee app ad-hoc in their private everyday life, so they won't miss anything anymore, be it the registration for the family summer party or the participation in an employee satisfaction survey. Even the payroll is provided digitally and so it's "goodbye information leak" and "hello digitalization"!
The positive employee feeling and the charisma of satisfied employees, who associate more than just their employer with their job, are incredibly valuable for a company. It increases the external perception and the image of the company and contributes not little to an increased corporate success. In addition to all the positive effects within the framework of employee management, the economic advantages should not be disregarded either. You should pay attention to this when choosing your employee app:
Data is provided highly encrypted on the mobile device
All protection measures for personal data based on the GDPR are included
Role-based authorization profiles are supported
And the way these things look in practice…
Are you already dreaming of your own personal app tailored to your needs? Made especially for your employees and designed in your corporate design? Based on various customer feedbacks and with the involvement of our industry experts, we already have a wide range of demo scenarios ready and I am sure you will find yourself in one of the case studies.
Exchange and communication in the media industry are the be-all and end-all. Hardly any other industry is as strong in communication as yours. The app for the media industry: cross-location information, transparent communication, digital networking and the elimination of media breaks. Keywords that seem familiar to you? Often these are exactly the requirements that employees want.