The new way to manage people – SAP SuccessFactors offers a new work experience for company employees and HR staff. What's behind the cloud-based solution and what are the benefits? Here's what you need to know!
What is SAP SuccessFactors?
SAP SuccessFactors is a cloud-based human experience management software (HXM) for core HR topics in companies. The solution consists of different modules that map the entire lifecycle of the respective employees in the company. The goal is to digitally support and optimize all HR processes so that companies can select the right employees, position them optimally, and develop them further through promotions.
HXM Has Replaced HCM

The predecessor of the Human Experience Management software (HXM) is the Human Capital Management software (HCM). The HCM software solution integrates a suite of technologies that can help businesses manage their hierarchical structures and optimizes employee management, ultimately aiding employee development from hire to retirement. HCM has been a great solution for human resource management, however HCM was missing valuable interaction with employees. Employees should be able to provide feedback on their wishes and career goals with Human Resources. With the Human Experience Management software, the focus is on the employee experience, because only satisfied employees with positive experiences during their work deliver successful results.

SAP SuccessFactors HXM Suite is Built on Three Pillars:
HR Streamlining:
The organization of projects is simplified through automated processes. This means that the effort required to assemble a team or the preparatory measures for a new project are simplified.
Intelligent Tech:
To optimize the employee experience, an integrated chat function that utilizes machine learning is used which promotes internal communication. This way, employee's feel valued and supported.
Data Collection:
Operational data collected in HCM is augmented by employee experience data in the HXM software. Data is collected through regular surveys.
The Basis of SAP SuccessFactors is its Modular Structure

The cloud-based solution consists of several modules, which are individually customizable and can be combined as desired. The SuccessFactors Employee Central module maps out the basic functions of HR. It incorporates master data management, personnel administration and organizational and working time management. Another basic building block to this solution are the modules from the previous HCM Suite.

A large part of Human Experience Management (HXM) are the individual modules of talent management:
Recruiting: A collaborative and mobile selection process is enabled by this module to find the best talent available.This module is also used for job postings, applicant management and application evaluation.
Onboarding: Employees need a successful start in the company. The SAP SuccessFactors onboarding module supports this with various features, such as a dashboard that new employees can access.
Learning: Employees can use the learning module to further their education. Training materials and task outlines for daily work are provided there. Learning offerings are divided into classroom training, digital training, and social learning. With social learning, employees can exchange information on various topics and learn new things together in a group. This module can also be used for the onboarding process.
Performance & Goals: This module enables the company to align employee goals with the company's strategy. The Goal module helps to create individual goals according to the SMART principle. The Performance module tracks the progress of the goals providing key visualization to help employees stay on target. . Based on collaborative key goals between employees and the company, their performance can be measured and evaluated.
Compensation: This module is used to coordinate the processes for employee compensation. It optimizes the spending budget and ensures fair and transparent pay through employee compensation profiles and salary history.
Succession and Development: This module promotes employee talent and development that in turn contributes to the development of the company. This can be managed with the help of Employee Central.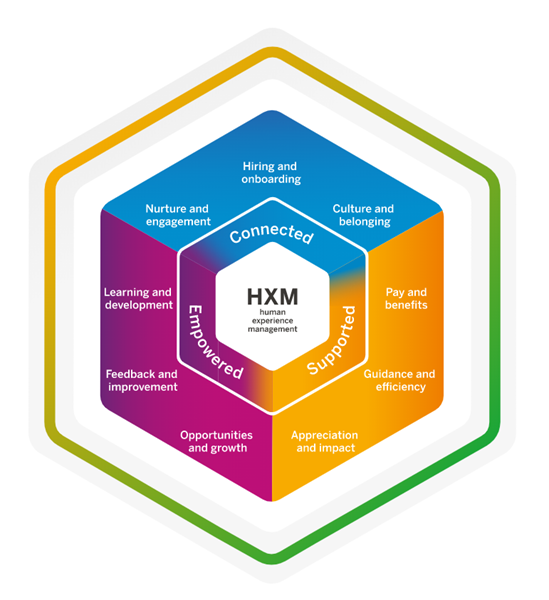 Advantages of SAP SuccessFactors
In addition to providing an overall HR transformation that streamlines HR processes into an HR cloud that benefit the HR department and employees, SAP SuccessFactors provides three more key benefits:

Security
ensuring the security standards are met and exceeded. Data is processed in SAP's own data centers; users interact with the data through an encrypted connection. There are different server locations for different customer requirements.

Maintenance, Administration and Mobile Use
Maintenance and back-ups are performed independently by SAP. Mobile use is also possible with the SAP SuccessFactors app.
Individual and Simple Operation
With a wide section of modules, SAP SuccessFactors can be customized. The operation is structured in such a way that work can be done as intuitively as possible in order to minimize the familiarization period and training time.