We are becoming a bit more digital every day. The density of different IT systems in companies is increasing from year to year, and the complexity of day-to-day work is continually growing. Legal and Controlling in particular are confronted with challenges around contracts, but other departments are also involved in the process throughout the contract lifecycle.
This blog article is intended to provide readers with ideas on how contract management can be integrated as part of the overall strategy for using the Microsoft platform, rather than being used as yet another isolated solution.
How do I go about introducing a new contract management software solution? Do I use existing systems that may offer functionalities that are not primarily designed for the topic, but can be adapted? This approach generally involves compromises, since you are using software that was not designed for this purpose in the first place.
Another option is to purchase a completely new solution. This gives flexibility in covering the requirement and provides extensive functionality related to the contract management issue. The problem here is certainly that I may be creating another isolated solution. In the worst case, I buy a greater range of functions (which I may not even need) with the disadvantage of media disruptions.
SharePoint provides an alternative platform. It combines contract management, processes, controlling and archiving in a single solution. Often, licenses are already in place and SharePoint is in productive use elsewhere.
SharePoint already masters many document management disciplines in its standard version, and thus also offers rudimentary approaches for the topic of contract management. The areas of collaboration, business intelligence and workflow are inherently strong competencies of SharePoint. However, there are also fields that are only little or not at all mastered, such as the provision of ready-made solutions (e.g. contract management) out of the box, creation of digital signatures or possibilities for capture & classification. Exactly at this point, the solution d.velop contract for m365 complements SharePoint and refines it by expanding exactly these sub-areas to a full-fledged contract management:

Guided contract creation via a wizard
Display dashboard
Deadline and term management
Digital signature
Template management
Review and approval workflows
Extensive search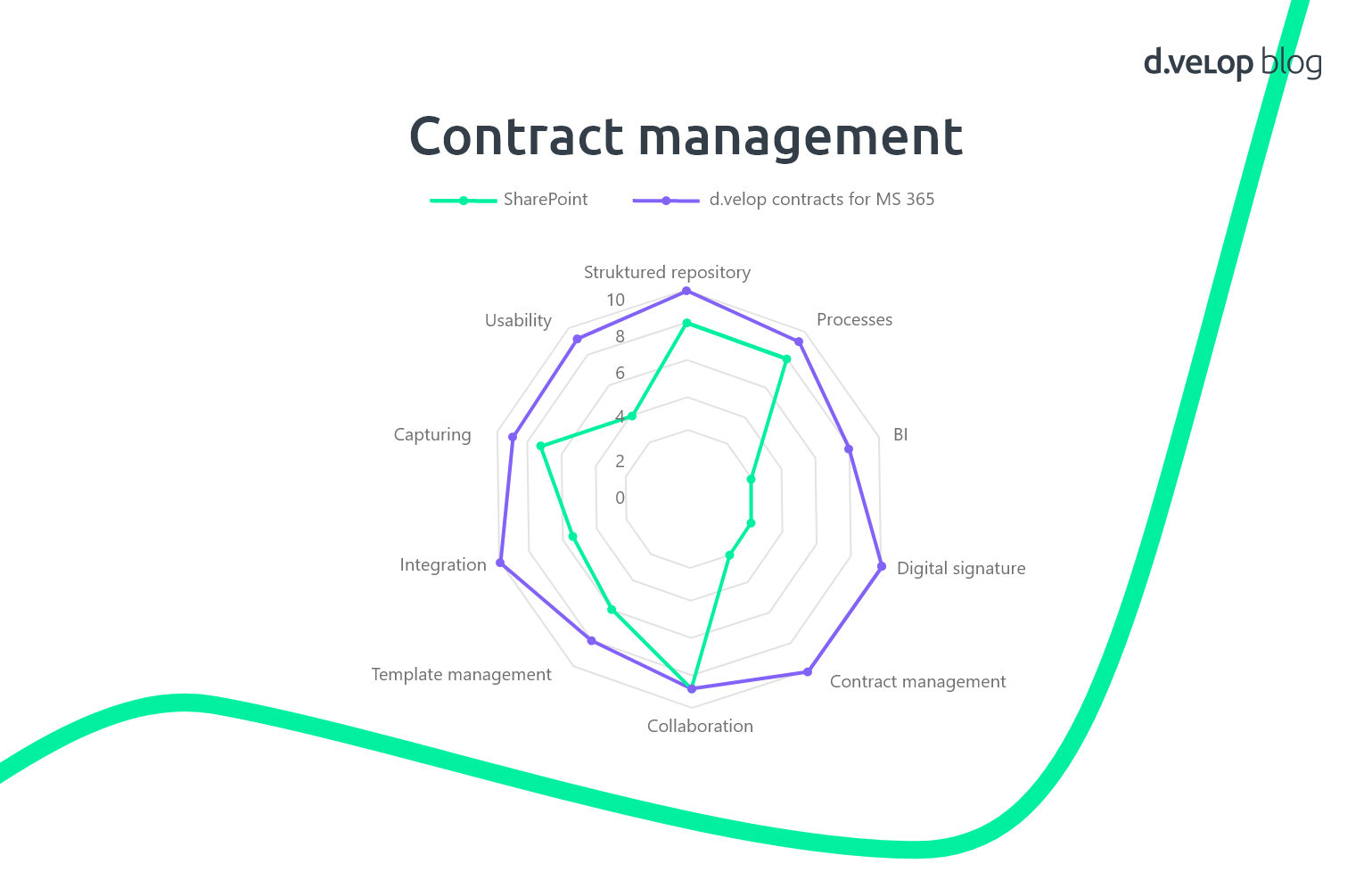 Step 3: Integration in Microsoft Dynamics 365 Business Central
The term Digital Workplace is one of the buzzwords of digitization. Behind it is the approach of providing a central and digital work platform that provides users with all the functions they need for their everyday work in a single interface. But which tool in the company is this central platform? The answer to this question will vary depending on the department. The sales department works in CRM, Outlook is used across the board, and a large part of the workforce spends its time in the ERP system. SharePoint can also serve as a central digital workplace. The problem is that this ingenious concept simply cannot be achieved with a single specific software. That is why integrations are elementary.
D.velop contract for m365 now connects SharePoint with Microsoft Dynamics 365 Business Central. It also expands it into a full-fledged contract management solution. For example, contract data is thus displayed directly in the accounts receivable or accounts payable screen. Contract creation is simplified and provides each party in the process with the information they need in the application they use.
All company departments, from Controlling to Legal to Human Resources, work collaboratively on their documents. While all colleagues access the same data master, a central authorization system ensures that each user can only view the information that is relevant to them and their current task.
Office integration turns Word, Outlook & Co into a window to SharePoint. At the same time, e-mails stored there can be opened directly in the Microsoft Dynamics 365 Business Central Client.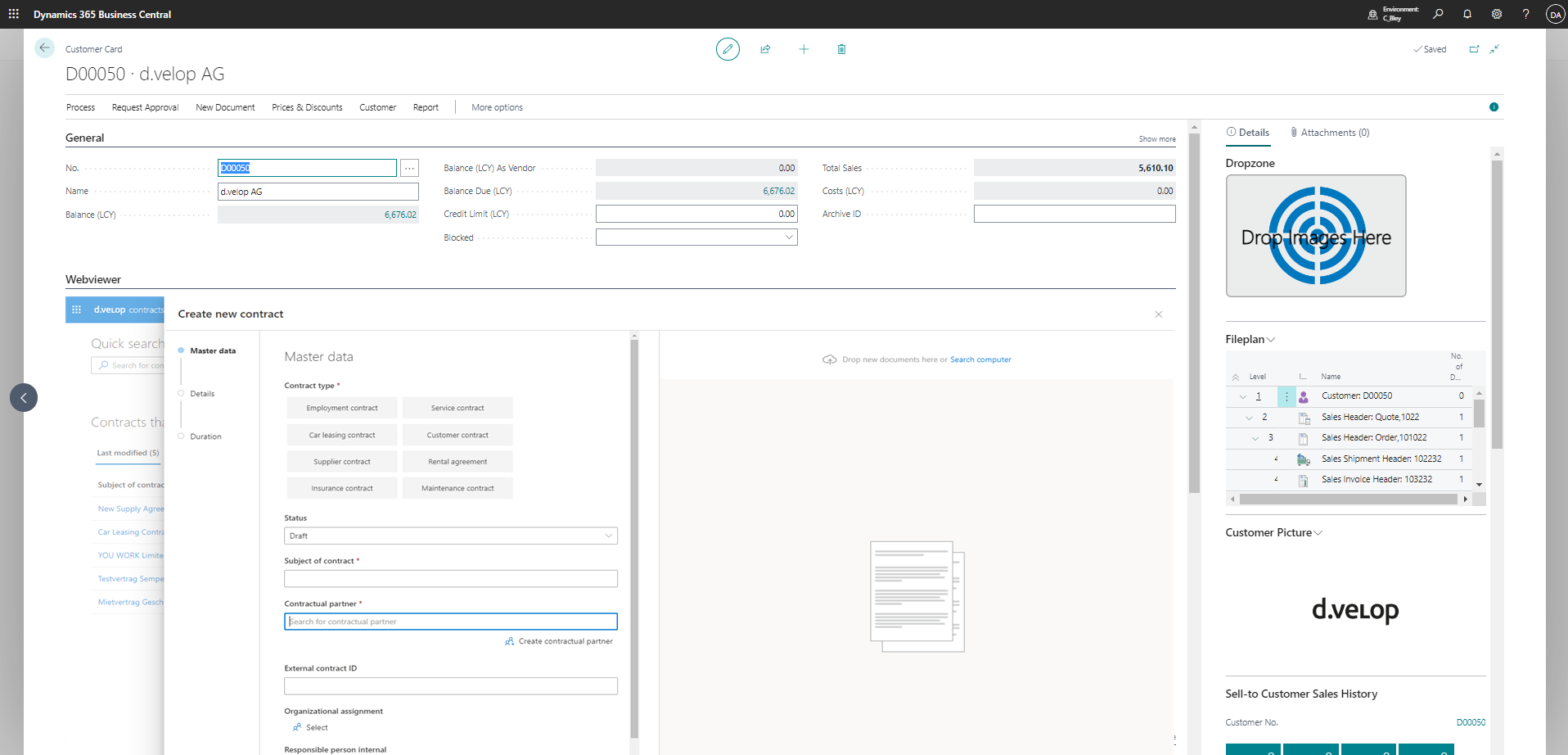 The integration of SharePoint into Microsoft Dynamics 365 Business Central brings several advantages for the user:
Work in the familiar environment
All information automatically context-related at a glance
Work without media discontinuity
Advantages of SharePoint available in BC interface
Fulfillment of compliance guidelines
Revision security
Independent authorization system
And what about Microsoft Dynamics NAV?
Of course, integration is also possible with an older NAV version. Also, other ERP systems like SAP, Finance & Operations and many more can be connected via connectors.
The last mile – digital signature
Whether a company still remains completely analog in the paper world or is already going digital, often the step to sign a contract document provides a media break. This can be a hard break, where the documents are printed, signed and sent, or a soft break, where the documents are steered out of the process to be digitally signed electronically with an isolated solution.
Again, the platform idea should be followed, where the digital signature solution is integrated into SharePoint and made available within contract management. The integration described above means that documents can be signed conveniently via Business Central directly after they have been created. The creation process is not interrupted in the process. The signed document remains in SharePoint and can be forwarded from there directly to the contract partner for signature.
Conclusion
Another isolated solution for a new topic is quickly implemented. However, if you sharpen your focus on your existing infrastructure and exploit the integration possibilities of your existing solutions, completely new potentials open up. SharePoint provides an excellent basis for comprehensive contract management. It can be intuitively operated by users embedded in the Business Central interface. As a result, the leading system in the company is refined into a full-fledged contract management system without the need for individual adjustments or programming effort.