Metadata: What is it anyway?
If you are not entrenched in the world of computer programming or IT, then it's easy to feel like you're in the dark on terms used when talking about application functionality. For example, the topic of metadata, especially in regard to Microsoft SharePoint, can give some users a hard time.
Let's start with the base question of "What is metadata in SharePoint?" Simply put: metadata is data about data. Most businesses will have a standard process to give documents, videos, images, etc. a meaningful name to help identify them. However, when the number of documents and files to manage gets larger than you run the risk of having near duplicates or not enough information to efficiently search for or filter to find specific files. This is where metadata comes into play. Metadata can be added to the document or file properties and when there are standardized processes in place it ensures that these are maintained in a structured and careful manner. From that point, finding files can be a simple process for any team members or key stakeholders that may need to access them.
Some basic examples of metadata are:
Name/Author
Date created
Primary contact
Invoice number
Cost unit
Item number
Customer/Company
Notice period
In the standard SharePoint configuration, there are already some basic metadata elements that can be worked with, such as the modification date or the file type. However, it's worth noting that an organized and well planned setup will go a long way. Working with metadata only becomes truly effective when you maintain and manage information tailored to your company's activities and documents.
First and foremost, establishing a process is key. It can be beneficial to ensure that only key team members have the authorization to make these types of changes. Once this has been clarified, nothing stands in the way of optimization.
When you hover over the header in the document overview, a plus appears between the columns. After clicking, a menu opens in which you can select existing columns or create new columns via "More…", if you want to set up a completely new "data category". The arrangement of the columns can be changed via drag and drop. The view can also be changed via the item "Show/Hide columns". Keep in mind that there are many other ways to configure these settings, this is just the simplest and most common for most use cases.

In order to save time and not always have to perform these steps again and again in different document libraries, it is possible to save the view of the columns. This is done via the function "Content type" in the same menu, which can be called via the plus between the columns.
Pro Tip: If the view in the document library in SharePoint changes, the view in the assigned team folder also changes.
If you use SharePoint as a standardized document storage location, you don't work with folders as usual in Explorer, but with lists and libraries. For this reason, metadata in SharePoint plays an even more important role in finding what you are looking for quickly. So that each user knows which properties can be searched for, there are 3 important rules to follow.
1. Create a meaningful structure
Together with your team, take inventory and consider in advance which topics you deal with in your daily work, which documents you'll need to work with and which information needs to be found quickly. Then map out the structure to form connections and define rules about where which document types should be filed. If everyone remains in their own filing structure, Microsoft SharePoint can still offer good search options; but if there is no basic order, the search function can be noticeably ineffective.
2. No duplicate metadata elements
Part of the strategic planning is determining what relevant meta-information could and should be maintained. If two or more people independently create an element with "Invoice No." and "Invoice No.", both have the same information and are regularly maintained, but they are not linked. If an outsider then searches for an invoice, he must include both "Invoice number" and "Invoice no." in their filter properties. But to do this, they must first know that both versions exist. Therefore: Create a metadata element overview together with your team to avoid duplicate or near-duplicate information overlaps!
3. Regular maintenance of meta information
All that great planning and structure is only useful if the metadata is maintained regularly. To help with integrity, set mandatory fields for information that is essential for daily research, so no one can leave these fields empty. But assuming you file a document stack of 40 files, filling them in can take a lot of time. In the SharePoint standard configuration, automatic reading of important information is unfortunately not yet possible and the platform will reach its limits at this point.
For a quick reference, we have summarized some potential advantages and disadvantages of SharePoint metadata for consideration:
Advantages:
See relevant information at a glance
Intelligent filter options allow for quick search times
Data is stored in a structured way and with the help of standardized processes.
Clean process keeps your SharePoint documents feeling fresh. In the long term – no data jumble exists
Disadvantages:
Setup can be time consuming. With manual metadata maintenance, there is a high level of effort involved in filing.
Metadata creep – The complexity could increase if too many metadata elements and columns are added in the long run
Metadata filtering applies per library. If extensive storage structures existed over several libraries, then searches must be carried out in several places.
Automatic transfer of documents and metadata from leading Office/CRM/ERP applications is not possible.
Now you understand the benefits (and challenges) that come with using metadata in the SharePoint standard configuration. In practice, however, it can become apparent that the effort of manually assigning metadata may quickly exceed the actual benefit. SharePoint does already offer a solution to this problem through the Syntex extension. However, this functionality can be very extensive and time-consuming to set up and not really intuitive to all team members. So, we can end up with the same problem here: The programmatic effort of assigning metadata automatically often exceeds the benefit.
But, tools like SharePoint document management by d.velop can actually offer real added value for your business. Various document types, such as contracts or invoices, are automatically read in the background and classified by assigning metadata and transferred to the correct processes or file structures. This results in different use cases for the d.velop software depending on the document type.
Based on standardized classifications, documents are automatically transferred into a certain file structure. What this file structure looks like is very individual – and ranges from customer and supplier files to project and personnel files.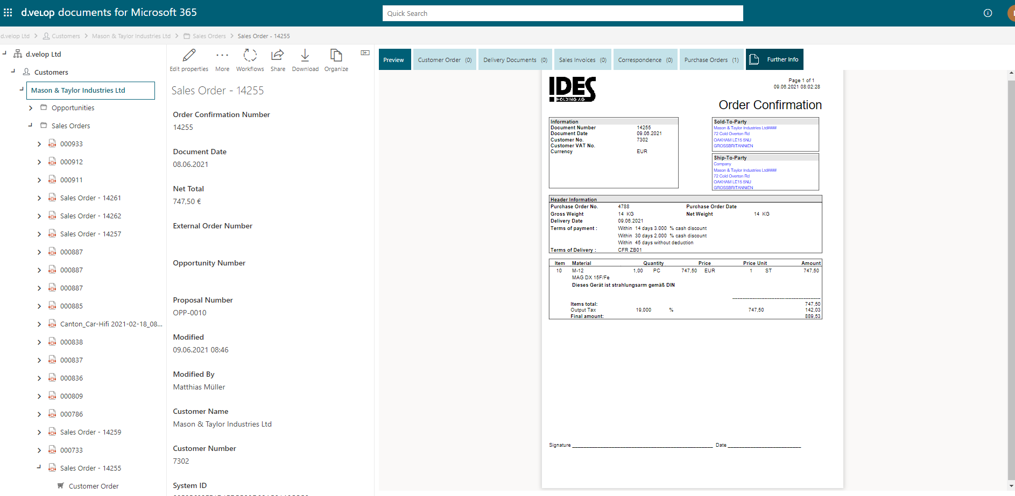 Incoming invoice processing
Metadata is what makes it possible to start a digital workflow for invoice processing. Metadata can be read out at both header and item level and support the user in the factual verification and approval of the respective invoice.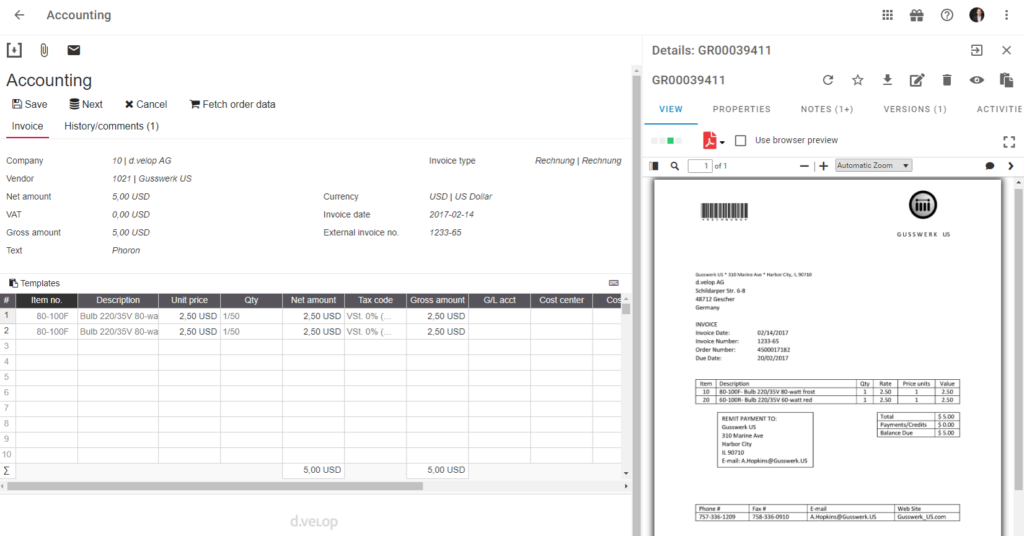 Contract management
If a document is classified as a contract and processed with d.velop contracts for M365, this document can be transferred into a complete lifecycle. Together with other documents, such as a non-disclosure agreement, as well as deadlines and tasks, a comprehensive contract file can be created to improve follow through and customer service.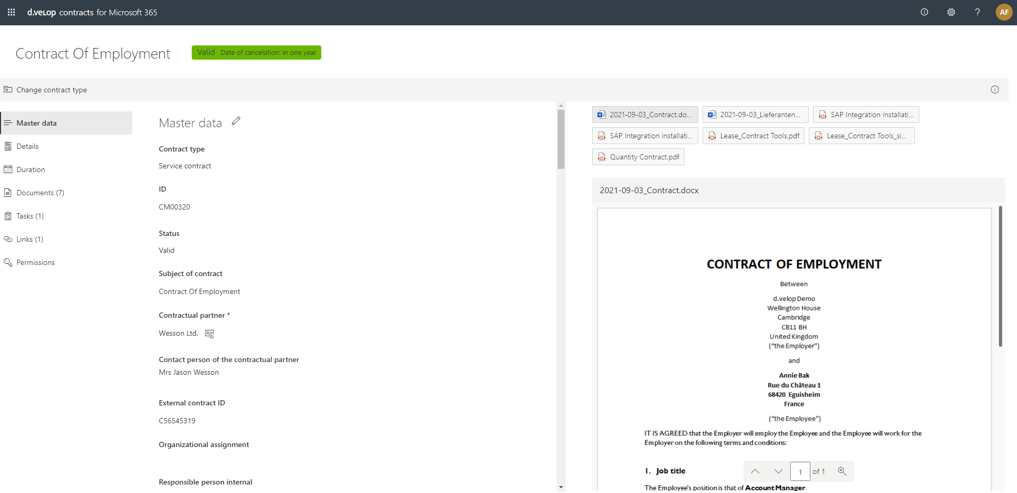 Full benefits of metadata in document management
The full benefits of metadata in document management are within your team's grasp. Automated classification and distribution processes not only save your company time and money, but also ensure leaner and more efficient processes throughout the entire company. Metadata also forms the basis for all other processes relating to the document in question: Reminders, checks, approvals and many other functions are only made possible in this way and guarantee that you have full transparency and security over your documents and processes at all times.