Your solution for implementing GDPR
The d.velop GDPR compliance center
GDPR: How it affects you
The aim of the new General Data Protection Regulation (GDPR) is to improve the protection of personal data, increase accountability for violations of data privacy and ensure a standardized data protection standard throughout the EU. The regulation came into force on May 24, 2016. However, companies had until May 25, 2018 to meet all the requirements of GDPR.
This obligation poses major challenges for companies and organizations that work with personal data. We help you to master them in two steps. With expert knowledge, concrete recommendations for action and our own software product to support you in implementing GDPR.
Measures –
form a plan!
Find over 30 pages of assitance for implementing GDPR. Includes infographics and checklists.
Solution –
get going!
The d.velop GDPR compliance center is the ideal tool for implementing the General Data Protection Regulation in your company.
Your solution: the d.velop GDPR compliance center
Our d.velop GDPR compliance center offers you a solution for meeting the requirements of GDPR in the most effective way possible. You can use this software solution as a guide for ensuring your work is GDPR-compliant. The d.velop GDPR compliance center is a support tool for the analysis and documentation tasks involved in fulfilling GDPR accountability obligations (DSGVO).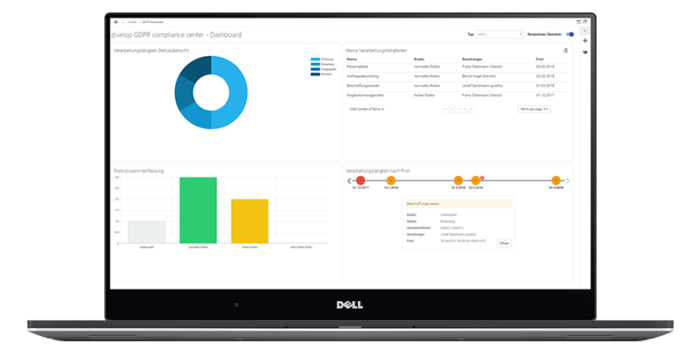 Through the GDPR Dashboard (the image on the right), users get a central access point into the application and an overview of all the important key figures for each processing activity, IT service and provider. The solution also lets you allocate the work involved in the implementation process to the responsible specialist departments.
Process analysis
Questionnaires with predefined content simplify process analysis by guiding the person in charge through the stocktaking of information relevant to data protection.

Summary
The dashboard with all the key figures for processing activities provides transparency and serves as an entry point for distributed processing.

Accountability
Predefined and flexible filing structures and documprent templates let you meet accountability and documentation obligations in digital form.

All the advantages at a glance
Transparent oversight over the status of processing activities at all times
Centrally maintain data protection-related documentation in digital form
Content-based support for the analysis process through GDPR surveys made by the experts
Simplification of the evaluation process with derivable risks and measures
Question catalogs that can be flexibly adapted to the context of your company
Reporting with a digital processing catalog at the push of a button
Dashboard for visualizing core information while also serving as a portal for distributed processing
On-premise or cloud-based solution that can be implemented rapidly
FAQ: How to use d.velop products compliant with GDPR.
Do you have any questions about GDPR?
We are happy to answer your questions on the subject of the General Data Protection Regulation.