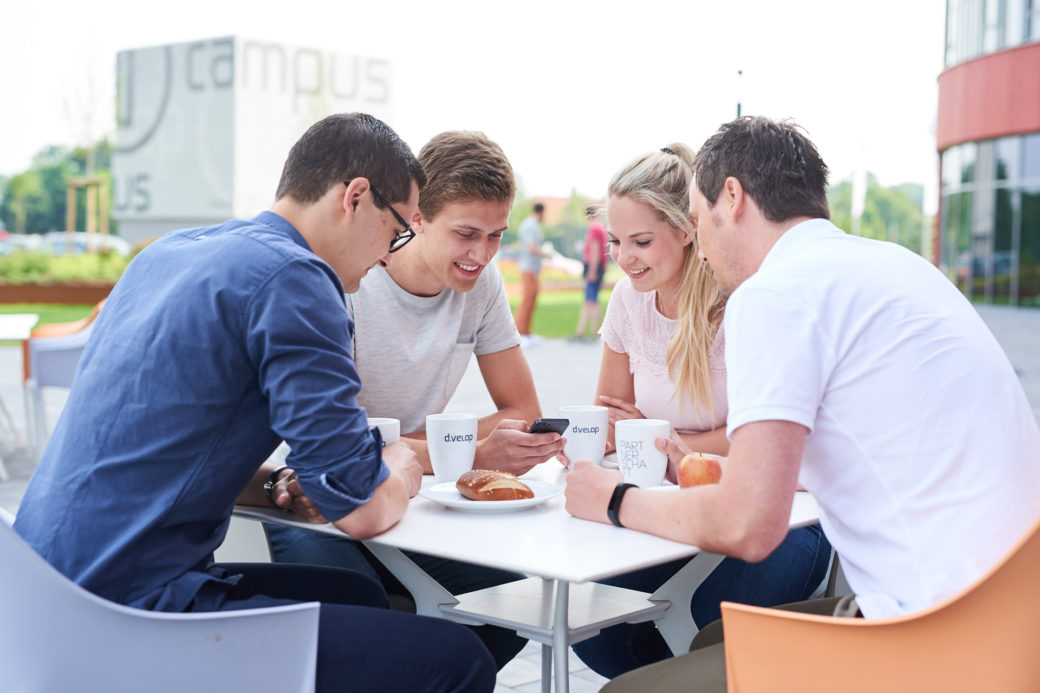 Communication on the safe side!
Use your new and secure way to communicate. With the d.velop company chat.
Live communication
Direct messages, group chats, video calls, voice messages – these are all important functions in modern communication. What is everyday life in the private environment is also found in modern corporate communication. The d.velop company chat supports you in this: GDPR-compliant, end-to-end encrypted and made in Germany.
Privacy at the corporate level
d.velop company chat defines security at a very high level. Because your company knowledge should stay exactly where it is.
Conventional chat apps are developed for private use and store your data on servers in the USA, for example.
The chat app from d.velop does not create any "profiling". The user, therefore, does not collect any personal data from the smartphone or even read it out. Based on the Matrix Chat protocol – a protocol that is also used in other high-security areas – your data becomes classified information. Even if your employees use a private ed device for communication.
All functions available independently of the device
d.velop Business Chat can be used on all common mobile devices and in the web client. Functions that you have learned to love in private everyday life can also be found in the business chat. The chat supports both direct and group messages.
With the help of Voice over IP telephony (VoIP), you can call your colleagues and external users – such as suppliers – directly and securely or start a video call.
Authentication takes place via your Active Directory (AD) or via a d.velop documents light account.
Communication as the key to success: d.velop chat
With the desktop application for Mac and Windows, you can directly enter into an uncomplicated exchange with your colleagues.
d.velop company chat can be integrated into many other d.velop products, such as d.velop documents. This way, you can directly exchange information on documents and/or files and make your everyday work even easier. Multi-media support
Sending, receiving and viewing messages, files, pictures and videos is possible in any file format. We pay special attention to the security of the smartphone camera:
All photos taken via the app do not appear in the gallery of the smartphone or tablet. They can only be accessed within the app. Clever permissions as a basis
Based on an authorisation concept, you can add or remove users from conversations. Removed users can no longer access the contents of the chat – even if they were previously viewable.
Your app, your form of operation
To give you maximum flexibility, you can choose your preferred form of operation: Whether on-premises in your own data centre or server room or cloud-based. Both variants have advantages. We will be happy to help you make your decision.
d.velop Company Chat can be purchased individually, but is also included in the d.velop Employee App.
Would you like to experience the d.velop company chat app live?