d.velop documents
Always available.
Scalable and versatile.
Integrated in your existing system.
Your DMS in the Cloud.
With d.velop documents, you can intelligently accelerate, simplify and optimize the administration of documents and information. d.velop documents provides a smart filing system for quick and easy document retrieval. Focus on comprehensive collaboration and digital business processes with this cloud solution, optimally supporting your in your work. Covering the entire process cycle, your documents are also securely archived.
Get started with three easy steps: d.velop documents
1. Book your d.velop documents tenant
Just click on the button above to book your own d.velop cloud tenant. Your document management system in the cloud will be up and running within minutes.
2. Use & test for 30 days
Your tenant will be available for testing for 30 days after booking. It already contains a standard folder plan and document types to work with, but also allows you to create individualized document structures that match your organisation's structure and way of working. If you don't want to keep the tenant, just let the trial period expire and it will be deleted automatically, incurring no further costs.
3. "Go live" with productive use of your tenant
If you want to extend your test period or switch over to productive use of your tenant, please drop us a line at internationsales@d-velop.com. Your tenant will remain active and you will be billed according to your usage. For pricing, please see below.
Price overview d.velop documents
basic
20,00€
per user per month
The basis for your digitization and the home office!
Your advantages:
Audit-proof archive
Receipt by scan & mail
Individual file structures
Central access
Simple search & research
Task management
Authorization management
E-learning courses
business
30,00€
per user per month
Digitize integrated cross-system processes!
Everything from basic and additionally:
Design and implement workflows
Wide range of integration options
Automatic categorization
Microsoft 365 Office integration
Company-wide search
Convenient authentication methods
ultimate
45,00€
per user per month
Get the most out of your digitization!
Everything from business and additionally:
Implement complex workflows
Advanced business rules
Advanced authentication methods
Mobile app for offline use
Automatic data extraction thanks to AI
Highlights of d.velop documents
Accelerate and simplify the way you deal with documents in your company. d.velop documents offers you a simple, cloud-based start into the digitalization of your document management.
Available at the click of a mouse button. Flexibly scalable. Billed monthly according to your needs.
Consistent digital document management
No more manual filing and administration of paper documents or unstructured storage of documents on file shares. d.velop documents helps you to store documents in a structured way in their respective context. Your documents are always available and easy for users to find – systematic document management.

Store documents in standard file plans based on metadata and categories.

Establish the foundation for effective and secure governance of your archived documents.

Search and find content via metadata and full text search.

Work with your documents across teams.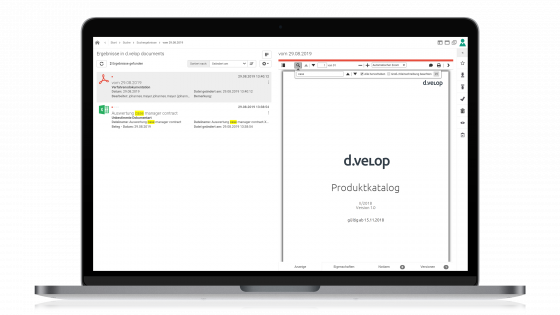 Central access to all information
As a document management system, d.velop documents becomes the central hub for documents in your company. Dissolve data silos and work with delivery notes, invoices, e-mails and contracts from a central point.
Scalable at the touch of a button
Digital documents create the basis for digital processes. Extend d.velop documents at the push of a button with additional functions, such as digital signatures, enterprise search functions and a digital document inbox. Via the d.velop platform, you can tailor your DMS to your requirements.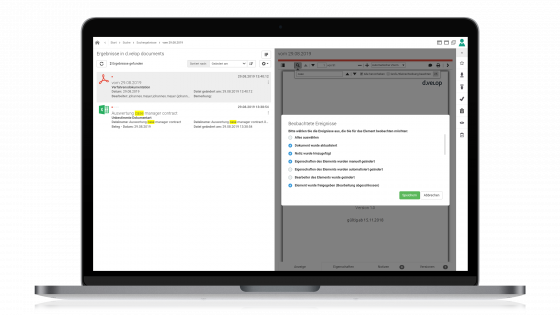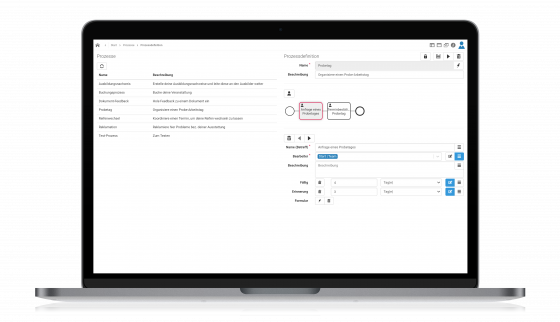 Design digital processes simply
Create simple processes with just a few clicks by selecting task activities. With the help of forms and various controls, you can design your processes to meet your individual needs. This allows you, for example, to easily implement approval processes in your company.
Functions at a glance
Use of prefabricated file plans
Task Manager for tasks related to documents and files
Document search via metadata and full text
Document delivery via REST-API
Shared editing of Office documents with check-in and check-out
Creation of PDFs from Office formats
Simple process design
Use search templates and favorites for document monitoring
Display of PDFs including annotation function
Versioning of documents
Are you ready for the cloud? Are you ready for d.velop documents?
Do you have still any questions?
Then don't hesitate to contact us. We will answer within one day. Simply write uns an email and let uns know which question you have.