Qualifications, experience, hard work – all important for a career, of course. One of the most important factors, however, is a stable network: Tijen Onaran reveals how to build, maintain and activate such a network. The expert on networking.
Who is Tijen Onaran?
Tijen Onaran is an entrepreneur, investor, bestselling author, and one of Germany's most important opinion leaders when it comes to diversity, visibility, and digitization, as well as one of the most prominent voices in German business. Her company Global Digital Women was the first diversity-focused company to win the German Excellence Award. The professional networking platform LinkedIn selected her as one of the few female influencers worldwide as well as TOP VOICE 2020 for the DACH region. In her books "Die Netzwerkbibel" (The Networking Bible) and the Spiegel bestseller "Nur wer sichtbar ist, findet auch statt" (Only those who are visible can be found). She shares knowledge on the topics of visibility, networking and personal branding.
Why should I network?
Networking has an image problem
For the longest time, networking had a dusty, mostly male image and is still associated with terms like nepotism, vitamin B or felt. Much like the motto "two men meet at the bar." Even today, many people still assume that networking, especially in a professional context, is synonymous with ingratiating yourself or having conversations with people you don't even know. Social media and professional online platforms have certainly changed ideas and the image of networking a lot. Networking came out of the muckraking corner and became an Olympic discipline. At least almost. In any case, it suddenly seemed that being there was everything. However, there's a lot more to networking than logging onto a site and adding friends, family, and old schoolmates and work colleagues to a contact list. But networking done right can and should be much more than that.
Definition networks
Reduced to the essentials, networking means nothing more than relationship building and sustainable relationship maintenance. (Tijen Onaran)
Understood in this way, many situations can show why networking is worthwhile. Whether it's because you need advice on a professional project, or when you are contacted by others when they need advice or a particular expertise.
Networks are like an insurance policy or a safety net that catches you when, for example, you are looking for a job, just starting your own business, or just looking for your first customers.
The boundaries between networking and personal branding are fluid
The boundaries between networking and personal branding are fluid. After all, networking involves positioning oneself, becoming visible, and building a personal brand. In this context, networking also has something to do with self-determination and emancipation. Because it's about taking control of your own narrative. Those who tell their own story and have built up their own network run less risk of being pigeonholed by others.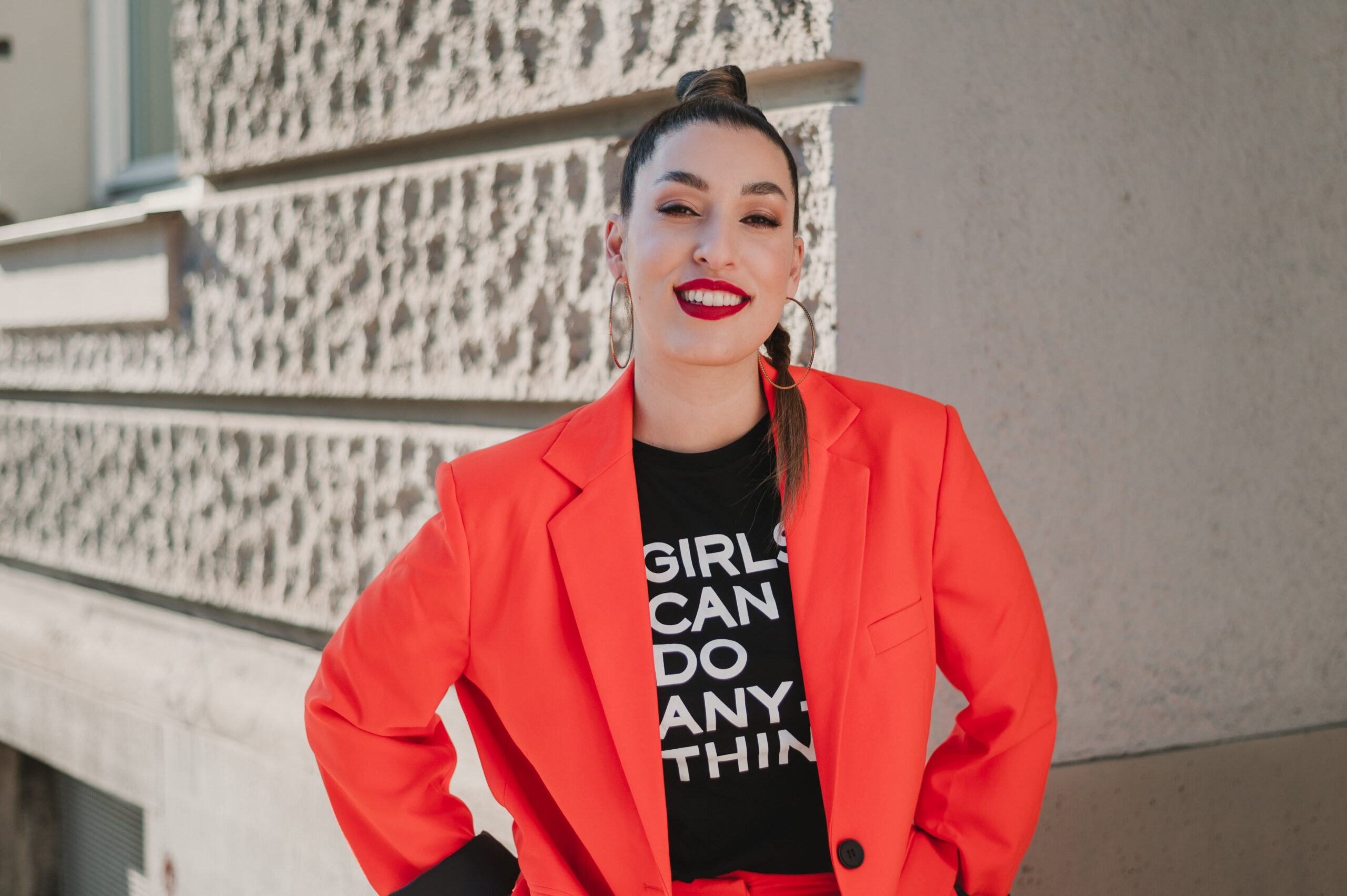 Everyone can network – especially introverts!
Some of the most common phrases I hear in this context are: "I have no talent for networking," "I'm not the networking type," or "I have a hard time at events. But I don't want to accept excuses like these. For one thing, networking is essential for all of us. For another, I'm convinced that introverts are the better networkers. And last but not least, we all already know what it takes, perhaps without realizing it – in our private lives. There, it's a matter of course to ask around among friends for a tip on the next travel destination, to look for a dog-sitting option, or to ask for a recommendation for a new restaurant.
Which networking type am I?
When it was still normal to go to events, it was part of my mandatory program to go to numerous events. In doing so, I was able to determine that there are certain networking types that you meet again and again. As is the case with such descriptions, you shouldn't take them too seriously, but there is a little bit of truth in them. So even if you shouldn't copy everything, there is always something you can learn from the different networking types. I would like to show this by using the example of the all-rounder and the jolly-good type.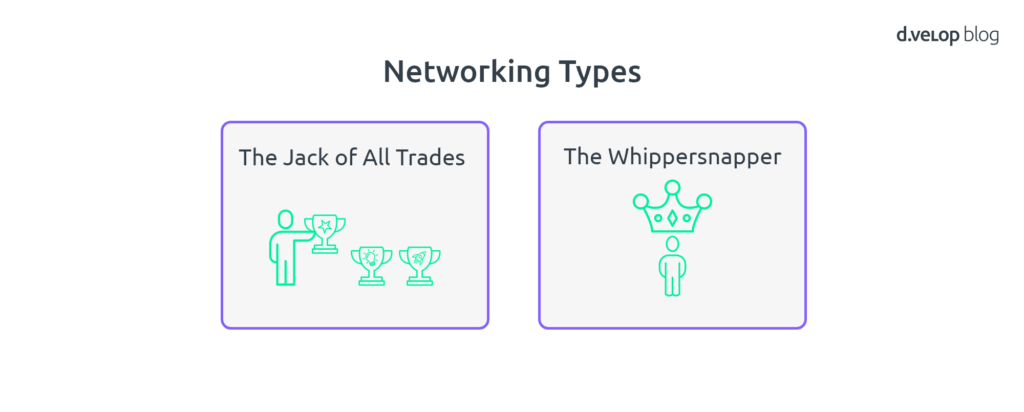 Networking Type No. 1 – The Jack of All Trades
As the name suggests – the jack-of-all-trades can do it all. I first met this type many years ago on my way to a panel discussion. Our encounter began with a little small talk, during which it was already clear that this was the George Clooney of networking types. While he gallantly weaved his way through the crowd and was already checking out the general weather situation in the room, I had my hands full dealing with my twenty-five belongings and rough orientation in the room. But the all-rounder not only knew virtually everyone present, he also knew where the other person was at any given moment. "This is Mr. Krause, head of communications at the largest medium-sized company in the area. Mr. Krause is currently working with his team on a new communications strategy, and when he's not doing that, he goes rock climbing. How's your son doing – was the internship search successful?" asks Mr. Perfect as he walks by. In just half an hour, I got to know Stefan, Ingo, Michaela, Karl, Constanze, the Zimmermann couple, and many other people and their life stories in fast forward.
Even though the jack-of-all-trades is undoubtedly impressive, there are things we confidently don't need to be able to do: Perfection. Because in most cases, our counterpart is pretty indifferent to whether you have mastered the entire keyboard of cultivated communication or you are at an event for the first time. Perfection is 90s. Today, the underperformers are the real heroes. What is worth working on, however, is mastering the whole picture. Nothing is more impressive than paying attention and being able to pick up your counterpart. Knowing who the person you're talking to is, what they're doing, and how you know them is a fundamental step in networking 101.
Networking Type No. 2 – The Whippersnapper
Contacts, contacts, contacts – that's the credo of the Whippersnapper. But not just any contacts, but the crème de la crème. He is present at all events, and he knows them all. Just the other day, he was at the marathon run with the event's keynote speaker, which was of course "awesome". And if he doesn't know someone, he at least knows someone who does. Apparently. If you stand next to him, it quickly becomes clear that he first has to help the people he supposedly knows to understand how they actually know each other. The Whippersnapper wants to play along, but for reasons he can't explain, he's just not allowed to. But that doesn't bother him at all, because the next day he posts on Xing that he's cracked the 1,000-contact mark. 1000 contacts, 1000 "good friends", 1000 potential business partners, 1000 leads. Or so he thinks.
Actually, one would like to leave the illusion of greatness to the Whippersnapper. If he knew that the big thing is actually quite small, he would probably be devastated. So what you don't need to learn from show-off how to act. Because in his absence, people just like to shake their heads at the jack-of-all-trades in the alleys, even if he is able to mediate a contact now and then.
What is worth working on, however, is "acting". Read correctly.
For example, when approaching other people or making contact with those who seem much further ahead or more successful than oneself. If you throw your reservations overboard more often and don't take yourself too seriously and importantly, you are much more likely to meet exciting personalities. Conclusion: Overestimating oneself as a tactic, not as a strategy.
Networking – analog or digital?
When it comes to online and offline networking, it's clear that it's both. To be more precise, however, we should say: analog first, digital second. Because what is networking actually about? It's about exchanging ideas with people, meeting, networking, helping each other and staying in touch, forging alliances, or building strategic networks. In the rarest of cases, it is enough to conduct networking exclusively digitally. Rather, social networks are suitable for initiating contacts with people with whom one then meets for lunch, for example, in order to establish a personal connection.
Even though we have now learned to let the world of work take place only online, it should not be forgotten that analog and digital channels should complement each other. In recent years, professional platforms have certainly become more important. Nevertheless, the efforts made here should be understood as a means to an end. The goal, after all, is not to equip all profiles with content and fill the contact lists. The content and topics we present ourselves with online are rather the tool we use for networking.
5 networking hacks every entrepreneur should know!
#1 Networking hack: Quality instead of quantity
At the crucial moment, what matters is not how many contacts are in my list, but whether the right contact is there. A network consists of relationships with people. This means that interpersonal chemistry must also be right, relationships must be cultivated, and you must be willing to support others. Relationship cultivation at this level is not possible in the masses. That's why it's not the number of contacts that matters, but their quality.
#2 Networking hack: Invest in the network before you need it
Many people think about their network when it is too late. Networking contacts shouldn't just come to mind when you're looking for a new job or need help. Rather, these are the situations in which it becomes apparent whether one has invested in one's network beforehand. A good network shows itself in adversity.
Sustainable networking is more important today than ever before. Because the new world of work is characterized by change. Careers today take a different course than they did a generation ago. What used to be the acquisition of knowledge is now the ability to network. Networks are becoming increasingly important to our working lives and beyond.
#3 Networking Hack: Visibility is the be-all and end-all of networking.
Whether online or offline, visibility in one's network is the name of the game. That's why you should regularly check whether you are visible among your contacts and with which topics. If people don't find out what you stand for, what makes you stand out, or what you deal with in terms of content, no one will be able to actively make contact or tie in with your own topics.
Use the intranet, meetings and lunch meetings to explain what you do for a living, what you create and what your goals are. This doesn't mean getting involved all the time when there's nothing to say. Rather, find your occasions where you can make your expertise clear and bring your issues to the table.
#4 Networking Hack: Crisis reveals who is really part of your network.
Every success needs a crisis and every network needs a shitstorm. Because it's in the crisis, when it comes to taking a stand and supporting someone, that you find out if you're serious or if someone was just in it for opportunity. Even if crises are never pleasant, they do – in the best case – offer the opportunity to enter into dialogue, take a stand and endure discourse.
Anyone who gets hit by a shitstorm has already done one thing right: namely, not to bury their head in the sand. Companies in particular have a massive fear of shitstorms and prefer to remain in the status quo, not daring to do anything outside the norm so as not to cause a stir. However, crises are always an opportunity. A chance to learn how to deal with criticism and a chance to prove the resilience of your own network.
#5 Networking Hack: Networking is based on give and take
Networking is not a one-way street. The goal is not to build a network so that as many people as possible can help you or are otherwise useful in some way. On the contrary, networks work especially well when everyone is willing to give more than they take. It sounds like an elegant magic trick, because if everyone holds, at the end of the day everyone has more in total than they gave.

Only sustainable networking prepares for the emergency situation
The fact that I am where I am today professionally is also largely due to my network. I was lucky to have people in my environment who gave me an appropriate understanding of sustainable networking, and this coincided with my experience and insights. For me, networking has therefore always been both altruistic and strategic, aimed at reciprocity and the long term. I am convinced that networking can only work in emergency situations if it is done at an early stage and in a sustainable manner.